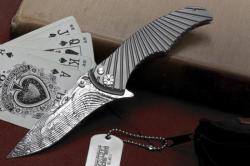 For 2012 we are raising the bar and will be offering a limited collection of handmade knives by some of today's premier tactical knife makers without the long wait typically associated with special ordering a custom edged masterpiece. 


These newly designed knives featured in the new CUSTOM ALLIANCE will be few in number, and will quickly become a valued centerpiece of your collection. These offerings will typify the WILSON standards of extraordinary quality, classic design and unmatched value.
The "Damasteel StarFighter" by Brian Tighe
The Damasteel StarFighter tactical folder merges Wilson Combat's signature Starburst grip design and the superb quality and performance of knifemaker Brian Tighe's artistic cutlery vision. The sculpted Titanium handle houses Tighe's rock-solid button lock and proprietary Sealed Thrust Bearing System (STBS™). The STBS™ is the secret ingredient that gives the blade an amazing glassy-smooth flipper operation that must be felt to be believed! The Damasteel - Swedish powdered metal Damascus steel blade is 3D-striated for a unique, eye-catching contrast and amazing, drag-free cutting performance. You will be proud to display or carry this unique knife that lives up to the Wilson Combat reputation for practical elegance. This exclusive Custom Alliance is limited to ten serialized pieces.
Sculpted Titanium Handle with Wilson Combat's Signature Starburst Grip DesignTighe's Rock-Solid Button LockProprietary Sealed Thrust Bearing System (STBS™) Provides Glassy-Smooth Flipper OperationDamasteel - Swedish Powdered Metal Damascus Blade3D-Striated Blade for a Unique, Eye Catching Contrast and Amazing, Drag-Free Cutting PerformanceTitanium Pocket Clip
Damasteel is a Swedish powdered metal Damascus steel that is renowned for toughness, material quality and unmistakable beauty. Damasteel is a blend of two stainless knife steels and the end result is as hi-performing as it is attractive.
Because of the beauty of the deeply etched pattern we have opted not to engrave the blades with our custom alliance logo. To identify these unique Wilson Custom Alliance knives in the future we are supplying a personalized dog tag with the serial number and other pertinent information.
The Damasteel StarFighter is limited to ten serial-numbered pieces, limit one knife per customer.
Specifications: $875.00
Blade - Damasteel - Swedish Powdered Metal Damacus
Blade Finish - Bead Blast Frame / Satin Blade
Blade Length - 3.750"
Blade Thickness - .125"
Handle Material - 6AL4V Titanium
Handle Length - 4.750"
Overall Length - 8.5"
Hardware - Stainless Weight - 4.6 oz