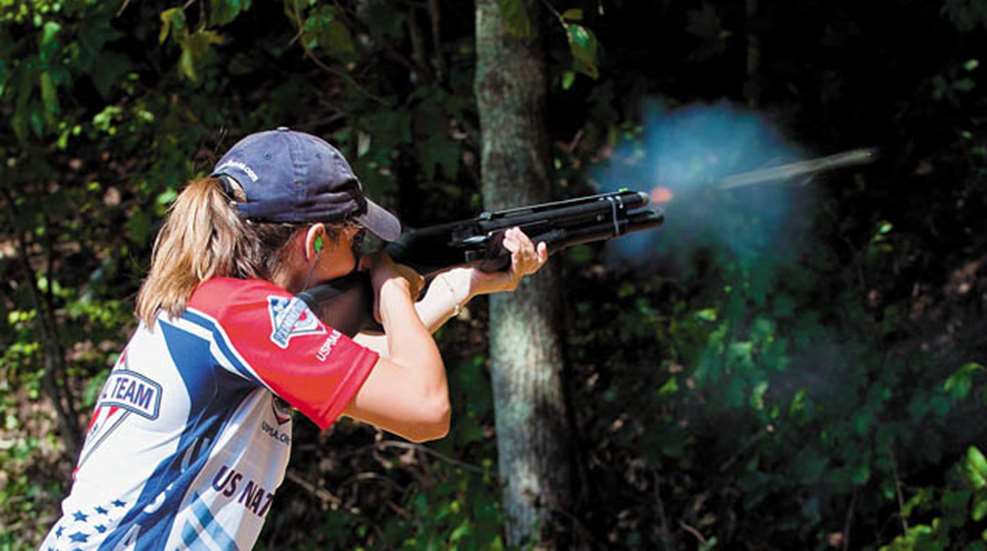 Photos by Dale Mathews
Shoot 30 stages of fire with a 12-gauge shotgun over the course of four brutally hot and humid Kentucky days, and one is bound to walk away with a few impressions. I did that and more after stepping to the line for the 2010 International Practical Shooting Confederation Pan American Shotgun Championship. Quite simply, I learned more about shooting and loading a shotgun in those four days than I had in my entire life.
Nearly 100 competitors representing 13 countries battled for individual and team honors during the championship, called Pan Am for short, held July 29 to Aug. 1, at the Rockcastle Shooting Center in Park City, KY. Some of the best shooters tested their practical shotgun skills at the IPSC Level IV event.
A Level IV match is set up with a defined number of short, medium and long courses of fire. For every six stages, the breakdown is three short, two medium and one long course. With a shoulder-numbing 30 stages of shotgun, the breakdown for the Pan Am was 15 short, 10 medium and five long courses of fire.
"IPSC utilizes this format to keep the shooting based on firearms skills and not athletic ability," said match co-director Larry Houck. "We took that to the maximum with the Pan American."
To successfully complete the Pan Am, a round count of 365 was required; 285 birdshot, 45 slugs and 35 buckshot. That number, of course, is only possible if you're talented enough to avoid missing a single shot. Needless to say, I burned through much more than the prescribed round count.
"We tested every shotgun skill," said match director Linda Chico. "Pretty much everything you can do with a shotgun, somewhere that skill was tested."
Needless to say, the Pan Am required competitors to be competent in all aspects of shotgun shooting. However, it was how the stages of fire were presented that set this match apart, from lightning-fast short courses where competitors shredded steel at close range, to chest-pumping climbs over natural terrain to engage stationary and aerial targets.
In short-course design, none were more explosive than stage 5. Set in the woods, eight steel plates were set in a half-circle array requiring competitors to rotate approximately 130 degrees, with targets set 10 to 15 yards from the shooting box. Competitors began with eight rounds loaded in the gun, standing erect and relaxed anywhere in the 9-square-foot shooting box and positioned directly behind a large tree that broke the course into two shooting lanes, one on either side of the tree. The shotgun was held in the ready condition with the muzzle pointed downrange and butt placed along the shooter's strong-side hip. With the safety engaged and the finger outside the trigger guard, competitors mounted at the audible timer. Reading the stage description took longer than it took Team FNH USA's Mark Hanish to complete it with a blistering run of 2.68 seconds—with all targets neutralized and no penalties.
Conversely, stage 3, "Blue Ridge Parkway," which featured the highest round count of the match, was a woods-walk course littered with 18 steel plates, six steel poppers and two aerial clay pigeons, for 26 total targets and a possible 160 points.
U.S. Open Team member Clint Upchurch ran his Saiga, customized by Robert Wright of R&R Targets, to a time of 29 seconds flat. Finland's Roger Karp took an extremely impressive stage win in the Standard Manual Division with a time of 37.15 seconds—using a pump gun to outrun the field of semi-automatics by a full second.
For many Americans, the systematic approach, a staple of IPSC shooting throughout the world, is a bit foreign, as most top U.S. shotgunners hail from the 3-gun world, where outlaw matches provide stage designs that are anything but systematic. While many of the Pan Am's stages at first glance appeared simple, the courses of fire proved a worthy challenge for the best practical shotgunners in the world.
I used all stock equipment. I ran a Remington 1100 Tac4 featuring an eight-round tubular magazine, oversized bolt handle and fiber-optic front sight. Federal Premium Target Handicap No. 7 1⁄2, Federal Power-Shok 2 3⁄4-inch, 9-pellet 00 buckshot and Remington 2 3⁄4-inch Slugger rifled slugs were sent downrange. I probably burned more than 500 rounds through the weekend with only one failure to feed due to a shamefully dirty chamber—remedied with a bore snake and some Rem Oil.
Luckily, I was squadded with experienced shooters, and all around us were the absolute best practical shotgun shooters in the world. When I needed more shell caddies, a squad member was quick to hand one out. From help with stage breakdowns, to loading tips, to sharing a cold beverage at the end of the day, the willingness to help fellow team or squad members was amazing.
This was hands-down the coolest match I've ever shot in outside of 3-gun, period. That said, it had a lot of similarities to 3-gun I don't think you normally get in a standard pistol match, even though it was a single-gun format.
"I thought the match was phenomenal," said Joe Satterfield. "A 30-stage match of any kind is a rarity, but with shotgun it is unheard of. This match was definitely a mental and physical marathon. I was fortunate to have recognized that ahead of time and prepared for it."
Satterfield's preparedness was evident. The veteran 3-gun competitor, who normally uses a semi-automatic shotgun in competition, seemingly came out of nowhere with a pump gun to turn in the top American score for the match (third-place overall), thereby leading the U.S. Standard Manual team to a first-place finish.
"I came in and shot pump because I knew there was a spot on the U.S. Standard Manual Team, and I really wanted the opportunity to represent the United States," said Satterfield, a law enforcement officer from Georgia. "Most people don't realize, because I shoot tactical division in 3-gun, but I have a lot of real-world time with a pump shotgun. I started shooting a semi-auto in competition because the field is usually deeper. At this match though, there were many more international shooters and international teams in Standard Manual, and I wanted the opportunity to shoot the pump. I have trained literally hundreds of law enforcement officers to use a pump shotgun...I am very comfortable with that type of shotgun."
And while Satterfield shot a very even, consistent match, he gave a tremendous amount of credit to his teammates, two of whom are often regarded among the best pump shotgunners in the country—Patrick Kelley and Trapr Swonson. Along with Jansen Jones, the four men came together in remarkable fashion, with encouragement and applause on display throughout the event.
"The biggest factor in my match was that I managed to stay really consistent for 30 stages with only about four that I did not shoot as well as I wanted," Satterfield said. "I got two stage wins but was really only trying to stay consistent. Patrick Kelley, Jansen Jones and Team Captain Swonson were the best teammates a guy could have, and we all really tried to help each other perform well in our quest to win team gold for the U.S."
Although normally fierce competitors against each other in national USPSA or 3-gun events, the U.S. team members came together and worked for a common goal. The result: a clean American sweep across all the team categories.
"Standing on that podium, wearing a red, white and blue jersey, and having gold medals hung around my teammates' necks—knowing I contributed to that is one of the most emotionally rewarding things that will ever happen to me as a shooter," Satterfield said. "I love to shoot for money and prizes, but shooting for national pride—well, I know a little bit of how Olympians must feel."
In the Standard Division, the U.S. captured a team title led by Carl Carbon, Robert Romero, Taran Butler and Kurt Miller. Also competing in Standard, the U.S. Ladies team took first place, led by Tasha Hanish, Dianna Liedorff and junior shooter Katie Harris.
In the individual standings, however, Europeans came in and stole the show. Finland's Karp bested Italy's Paolo Zambai by 0.178 percentage points to win the Standard Manual division, with Satterfield coming in third place. While the Americans won the team title, four of the top five finishers were from foreign shores, with U.S. shooters placing five in the top 10.
The U.S. Standard Team fared better individually, taking a team title, but owning the leader board from second through seventh place, including Butler, Chris Sechiatano, Romero, Carbon, Miller and Jeremy Parker. However, the title went to Italy's Roberto Vezzoli, who outlasted Butler by 0.758 percentage points.
The European dominance of individual awards extended to the Ladies title as well, with Great Britain's Vanessa Duffy besting America's top female, Tasha Hanish. In the Junior category, Britain's Josephine Adam defeated Harris, who battled shotgun reliability throughout the match.
Ultimately, many of the finest shotgunners in the world hail from outside the U.S. "The USA only 'plays' the game," Kelley said. "The international community is the game."
The notable exception was the Open division, where U.S. competitors swept the first 12 spots on the leader board, taking the team title and thoroughly dominating a small international field that offered up little real competition. Mike Voigt further cemented his status of one of the two (along with Smith & Wesson's Jerry Miculek) best Open shooters in multi-gun by beating second place James Darst by nearly 100 match points. Clint Upchurch and Robert Wright ran their Saigas to third and fourth place finishes, respectively. Voigt, Darst, Upchurch and Wright also made up the U.S. Open Team that combined for 5237.2855 points, easily topping the Brazilian team that combined for 3252.4342.
By successfully hosting a Level IV match—by all accounts the Pan American was a complete home run— USPSA is now primed to receive a Level V world shoot in the near future. An international rifle, shotgun, pistol or 3-gun shoot are all possible.