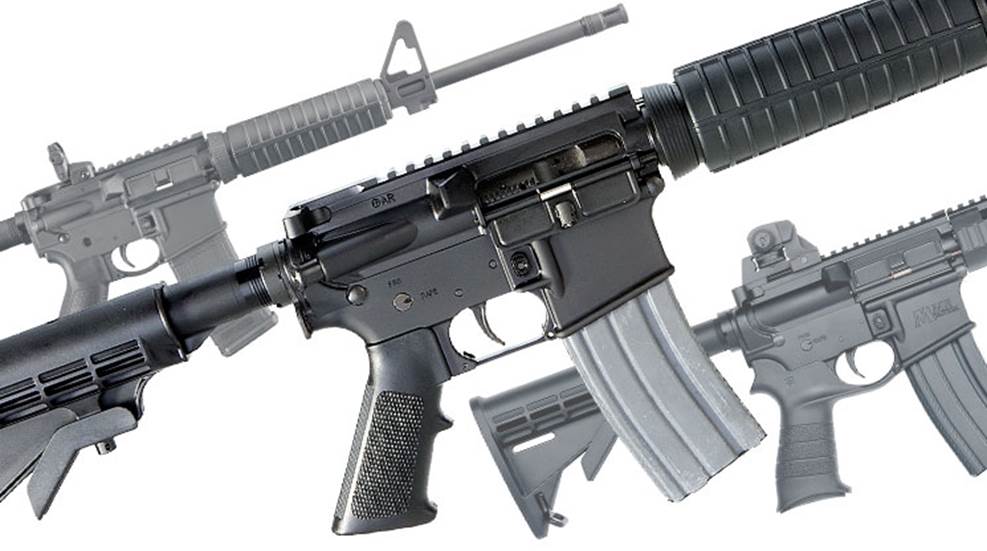 The AR-pattern rifle takes modularity to the extreme. You can outfit it for everything from close-quarters combat to long-range target shooting. It can be configured for home defense, law enforcement, 3-gun and high-power competition, varminting, hunting and, of course, military service. Within each of these disciplines are myriad additional setups. Further, the advent of the Picatinny rail has only enhanced the modularity. The explosion of both components and accessories is unprecedented, as is the number of companies now offering AR-platform rifles. 
In the months leading up to the 2012 presidential election, concerned Americans hurriedly purchased every AR-style firearm they could get their hands on, correctly anticipating Barack Obama, once no longer constrained by re-election concerns, would move to restrict gun rights. However, as it became apparent the president would be frustrated in his efforts by the NRA, Second Amendment advocates in Congress and their constituencies at home, the sale of rifles slowed from its record pace and prices began to drop. The happy circumstance in which we now find ourselves is having a variety of affordable ARs on the market.
While you can start simply with a lower receiver and build your own rifle, there are so many moderately priced, good-quality rifles out there, you can get a complete, basic AR and outfit it as you see fit. In fact, there are a lot of rifles out there now that are already nicely configured for a specific use. We recorded the MSRPs of ten value-priced rifles, then scoured the Internet to learn the actual advertised selling prices of those models, averaging the selling prices from at least two retailers per gun. What first appeared to be good deals on ARs quickly turned into great deals on ARs.

1. Ruger AR-556
Ruger's new AR is its first direct-gas-impingement model and is also the company's least expensive offering in the category. Beyond price, however, the AR-556 has a lot to offer. Most noticeable is the folding rear sight, which is hand-adjustable for windage, and a railed upper receiver provides ample space to mount an optic. Aiding sight acquisition is a milled gas block with glare-reducing serrations on the rear riser. The gas block also has a QD socket on the bayonet lug for easy sling attachment. The AR-556 incorporates Ruger's patent-pending delta ring, which the company says eases handguard removal. Its 1:8-inch-twist barrel plays nicely with a variety of bullet weights.
MSRP: $749
Average Selling Price: $600
ruger.com


2. ArmaLite M-15A4 16" Tactical Rifle
The M-15A4 Tactical Rifle is currently in use by numerous law enforcement agencies, but is also available to civilian shooters who want a capable, proven rifle at an affordable price. The carbine features an A2-style front sight combined with a Picatinny rail up top and a six-position adjustable buttstock. The length-of-pull ranges from 10.4 inches to 13.7 inches. The 16-inch, double-lapped, chrome-lined barrel, with a right-hand 1:9 twist, is optimized for lighter-weight bullets. It's fabricated from manganese phosphate-coated, chrome-moly vanadium steel. The tactical, two-stage trigger has a 3.5 pound first stage, followed by a 5- to 6-pound second stage. 
MSRP: $989
Average Selling Price: $803
armalite.com


3. Stag Arms Model 3 Carbine
Composed of rock-solid, Mil-Spec components, the Stag Arms Model 3 Carbine is a basic, yet high-quality AR the manufacturer bills as the most customizable rifle on the market. It features a 1:9-inch twist, 16-inch, chrome-lined, government-profile barrel made from 4140 steel that has been manganese phosphate-coated. Both upper and lower receivers are fabricated from 7075 T6 aluminum and are type-3 hardcoat anodized. The Diamond-head VRS drop-in modular handguards accept Diamondhead rail sections. Best of all, the Model 3 carries Stag Arms' lifetime transferrable warranty.
MSRP: $895
Average Selling Price: $760
stagarms.com


4. Del-Ton Echo 316 MOE
The Echo 316 MOE is not Del-Ton's least-expensive offering, but it's outfitted with Magpul furniture and is still available for a very reasonable price. Decked out with an MOE stock, pistol grip and fore-end and shipped with a 30-round PMag, the heavy-barreled carbine provides a ton of value, not to mention time savings since it already has some of the most popular aftermarket components when it leaves the factory. Shipped without a rear sight, a rail section atop the receiver provides ample space for an optic. 
MSRP: $858
Average Selling Price: $714.70
del-ton.com


5. Smith & Wesson M&P15 Sport
The M&P15 Sport is Smith & Wesson's entry-level AR-15 aimed at new and experienced shooters alike. It's a familiar setup for a carbine, with a Mil-Spec collapsible stock, pistol grip, handguards and adjustable front sight. The rear sight, a Magpul folding backup sight, the trigger guard (enlarged for easier access when wearing gloves) and the Magpul PMag magazine are pleasant departures from the standard M4-style configuration. With a 1:9-inch twist rate, the M&P Sport is tuned to run with lightweight bullets, such as the 55- and 62-grain projectiles favored by the military. 
MSRP: $739 
Average Selling Price: $587 
smith-wesson.com


6. Bushmaster Carbon 15 M4 Quad Rail
Blending the popular M4 design and features of modern weight-saving benefits like a composite receiver with a polymer fore-end, it's easy to see how the Bushmaster Carbon 15 M4 Quad Rail can catch the eye of shooters who subscribe to the "ounces make pounds" philosophy. Its polymer, two-piece handguard contains four Picatinny rails, enabling you to mount gear while ultimately keeping the rifle svelte. The pairing of an A-frame front sight with a flattop upper provides versatility for mounting a wide array of optics, while the six-position collapsible buttstock fits a variety of shooters. 
MSRP: $865.86
Average Selling Price: $667.56
bushmaster.com


7. Mossberg MMR Tactical
Compared to most entry-level AR-15 variants, the freefloat handguard on the MMR Tactical is immediately noticeable. Allowing for greater accuracy, the free-float does not impinge the barrel like traditional M4-style fore-ends. The quad-rail allows for a wide variety of accessories to be added to the MMR, from lights and lasers to vertical fore-grips and other accoutrements as needed. Another deviation from the standard M4-style of AR-15 is the pistol grip on the MMR. While most in this class are equipped with standard Mil-Spec versions, the MMR sports an upgraded Stark SE-1 model. 
MSRP: $987
Average Selling Price: $783
mossberg.com


8. Olympic Arms Plinker Plus Compact (PPC)
There's a lot to be said for having everything you need and nothing you don't, all at a reasonable price. From its A1-style rear sight integral to its carry handle, to the bayonet lug beneath the familiar look of its A-frame front sight, the Olympic Arms Plinker Plus Compact (PPC) blends old-school aesthetics with a button-rifled, carbine-length barrel, all of which are sure to capture the most-ARdent fanboy's attention. It is one no-nonsense carbine, built for optimum performance and long-term carry without being overly encumbered by superfluous accessories, all at a reasonable price. 
MSRP: $713.70
Average Selling Price: $626.33 
olyarms.com


9. DoubleStar Star15
Want an AR without all the bells and whistles that add bulk and cost? The DoubleStar Star15 offers the reliability of a greater sight radius and softer recoil impulse of longer rifles. Its 20-inch heavy barrel produces superior accuracy at longer ranges, and the fixed stock fosters welcome stability for enhanced precision. As a means of hedging your terminal-performance bets, this rifle is also available in 6.5 Grendel and 6.8 Rem. SPC. It is loaded with practical features like a Mil-Spec A3 flattop and an M4 feedramp, and it ships with a 30-round magazine. 
MSRP: $1,325.99
Average Selling Price: $795.49
star15.com


10. Core15 M4 Scout
Core15's M4 Scout is the company's entry-level M4 direct-gas-impingement rifle. This carbine sports a 16-inch, 4140 steel chrome-moly barrel with an M203 cutout. M4-style molded polymer handguards, an A2 pistol grip, Core15's Hardcore-Billet charging handle and a 30-round magazine round out its features. It is designed and marketed for those looking for their first AR, but do not think this means that Core15 cut corners on the Scout. If having a semi-automatic copy of the military-issue M4 carbine is what draws you to the AR-15 platform, this model is an excellent choice.
MSRP: $749.99 
Average Selling Price: $654 
core15rifles.com