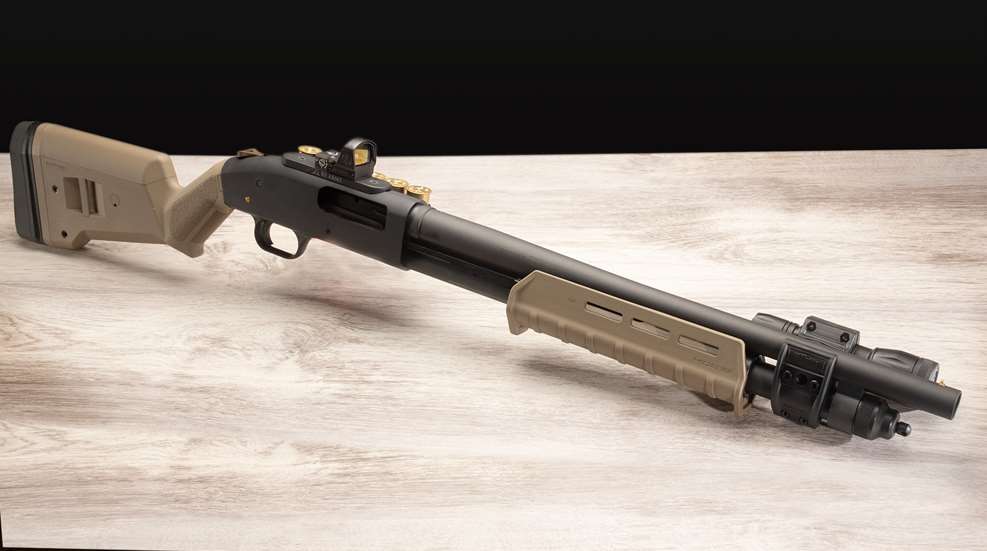 When it comes to the sheer amount of power sent downrange with each pull of the trigger, the shotgun comes out on top. For centuries, people have trusted their lives to scatterguns to provide unparalleled fighting-stopping firepower at close ranges. 
I mean, have you ever heard anybody call out "Pistol!" or "Rifle!" to claim the passenger seat in an automobile, have you? Me neither. 
The shotgun, however, serves three purposes inside of the gun community. The first is competition, such as 3 Gun or the clay sports. The second is the one I just mentioned, the devastating "street howitzer" that's been used in close-quarters combat for literally centuries. The other purpose is for hunting, where the shotgun's ability to send multiple projectiles downrange makes it the "go to" gun for bird and small game hunting.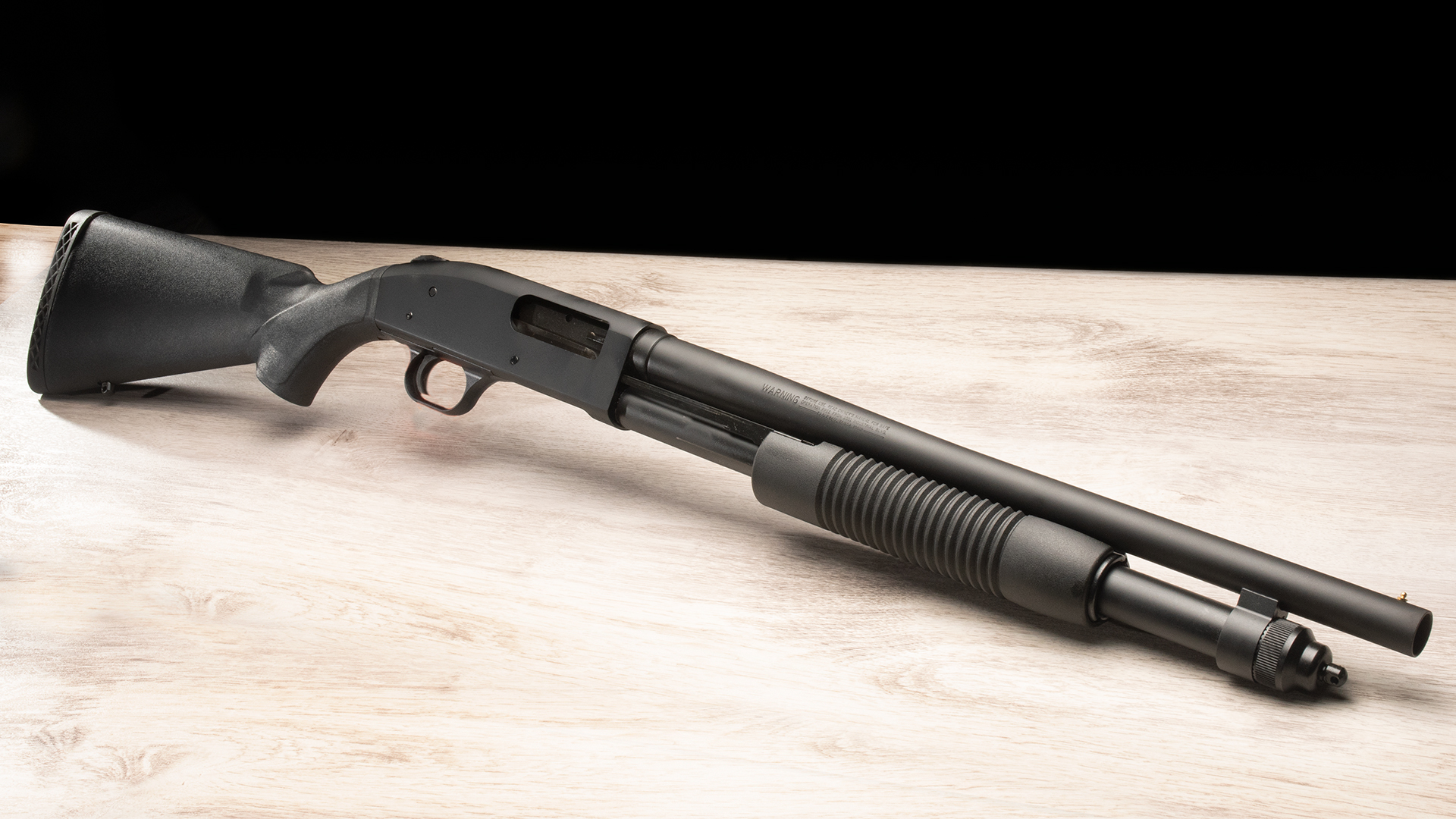 And therein lies a problem, because a shotgun that's set up correctly for a specialized competition isn't going to be all that good at hunting, and a hunting gun lacks the features you want in a defensive shotgun. With that in mind, let's look at some of the tactical shotgun accessories you'll need to make your run-of-the-mill scattergun into a fearsome defensive firearm. We'll be using a stock Mossberg 590 (which is already a terrific tactical shotgun), but these upgrades are applicable to just about any pump-action or semi-automatic shotgun.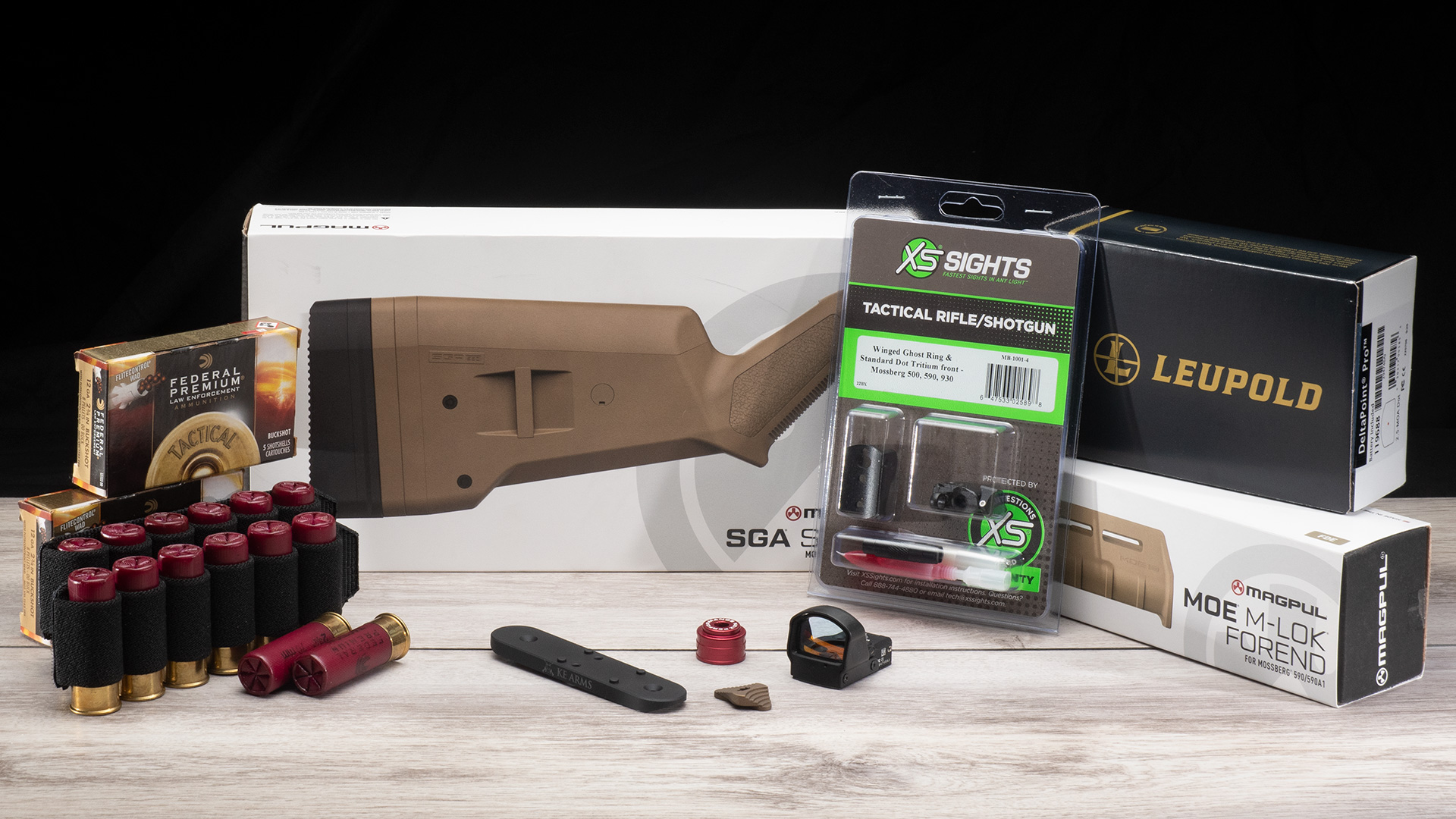 Safety Improvements
Safety first, so the saying goes, and that's especially true of firearms. Because of this, I chose to add an oversized safety from NDZ Performance to my gun. This gives me a larger usable area on the safety itself, plus it replaces the original plastic safety with one made from aluminum and is Cerakoted to match the other accessories I'm adding to this gun.  
The fire control unit of the Mossberg 590 is held in place in the receiver with three pins. If one of those breaks, you have a club, not a shotgun. To help stop that from happening, I swapped out the stock pins with some soon-to-be-released steel pins, also from NDZ Performance. 
If I were going to say that one particular tactical shotgun accessory is a "must have," I'd say it was a high-visibility follower. The magazine follower on a tube-fed is also a vital piece of safety gear. If you can see it (and there's no shell on the lifter), you know your shotgun is well and truly empty. That's not the sort of thing you want to be uncertain about, so I added a bright red follower from NDZ Performance to make sure that follower showed up when I needed to see it. 
Take Stock Of Your Gun 
Most tactical shotguns have the same length-of-pull as a hunting or competition shotgun. However, hunting shotguns and most competition shotguns are designed to help a shooter hit something that's soaring through the air. In a defensive situation, though, you need consistent hits on targets that are at ground level, and your shotgun needs to reflect that fact. An aftermarket adjustable stock such as the Magpul SGA allow you to change how you hold your gun so it is more suitable for defending a life rather than busting a clay. 
Sight Upgrades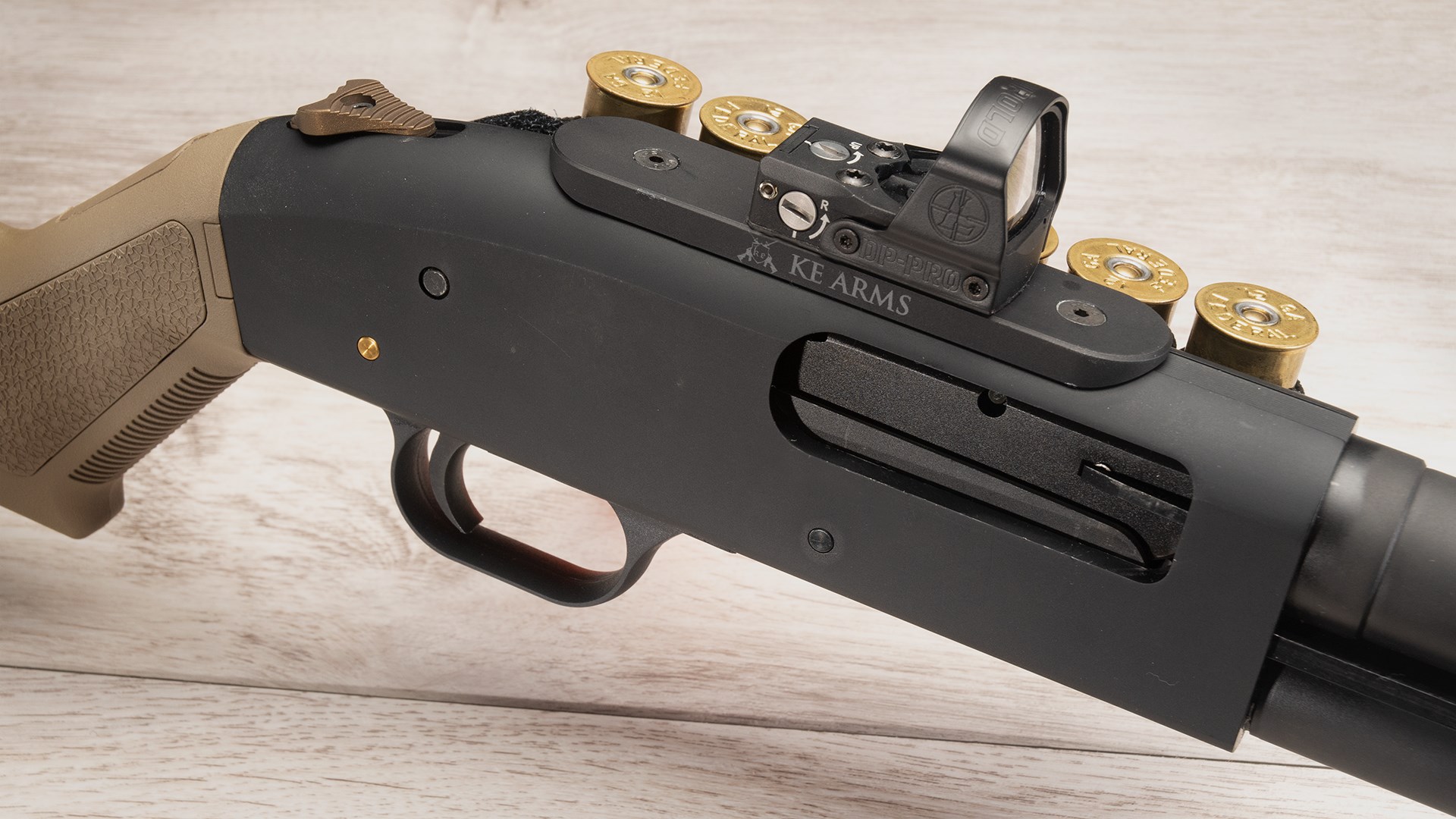 A quick knowledge drop: A bead sight might work great for busting clays or blasting a bird out of the sky, but they are suboptimal on a tactical shotgun. A bead sight is meant to be used so you can lead a flying target. On a defensive shotgun, your sights will wind up on the target itself, not a few feet in front of it as your target goes sailing through the air. 
The first and most obvious sight upgrade for your tactical shotgun is a ghost ring sight or a set of conventional pistol sights. After all, the effective range of a defensive shotgun is about the same as a defensive pistol, right? Adding something like the ghost ring sight set offered by Hi-Viz Sights is ideal for this sort of thing and would make an excellent accessory for your tactical shotgun. 
The red dot optic is rapidly gaining favor among pistol shooters, and it's also becoming a very popular tactical shotgun accessory. For this build, I added an adapter from KE Arms to the top of the receiver so I could mount a Leupold Deltapoint Pro red dot to my gun, which gave me all the nice things you get from a red dot, with the added thump of the shotgun.       
Ammo Upgrades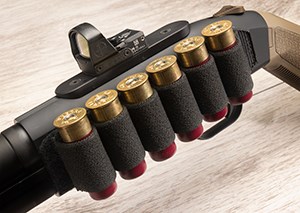 Let's talk about buckshot, and leave the discussion about shotgun slugs for another day. The tighter the pattern of your buckshot, the longer the effective range of your shotgun and the less chance you'll have a stray pellet miss your target and hit something you really don't want it to hit. This is why modern defensive buckshot rounds like Federal FliteControl or Hornady Versatite are the ammunition of choice for serious disciples of the gospel of the gauge. 
The best ammunition in the world does you little good if it's not there when you need it, which is why extended magazine tubes are a vital tactical shotgun accessory. My 590 already has one, extending my capacity to 8 rounds in the tube and one in the chamber. If your gun doesn't have this feature, look to upgrade it using parts from Nordic Components or other manufacturers. 
Eight rounds doesn't seem like a lot of ammo, and truthfully, it isn't. This is why I added a shell carrier from Vang Comp systems to the receiver of my gun. Each carrier attaches via industrial hook and loop fasteners, allowing me to rip off an empty carrier and slap on a full load of shells if the need arises. I also use a  dump pouch from The Wilderness for even more storage (something that comes in handy during a defensive shotgun class). A word of caution about carrying extra shells on a sling: Doing so looks like a good idea, but it is ridiculously awkward to reload your gun from one of those slings, especially in the pressure of a lethal force encounter. Let the bird hunters use those to load up their guns in between shots, and stick with carrying your ammunition on you or on your gun. 
Lights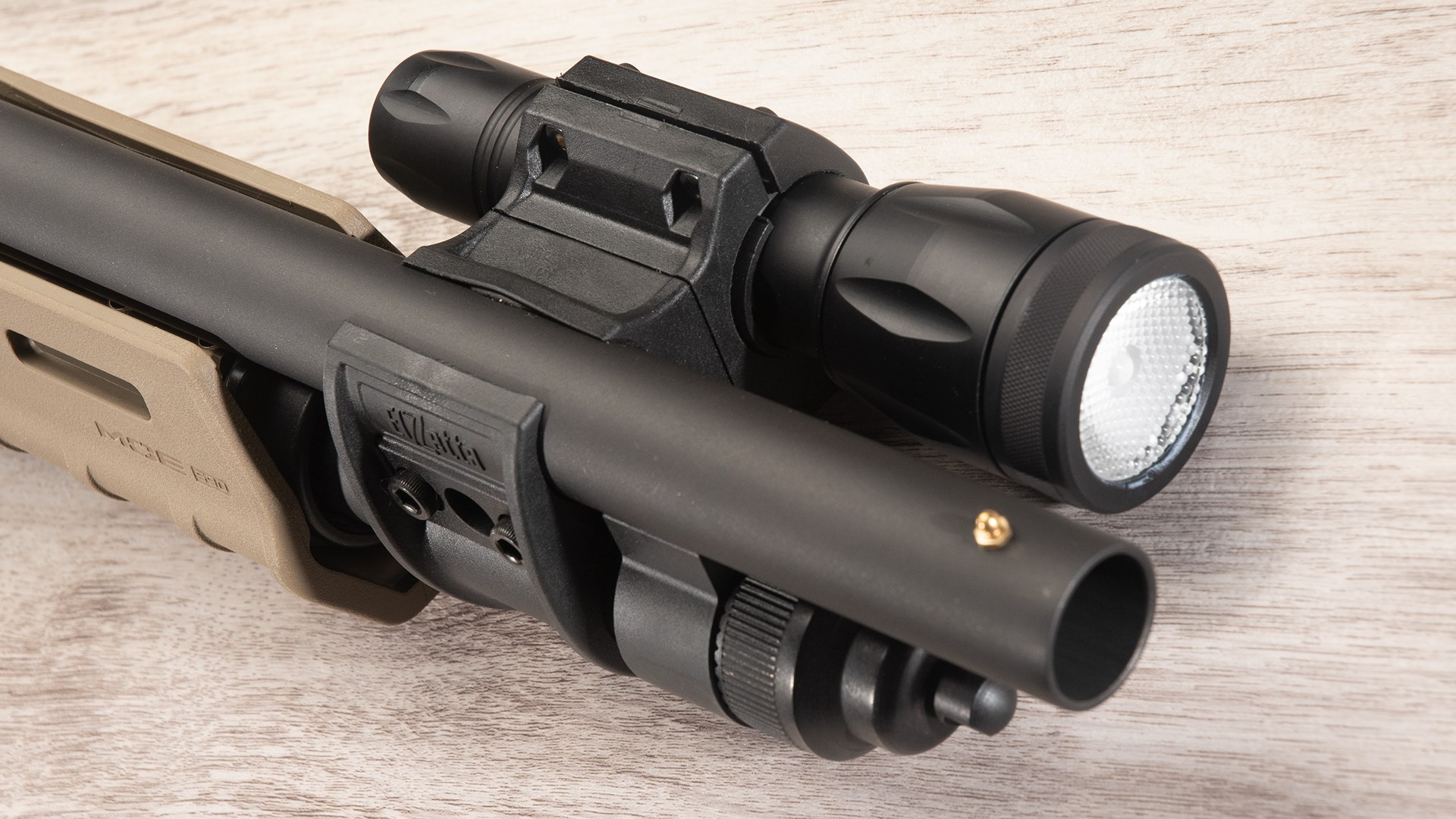 I consider a weapon-mounted light to be an absolute must for any home defense gun and an essential tactical shotgun accessory. There are, in essence, two different ways to mount a light on a tube-fed shotgun: On a mount that bridges the gap between the magazine and the barrel, or on the fore end of the gun itself. Streamlight and Surefire both make great shotgun lights that mount to the fore end of popular pump action shotguns such as the Mossberg 500 and 590 or the Remington 870. I've used both and I've found them both to be rugged and effective, but I went a different path for this gun and used a light and mount from Elzetta to give me 800 lumens to light up the darkness and/or my target. 
Gear Up And Get To The Range 
Despite what you may have heard, you do need to aim a shotgun in order to hit your target. All the tactical shotgun accessories in the world do you little good if your skill level isn't up to the task in front of you. Train hard, gear up, and keep safe knowing that you and your gear are up to the challenge.