by
Shooting Illustrated Staff
posted on September 26, 2017
Support NRA Shooting Illustrated
DONATE
What comes to mind with the phrase "tactical pants"? Typically it's a pair of cargo pants with a zillion pockets, in your choice of black, olive-drab or some variation on desert tan. While there are still a great number of pants out there matching this description, an ever-growing number of office-friendly trousers that allow discreet carry of a multitude of items are coming to market.
We've assembled more than two dozen pairs of tactical pants for review, most of which are either new models or best-sellers in the manufacturer's line. All have accommodations for the concealed-carry practitioner, from hidden pockets to breakaway openings; some of these pants even have pockets designed to carry AR-15-style magazines and other related gear.
Whether you're looking to haul all your gear without a satchel or want to conceal a small pistol in your best business casual, there's a pair of tactical pants with your name on them. Check out these offerings and you'll have a leg (or two) up on the competition.
---

5.11 Tactical Defender Flex
The Defender-Flex Pants presented by 5.11 are constructed out of lightweight Calvary Twill, with enough elastane for freedom of movement. The end user will enjoy the comfort feel of athletic pants with superior range of motion and enough durability to maintain their shape. These GSA/TAA compliant, slim fit, tactical pants are perfect from going from an office setting to the range without the need to change. With five-pocket styling and two-rear hip pockets, the Defender-Flex Pants are the perfect solution for the "grey-man" philosophy and IWB carry. MSRP: $69.99; 511tactical.com
---

5.11 Tactical Wyldcat
Look out ladies! 5.11 listened to us and has conjured up the perfect pants for the armed woman. Crafted from a blend of cotton and elastane stretch material, alongside a Microsand finish, the Wyldcat Pants look and feel awesome. There are a total of eight pockets, including AR magazine pockets on the back yoke, so there is no shortage for storage required for your EDC items. A zippered leg gusset allows the user to transform from a straight-cut to a boot-cut effortlessly, depending on your desired look. MSRP: $74.99; 511tactical.com
---

Berne Echo Zero Six Cargo Pant
A traditional cargo pant should have mid-thigh pockets, reinforced main pockets and wide belt loops, and Berne's Echo Zero Six tactical pants is no exception. In addition to these mainstays, the Echo Zero Six also has an elastic waistband for greater comfort while carrying IWB, hip pockets with hook-and-loop closures and a cotton/poly blend for comfort and ease of movement. Sizes range from short, regular and tall variants, and a putty (brown) color is available. MSRP: $59.99; bernedirect.com
---

Blackhawk Pursuit Pant
Combining functionality with comfort, the Pursuit Pant incorporates a flexible, action waistband. Durability is assured by ripstop fabric coated with Teflon Shield to repel oil, water and stains. Useful details include reinforced knee patches, sewn-in interior slots for kneepads and numerous pockets to store tools and accessories. MSRP: $79.99; blackhawk.com
---

Blackhawk Shield Pant
Properly called the Stretch Shield Pant thanks to the mechanical stretch ripstop fabric from which it is constructed, this garment moves with you for maximum comfort. A Teflon Shield protective coating keeps these tactical pants clean and looking good, and assures they dry quickly. Durability is promoted by bartacks and rivets reinforcing key stress points. Also, convenience is enhanced by thoughtfully placed pockets that keep everything close at hand. MSRP: $59.99; blackhawk.com
---

Blackhawk Tac Life Pant
These pants feature articulated knees to promote a full range of motion. Constructed from 100-percent Nylon Ottoman with Teflon Shield, they'll resist oil, water and stains. Double front belt loops accommodate badges and clips, while a variety of reinforced, multi-use pockets make it easy to carry essential gear. MSRP: $89.99-99.99; blackhawk.com
---

CCW Breakaways Jeans
Whether it is for weekend use or an evening outing with friends/loved ones, CCW Breakaways Jeans offer discreet concealment with relaxed-fit denim. Designed to carry and conceal compact semi-automatics and revolvers such as Smith & Wesson J-frames, the scooped openings of the front pockets mimic traditional jeans, allowing you to blend in and be armed without having to look like a Navy SEAL. MSRP: $69.99; ccwbreakaways.com
---

CCW Breakaways Stone Cargos
For those events that require carrying a handgun in a less-formal setting, CCW Breakaways Stone Cargos tactical pants offer the versatility of the company's customizable concealment system with welcome utility. Deep side cargo pockets provide extra room for other essential EDC items like your smartphone, wallet, flashlight and knife, while hook-and-loop-backed pouches firmly attach to the inside of the other front pocket to firmly hold spare magazines in place. MSRP: $79; ccwbreakaways.com
---

CCW Breakaways Tan Khaki
CCW Breakaways Tan Khaki pant provide fresh air by way of a welcome alternative to traditional holster-based carry methods with a touch of formal flair. Perfect for discreet office carry, deep front pockets contain hook-and-loop fasteners, enabling you to adjust pistol cant and depth in order to carry full-, compact- and subcompact-size handguns concealed—with no need for a cover garment. Enlarged "breakaway" pockets enable users to attain a complete firing grip during deployment. In addition, it also makes draws from seated positions easier. MSRP: $75; ccwbreakaways.com
---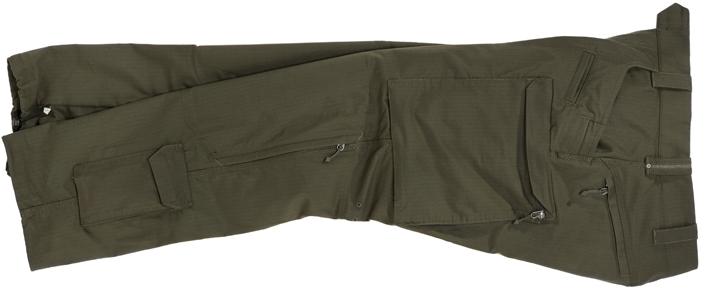 First Tactical Defender Pants
Built to present a neat, professional look while still offering full-featured performance, the Defender Pants series from First Tactical are top of the line and cutting edge. Constructed from Defender Fabric, a blend of cotton and Cordura, these tactical pants include 28 specialized pockets to carry just about anything. Freedom of movement is enhanced with articulated knees and running gussets. Mesh pockets and excellent ventilation throughout assure comfort in warm weather. MSRP: $129.99; firsttactical.com
---

First Tactical Velocity Tactical Pants
Similar to the company's Specialist line of pants, the Velocity pants maintain the line's fit and function while reducing overall weight. Utilizing YKK zippers and Prym snaps for top-shelf operation and a blend of polyester and cotton, the Velocity pants contain gusseted construction for a full range of motion. Available in black, Midnight Navy and OD Green in a variety of size options, the newest pants from First Tactical are an excellent warm-weather option. MSRP: $49.99; firsttactical.com
---

LA Police Gear Atlas Tactical Pants
LA Police Gear packed a number of innovative features in its new Atlas Tactical Pant, which is manufactured using the company's Stretch Tech System. The system incorporates stretch fabric, which is located in high-stress areas of the pants, ensuring that users have a wide range of motion to carry out their daily activities. These stress points also feature double-stitched reinforcement for added durability. With 10 storage pockets, the tactical pants also feature plenty of storage space. MSRP: $34.99; lapolicegear.com
---

LA Police Gear Operator Tactical Pants
Giving shooters a versatile, affordable clothing option, the Operator Tactical Pants are one of the best-selling products in the company's lineup. Made from a cotton-polyester ripstop fabric, the pants are designed for rugged, high-movement use. The pants also incorporate eight different pockets, with cargo pockets sized to fit an iPad Mini. The Operator Tactical can fit belts up to 1.75 inches wide, allowing for the use of gun belts, and the elastic waistband provides a comfortable fit. MSRP: $22.99; lapolicegear.com
---

Magpul Flight Line Pant
Got a tough job to do? Magpul's Flight Line Pant is just what you need. Constructed of midweight cotton with a spandex blend, the stretch fabric is designed to be stain-resistant. The front of the legs are reinforced with an extended boot cover, and on these tactical pants, there's even an internal pocket for kneepads, ideal for long days on the range training. There's even a deep side pocket perfect for magazines, tools or a flashlight. MSRP: $99.95; magpul.com
---

Magpul Utility Pant
Billed as the "cargo pant for people who hate cargo pants," Magpul's Utility Pant is a no-nonsense, carry-it-all offering designed for relaxed outings. Pre-washed for a broken-in feel and comprised of a cotton/polyester ripstop material, the Utility Pant offers six pockets total, including the bellowed cargo pockets that lay flat when empty for a less-obtrusive look. Extra-large belt loops allow a sturdy belt (such as Magpul's Tejas offering) to be threaded through to support all your gear. MSRP: $54.95; magpul.com
---

Propper Men's Kinetic Pants
With a special, stretch fabric for increase range of motion, a plethora of pockets to store all your gear and a special "gripper" waistband to keep your shirt tucked in, the Kinetic pants live up to their name. Water- and dirt-repellent, this polyester/cotton ripstop blend is constructed with a tough, professional demeanor in mind. Even the little features—like a divider in the cargo pockets and a sunglasses loop—are built into these tactical pants to make your day just a little easier. MSRP: $54.99; propper.com
---

Tru-Spec 24-7 Xpedition Pants
From their double-weave hip yoke, thighs and front cargo pockets to their dual-mesh cooling vents on each leg, the 24-7 Xpedition pants are as feature-laden as pants can be. Carabiner/key loops on the front belt loops, a gusseted crotch, a slider waistband, adjustable ankle cuffs and a French fly are just some of the many utilitarian and stylish features on these rugged pants. The 24-7 Xpedition is available in black, charcoal, coyote, Ranger green, black/charcoal, MultiCam/coyote and Ranger green/black. MSRP: $93.95; truspec.com
---

Tru-Spec Ascent Pants
Made from stretch fabric, the Ascent pants offer ease of movement combined with superior comfort. They boast inset cargo pockets for a streamlined, discreet look. A slider waistband makes carrying in an IWB holster a breeze, and a drop-in pocket that's sized to fit most cell phones adds to their utility. The Ascent tactical pants are available in black, coyote, khaki, navy and Ranger green. MSRP: $63.95; truspec.com
---

Tru-Spec Delta Pants
Discreet pockets, including a dedicated knife pocket, magazine-retention pockets within the deep front pockets and internal knee pockets for optional knee pads, make the Delta pants a great combination of utility and stealth for concealed carry. Made from a spandex blend, they are also breathable and comfortable in most any weather. The Delta pants are available in black, coyote and khaki. MSRP: $65.95; truspec.com
---

Tru-Spec Vector Pants
Thanks to a slider waistband, the Vector pants are ideal for concealed carry with an IWB holster. Adding to that utility is a silicone inner waistband that grips your shirt, ensuring it stays tucked in during periods of activity. Reinforced knees and a gusseted crotch mean that the pants will always be comfortable when the wearer is running, jumping, climbing or, as is likely for most of us, sitting. Vector tactical pants are available in black, coyote, khaki or navy. MSRP: $57.95; truspec.com
---

Vertx Delta Stretch
While offering a casual look and relaxed fit, Vertx's Delta Stretch pants offer hidden document pockets, tool pockets trimmed with leather for extra durability and front pockets notched for carrying a pocketknife at a proper angle. In addition, gusseted seams make movements more natural and the knees are articulated, keeping the free-flowing movement theme going with a cotton/spandex blend. They're available in four popular colors and a variety of sizes. MSRP: $89.95; vertx.com
---

Vertx Fusion
Featuring 14 unique pockets, the Fusion pants have plenty of room for all your gear. From vertical, zippered pockets over the cargo pockets to twin rear utility pockets, you might run out of things to carry before you run out of pockets. Even the front pockets are set slightly lower to allow clearance under your EDC holster, a nice touch for those who carry. MSRP: $89.95; vertx.com
---

Vertx Fusion LT
Similar to the Fusion, the LT version is constructed from lighter material for warmer-weather wear. Constructed of a unique blend of polyester, cotton and Vertx's proprietary 37.5 Technology, which is designed to help keep you cool when the weather is hot, the Fusion LT tactical pants are a great choice for summertime use or if you're going to be active in warmer weather. MSRP: $89.95; vertx.com
---

Vertx Hyde
With a more-subdued look, the Hyde series from Vertx eschews traditional cargo pockets in favor of discreet, purpose-driven pockets. Whether it's an AR-15 magazine or a phone in the side dump pocket or the zippered pocket entrance on the side, storage abounds without being too obvious. There's even a little pocket at the end of the pant leg for tucking away a little something where no one would think to look. MSRP: $89.95; vertx.com
---

Vertx Hyde LT
Much like the Fusion series, the Hyde LT offers a lighter-weight variant to the traditional Hyde pant. Containing the same subdued features as the heavier-weight version, the LT series has a different construction: while both contain polyester, cotton and 37.5 Technology, the LT has more 37.5 Technology for heat dispersion, in addition to a higher cotton content. The Hyde LT tactical pants are available in "Alligator" (green), "Fathom" (blue) and "Griffin" (gray). MSRP: $89.95; vertx.com