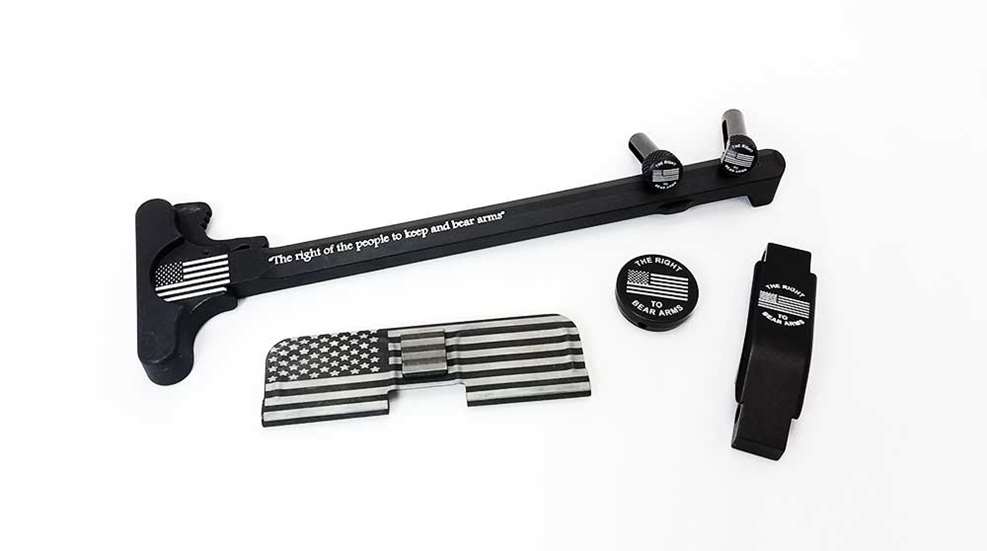 One of the staples of ARs, both in AR-15 and AR-10 variants, is the ease of customization. It's great for building a rifle for specific tasks, but another aspect that often goes overlooked in the realm of customization is personalization, and AR-style firearms give the ability to add some flair to your firearm to make it your own in a plethora of ways. One aftermarket company geared toward expression through personalization of tactical rifles is Tactical Expressions.

According to owner Tim Yager, "[Tactical Expressions] saw a niche in the market by not being able to find a vendor who could provide a decent, reliable customization of certain firearms. We purchased our first laser in early 2014 and grew quickly into a three-location, three-laser family business. We manufacture a good deal of our own parts in Arizona and Minnesota."

The company offers several aluminum components, including forward assist caps, charging handles, trigger guards, takedown pins, dust covers, magazine releases… you name it, they likely offer it. Customization is divided into two components: color and design. The parts are available in a wide variety of colors such as red, blue, purple and pink, or more standard colors, like black, ODG, FDE and gray. After choosing a color, consumers select factory laser-engraving options. Laser engraving themes include "The Right to Bear Arms," "We The People," "Don't Tread on Me," branch-specific military insignias, and several character engravings including Deadpool or Punisher logos, among others.

Don't like any of the factory-standard designs? The company also does custom work and is currently in the process of expanding its customization options and packages, with new products and capabilities available at the end of June 2018.

"We do custom laser projects as well as opening up and expanding a selection of Cerakote covered parts," Yager said. "We mostly laser our own product offerings for customer needs, but occasionally will laser a customer part. Our biggest challenge is keeping customer expectation to a simpler customization. The laser can get very intricate but it's hard to read a world map on the head of a takedown pin."

For in-depth personalization, customers can go to the company website and fill out the information required. Afterward, consumers will be contacted with any further questions needed to fill the order. Turnaround time depends on the project and quantities, but it's typically less than three weeks.

The theme of my AR, for example, was a celebration of the Second Amendment. Because I was going with an FDE/black color scheme, and most of the parts I ordered are for an FDE Aero Precision upper receiver, I went with black. Three of the parts (takedown pins, forward assist cap and trigger guard) bear the phrase, "THE RIGHT TO BEAR ARMS" wrapped around an American flag.

The other two pieces, the dust cover and the charging handle, are unique in that the back of the charging handle contains the Second Amendment engraved on both the back of the handle and on the handle's stem, and has the American flag on the top of the charging handle at the rear. The dust cover has an American flag engraved on the outside when it's closed and contains the Second Amendment on the opposite side, visible when the dust cover has flipped down during firing.

With the customizability of both design and color, especially for the price (my entire setup ran just under $110 for everything) there's a lot that can be done to give any AR a one-of-a-kind feel, and the guys at Tactical Expressions have a countless number of accessories that can be personalized to fit anyone's style.