I may no longer be plucking broken climbers off cliffs at midnight or fishing people out of deadly flash floods, but I still carry a headlamp, precisely why I was interested in running the SureFire Saint through the wringer.
A headlamp has tactical applications?
I wasn't convinced until I saw images of Marines preparing for a dawn helicopter insertion. They were gearing up and stuffing their rucks in the night, each wearing a headlamp. Assuming you're in a relatively secure area, they also allow you to use both hands when addressing a firearm malfunction, administering first aid, troubleshooting a vehicle or marking map coordinates.
The Saint is far from a run-of-the-mill headlamp, though. The space-age twists begin with an LED light-source capable of intensities that vary from 100 lumens, all the way down to a lightning-bug-like single lumen. It will run for 6 hours at high intensity and last for 144 hours at insect output.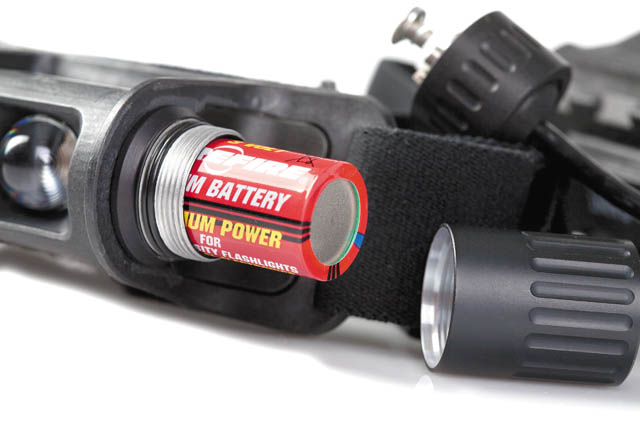 Power is adjusted by a rheostat located on the LED housing. It measures .75 inches in diameter, a size that eases gloved operation. I did, however, find it something of a challenge to change intensity when wearing overmitts.
The Saint can operate using two separate power supplies. If weight is a concern, the unit can run on a single, CR-123 lithium battery using the included tail-cap adapter. For more lengthy work, a battery pack that carries three of the batteries can attach at the back of the headlamp's straps. To tap into the added power source, simply remove the single-battery tail cap and screw in the adapter. An adapter for AA alkaline battery operation is also available.
An external power supply's biggest drawback is that wire flopping around in your peripheral vision and getting hung up on things at the worst possible moment. SureFire addresses the problem with cable-restraint tabs.
One of the most convenient things about a headlamp is that it automatically points in the direction you're looking. Adjusted right, it illuminates where you're going to place your next step or at the lug nuts you're trying to break free—that is, until you've walked far enough that the straps have wiggled down around your ears or the headlamp's been pounded against an object, changing the unit's angle of projection. The Saint remedies the ear-warmer problem with a quickly and easily installed top strap. The unit's slim profile, which is much more streamlined than traditional units—along with a very positive and adjustable angle setting—remedies the second problem.
The Saint can be submersed in 3 feet of water for up to 30 minutes without failing. Breathe-O-Prene pads on the mesh headband add comfort and breathability and SureFire didn't cut corners on the LED housing, either. It's constructed of a Mil-Spec-anodized aerospace aluminum body to survive the toughest of conditions. The external battery supply is made from a tough polymer, helping reduce overall weight to 9.4 ounces without batteries. MSRP is $185.
The number one rule of self-defense, even when you're not expecting trouble, is to always be aware of your surroundings. The Saint helps you do just that.