by
posted on April 5, 2020
Support NRA Shooting Illustrated
DONATE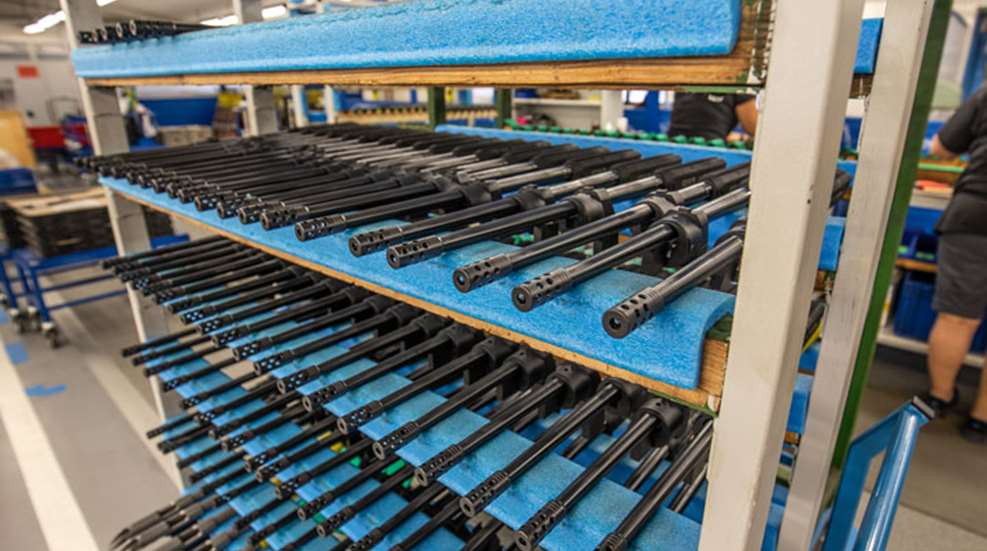 There's a wonderful video of economist Milton Friedman (no relation) discussing how no single person makes a pencil. His point was to show that demand for a product causes people all over the world to perform seemingly unrelated tasks that result in a seemingly simple and inexpensive product being made. The same is true of pretty much everything relating to firearms, optics, accessories and most every product you use.
Between private conversations with firearm, ammunition and optic manufacturers over the past two weeks, along with public information disseminated by major gunmakers, I am fairly certain a major disruption in the supply chain for those products and likely many more is coming, and coming soon.
There is no gun manufacturer that makes every single part or raw material that goes into their finished products. While I can't say for certain, I'd wager this is true of almost every consumer good on the planet. For example, no gun company makes the steel they use to make barrels or the raw polymer used to injection mold frames—they purchase those materials from third parties.

Moreover, many manufacturers use OEM sourcing to provide significant parts of their finished products, and the overwhelming majority buy at least some component parts like springs from outside sources. Therefore, while firearm manufacturing may be declared "essential" in many states currently under stay-at-home orders to combat the COVID-19 pandemic, unless every part of the supply chain is deemed essential, at some point the supply of parts will run dry and it will be impossible to finish assembly of the final product.
The same is true of ammunition, optics, holsters, slings—literally everything you might need for your guns. While ammunition manufacturing may be allowed to continue because it is essential for personal and national security, is the recycling of lead from used car batteries considered essential in every state? What about the mining and refining of copper or the production of cardboard needed for boxing the finished ammo? That's just scratching the surface of ammo manufacturing.
Holster makers, whether they use leather, nylon, Kydex (a polymer) or some combination thereof, face similar obstacles. I'm not aware of a holster maker that operates its own cattle ranch, slaughterhouse and tannery, for example.
We have already seen notices from Kimber and Remington that, owing to their businesses being declared non-essential in New York, their factories in Alabama lack certain parts to continue manufacturing. Even if New York comes to its senses and declares the respective factories in Yonkers and Ilion essential, some products will almost certainly remain impossible to complete because a spring maker in Florida or a chemical plant in New Jersey that makes coolant required to run CNC machines might be considered non-essential in those states.
Kimber's President and COO, Greg Grogan, explained the situation quite clearly: "Just as many U.S. manufacturers are currently experiencing, Kimber's external supply chain is undergoing challenges. Most of our suppliers are still operational but reduced employee attendance and delays in their own supply chains are causing disruptions. Kimber is substantially vertically integrated; therefore, we are much more reliant on our own factories for part fabrication rather than our external supply chain. However, having 98 percent of the components required to assemble and ship a firearm doesn't get it done. That's the reality at this unprecedented time."
Remington has offered to retool its Ilion, NY, facility to make ventilators, which is a great example of gun makers again helping to keep people safe. Of course, that also means the famed factory won't be turning out guns or gun parts.
I spoke with several other manufacturers about supply-chain concerns. Heckler & Koch USA told me that it is currently running its Columbus, GA, plant, but with fewer staff than normal to maintain social distancing requirements, which, according to Marketing Director Bill Dermody, "doesn't maximize production capacity."

The company is also closely monitoring developments in Germany, where its parent company is located and where many of the parts that go into its guns are made; disruptions in manufacturing or supply chains in Europe could affect production in the U.S.
Zev Technologies is also still operating and churning out significant numbers of guns, but it has had to constantly monitor and, in some cases, modify its supply chain owing to circumstances affecting its suppliers. According to the company's VP of Marketing and Business Development, Dave Roberts, "Something that used to take one week to make is now taking two weeks, but everything is still being made."
Hornady planned for ammunition sales to increase in 2020, according to Senior Communications Manager Neal Emery. "Overall, we were fortunate to recognize things early and get six months of important materials and products while we could. That's everything from cardboard to printer ink to raw materials," he said. "Demand spiked really fast this time. Faster than previous increases in demand over the recent years. We've done what we can to produce as much as possible while dealing with the hurdles the virus has placed in front of us."
The big concern right now is that when any part of the supply chain is closed because of illness or attempts to curtail the spread of COVID-19, the downstream effects could be significant. When any single part of the supply chain shuts down, the disruption that causes will eventually result in the inability to build even those products deemed essential by the government.
Hopefully, most gun, ammunition and accessory manufacturers had enough raw materials and parts on hand to last them through however long it takes to resolve this crisis, minimizing any disruptions. Even more, let us hope the crisis passes as quickly as possible so lives can be saved, the country and the planet can get back to work and the disruptions to everyone's world will cease.