by
Shooting Illustrated Staff
posted on February 2, 2012
Support NRA Shooting Illustrated
DONATE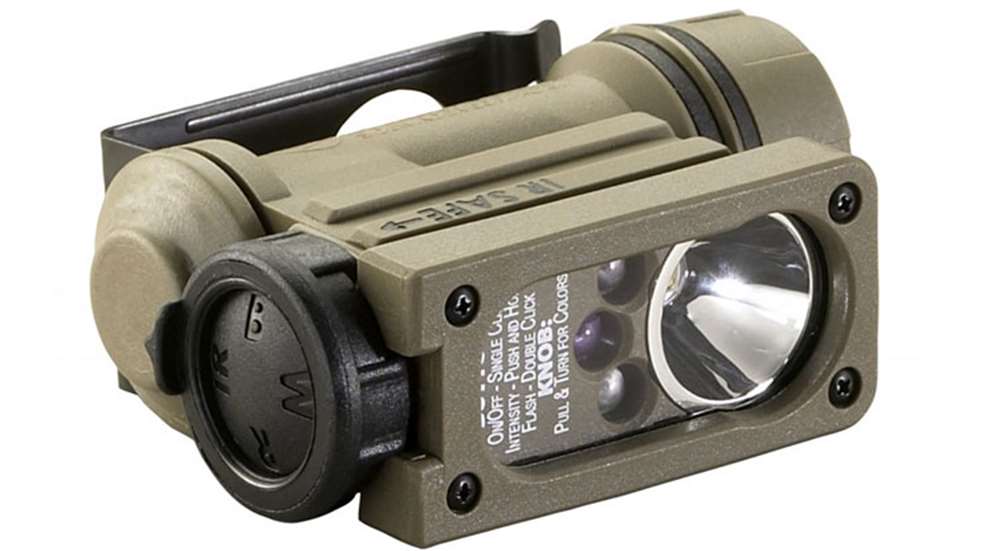 The versatile new light also can operate from a single CR123 lithium, AA Alkaline, or AA Lithium battery, giving users the flexibility to use the most readily available or preferred battery source. The light is available as a helmet system, including a mount and head strap.
The Sidewinder Compact II has been engineered to meet a variety of hands-free lighting needs with various color LEDs that can be operated at varying outputs and run times. So small that it fits in the palm of a hand, the light can be quickly attached to MOLLE gear, a belt, or helmet for hands-free use by means of a durable belt or clothing clip with integral helmet mount features. Featuring a 185-degree tilting body, the light can be rotated frontward to aid in navigation or backward for signaling purposes.
"We designed the Sidewinder Compact II in response to specific feedback from first responders and others who rely on more readily available alkaline batteries when operating in the field," said Streamlight President and Chief Executive Officer Ray Sharrah. "This new version of the Sidewinder Compact is extremely versatile, letting military, tactical, and other users choose from multiple power sources, while still delivering the same exceptional functionality as the original Sidewinder Compact."
Providing four lighting modes and a strobe in a single light, the Sidewinder Compact II boasts a white C4® LED that is impervious to shock and offers a 50,000-hour lifetime. The C4 LED offers 55 lumens and 1,175 candela peak beam intensity when using lithium batteries, and 47 lumens and 1,000 candela when using alkaline batteries.
The new light also includes: a 5-millimeter infrared LED that provides 25mW/sr of radiant intensity; a 5-millimeter red LED that offers 1.5 lumens on the high setting and a 5-millimeter blue LED providing 1.8 lumens on high. Each of the lighting modes provides four intensity levels and a strobe mode that operates at 100% intensity.
When using either a single CR123A or AA lithium cell battery, the Sidewinder Compact II delivers 70 hours of run time at the low output level for the white C4 LED and more than 100 hours for the infrared, red, and blue LEDs. At the high output level, the white C4 LED provides 6 hours of run time, the 5-millimeter infrared or red LED provides 16 hours, and the 5-millimeter blue LED provides 12 hours.
When operated with a single AA alkaline cell battery, the light delivers 40 hours of run time on the low output level for the white C4 LED and more than 100 hours for the infrared, red, and blue LEDs. On high, the white C4 LED provides 2 hours of run time, the IR or Red LEDs provide 9 hours, and the blue LED provides 6 hours.
The light's compound On-Off mode selector switch ergonomically separates the On-Off, dimming, strobe, and LED-selection functions. A rubber dome actuator and four-position pull-to-turn locking rotary selector knob with an infrared tactile indicator offers easy operation, even with heavy gloves, and prevents accidental mode changes. The light also features an unbreakable polycarbonate lens with scratch-resistant coating.
The Sidewinder Compact II measures 3 inches in length and weighs a mere 2.4 ounces with the single included CR123A lithium battery. It features a high-impact, super-tough nylon case, which offers exceptional durability and weather resistance. With O-ring and gasket-sealed openings, the light features an IPX7-rated design and is waterproof to one meter for 30 minutes. It meets MIL-STD-810F, Method 512.4 guidelines for waterproof operation.
The Sidewinder Compact II helmet system includes the light, helmet mount, elastic head strap, and a CR123A lithium battery. It has an MSRP of $128.
Headquartered in Eagleville, PA, Streamlight, Inc. is a leading manufacturer of high-performance lighting equipment for professional automotive, fire fighting, law enforcement, military, industrial and outdoor applications. Streamlight is an ISO 9001:2008 certified company. For additional information, please call 800-523-7488 or visit www.streamlight.com.