Although perhaps not the first to build a firearm platform enabling this, Thompson/Center is the most successful company in terms of number of these firearms produced. Beginning with handguns and later rifles, T/C has allowed shooters to plink cans at the local dump or hunt buffalo in Africa with one gun. You simply change barrels between outings.
A single, multi-capability handgun might be a political reality in some locales, rather than an economic incentive. If the law allows only one gun (or some limited number of guns) per person, new chamberings must be absorbed into the shooter's existing firearm. In terms of simplicity and cost, T/C is the master of this domain, with one glaring limitation; these multi-caliber guns are all single-shots.
Semi-automatic pistols are big sellers in today's firearm market. While self-defense may be the primary motive, many of these buyers participate in a wide variety of handgun matches. Should his or her interests expand to include another style of shooting, the currently owned handgun may not be the best or even an appropriate choice for the new type of competition. So, does our burgeoning champion buy another expensive custom pistol, or settle for a lesser-priced but reasonable approximation of the pistol with which he has become intimately familiar over the past few months? He can't call T/C for help, but if he likes 1911s, he can call Springfield Armory for a single solution that will let him compete in any of the existing speed- or self-defense-oriented matches.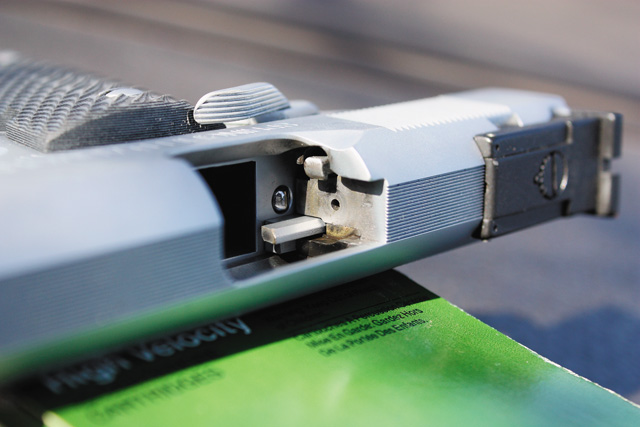 The best testimony of my faith in Springfield 1911s is that I own more than one. Each was purchased after being put through the paces for different articles. One was an early multi-caliber and multi-capability pistol modified after the fact—a Trophy Match in .45 ACP that Irv Stone at Bar-Sto Precision fitted with a match barrel in .400 Cor-Bon. The conversion was relatively simple, requiring an additional barrel and recoil spring, but leaving everything else as it came from the factory.
When complete, I had a semi-automatic pistol almost capable of .41 Mag. ballistics —with bullet weights up to nearly 200 grains—that converted to the premier self-defense gun and caliber, a 1911 in .45 ACP. I did not, however, have a gun suitable for multiple matches.
Changing the caliber of a 1911 is not difficult as long as case heads and case lengths are the same in both calibers. The .400 Cor-Bon case is simply a .45 ACP necked down to .40 caliber. But, when you compete in matches requiring a mix of .45 ACP, .40 S&W and 9 mm to get you into the winner's circle, hardware becomes more complicated. Dave Williams, the director and chief Michaelangelo of Springfield's Custom Shop, sent me his solution to the problem of making one gun suitable for all matches.
It's a hard-chromed 1911 equipped with all the accessories you might desire for competitive shooting, including barrels and accessories to run the gun in any of the "big three" calibers. As delivered, the gun is set to go in .40 S&W, but parts are included for conversion to both .45 ACP and 9 mm. All barrels are 5 inches, since that allows use of the same slide in all three chamberings. The pistol is equipped with a guide rod, and while I prefer 1911s without this feature, the complexity of multiple chamberings suggests a guide rod will provide an extra measure of reliability when switching from one caliber to another.
The diamond-plate checkering (20 lpi) on both the frontsrap and backstrap is cut at 60 degrees rather than the traditional 90 degrees and its grip panels are made of G10 by Mil-Tac. The unique pattern is called the Horned Toad, which is a perfect description. Combined with the aggressive diamond-plate checkering, the gun is very easy to hold when engaged in serious rapid fire. A Smith & Alexander magazine well, with its characteristic large, flared mouth, ensures smooth and fast reloading.
Ambidextrous safeties address the needs of both right- and left-handed shooters, while adjustable target sights are dovetailed nicely into the slides. The sights are black, ensuring a precise sight picture under daylight conditions, but there is a red fiber-optic element installed in the front sight blade. Want a different color or perhaps nothing at all? Tell Williams. The composite, skeletonized trigger breaks crisp and clean and has an overtravel screw. Springfield 1911s usually have a 4 1⁄2-pound trigger pull with competition models breaking around 3 1⁄2 pounds, but there is some negotiation room here within the bounds of sanity, liability and reliability. Having exactly the same trigger at every match in every caliber means no re-education of the trigger finger between stages—no matter the match in which you're competing, regardless of the caliber you select.
It didn't take much concentration to maintain groups of 1 1⁄2 inches at 50 feet, nor were the 6-inch steel plates at 25 yards much of a challenge. With the rear target sight all the way down, Remington's .40-caliber, 155-grain jacketed hollow points smacked the lower half of the plate at 25 yards and dropped low on the same-size plates at 50 yards. A few elevation clicks on the rear sight centered bullet impact on the 25-yard steel and made gray splashes on the bottom half of the 50-yard plates. The Springfield ran smoothly and effortlessly through 200 rounds without a murmur.
My final conversation with Williams was not the typical enthusiastic cheerleading session we usually have after I've enjoyed some prolonged range time with one of his Custom guns. He cautioned me about presenting this gun as the solution for every shooter who might be considering competitive shooting. Swapping calibers is not as simple as a barrel change on a T/C Contender. Some finesse is required when installing the ejector, extractor and Springfield's cartridge positioner. "You don't have to graduate a 1911 gunsmith school," he said, "but you need to be intimately familiar with the 1911. It's not just about disassembly and re-assembly of parts; it's about fitting and tuning some of the components."
Words like "fitting" and "tuning" always get my attention. They indicate skills beyond just beating something into place with a rock or, failing that, beating something with a bigger rock. I'm kind of borderline Neanderthal in most of my tinkering talents, and it would take me some time to get comfortable with changing diapers on the Springfield match gun. But, if there was ever a gun to get me back into the diaper-changing business, this is it!