The Springfield (MA) Police Department—which dates back to the city's founding in 1636—has selected the Smith & Wesson M&P 2.0 as its official duty pistol. Six hundred of the handguns will be issued to officers, who protect and serve the more than 150,000 residents within the jurisdiction. The move is an upgrade from the previous official sidearm, which was the M&P40 from the famed manufacturer.
"The new M&P M2.0, with its aggressive texturing and tactile trigger reset, provides law enforcement with the ultimate in reliability and dependability," said Matthew Fehmel, senior director of Global Professional & International Sales for Smith & Wesson. "This upgrade to the M&P M2.0 should carry the Springfield Police Department through many years of service.  Most importantly, we're proud that our pistols are called on to protect law enforcement in Smith & Wesson's hometown of Springfield, Massachusetts."
"We're very appreciative of the entire team at Smith & Wesson," said Springfield Police Commissioner Cheryl Clapprood. "They have the best and safest products on the market. Their company being based in our city and many of their employees living in Springfield has led to a long-term partnership that our officers take pride in."
The M&P M2.0 comes with four interchangeable palm swell inserts and a light, crisp M2.0 trigger with a tactile and audible reset. The pistol features a molded polymer frame designed for comfort and durability, as well as the optimal M&P pistol 18-degree grip angle for a natural point of aim. Chambered in 9 mm, .40 S&W and .45 ACP, the M&P M2.0 pistol is available to civilian enthusiasts and offered in full size, compact and subcompact variants.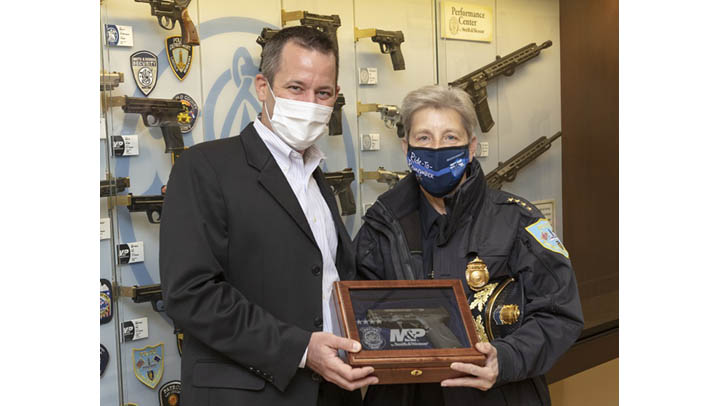 To commemorate the long-term relationship between the department and Smith & Wesson, the Springfield Police Department was presented with four engraved pistols for its command staff during a recent ceremony at the famed gunmaker's headquarters in Springfield, MA.