Smith & Wesson is making me rethink some of my of automatically associated images. Years ago, in a clever marketing move, it coined the term "Bodyguard" for some of its handguns, but I stubbornly clung to my Hollywood-created visions of super-sized guys saving the world. For the past month I've been working with Smith's two newly introduced diminutive Bodyguards, and I have been forced to dramatically downsize some of the pictures stored in my memory banks. 
Perhaps the most dramatic new feature on both Bodyguards is the integrated laser. On the .38 Spl. revolver, the laser unit is attached high on the right side of the frame so the laser beam is emitted parallel to the center of the bore, approximately .5 inch to the right. There is minimal offset between bullet trajectory and laser beam. On the semi-automatic .380 ACP, the laser is packaged in the front of the frame, just below the muzzle. The beam is emitted approximately 1 inch directly below initial bullet path with no lateral deviation. On the revolver, the laser activation switch is mounted on top of the laser housing and can be easily operated by the thumb of the shooting hand (either right or left) as the gun is drawn. The activation switch on the .380's laser protrudes from both sides of the frame above and just in front of the trigger guard. It's ambidextrous and can be activated by pushing the button on either side.
The activation switch was noticeably heavier on the .380 and that, combined with its forward location on the frame, forced me to use the support hand to turn it on and off. For me, turning it on was not a natural part of the draw. The lasers have three positions: constant on, pulse and off. Each push of the switch transitions to the next mode, so there's no complicated pattern to remember in order to activate the laser beam.
I ran some low-light drills at the Smith & Wesson Academy, and the lasers made hits much easier, particularly on moving targets or anything that was at 10 yards and beyond. We'll come back to sighting considerations later, but it should be noted that while the lasers are an integrated feature on the Bodyguards, both the .380 ACP and .38 Spl. will operate reliably if the lasers are inoperable or removed for any reason—a decided advantage in a self-defense gun.
Bodyguard 38
This is the first revolver design change at Smith & Wesson in 111 years. That's incredible, particularly when you consider the company has dominated the double-action revolver world for more than a century with the same revolver design! Sure, it introduced the L- and X-frame revolvers, but those did not require a fundamental design change.
"This is the new generation of .38 Spl. +P small-frame revolvers," Jim Unger, Smith & Wesson's manager of Bodyguard and SD pistols told us during our visit. Almost as noticeable as the integrated laser is the ambidextrous cylinder latch located on top of the frame. In addition, there is an integrated aluminum-alloy upper frame and barrel shroud, a steel-reinforced polymer lower frame and a one-piece rubber grip. The company's focus was on simplicity of design and manufacture. "You can't assemble this gun wrong," Unger said.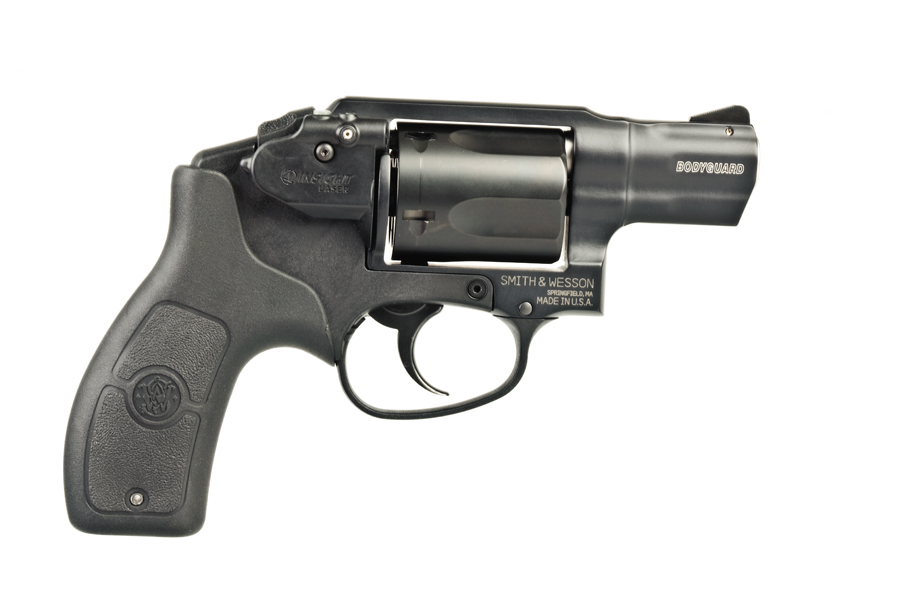 Clearly this was a challenge aimed directly at me, and when we visited the production line to participate in building a gun at the end of the visit, I picked up his gauntlet and went to work. Despite my most savage efforts, he was right; I couldn't put it together incorrectly. Each assembly point on the line had pictures and detailed instructions of "how-to" and "what-to," and while I needed professional help to get through some of the assembly steps, that little revolver only went together one way—the right way.
The end result is a dandy five-shot .38 Spl. revolver about 6.5 inches long, weighing a little more than 14 ounces with a barrel slightly less than 2 inches long, an ambidextrous cylinder release and an incredibly smooth double-action trigger pull. And of course, a laser integrated into the revolver's design so it accepts different grips, doesn't let you place your fingers where you might block the laser beam and will automatically shut itself off after 5 minutes in case you inadvertently leave it on. All this for a suggested retail price of $625.
With regard to the ambidextrous cylinder-release latch; it's a big help to lefties, but it doesn't provide any magic reload capabilities. It is great for performing chamber checks and "topping off" with a tactical reload without removing your shooting hand from the grip. But, you can't dump an empty cylinder without taking your shooting hand off the grips, nor can you recharge the cylinder with five rounds from a speed loader without performing some kind of manual-of-arms like right-handers. Recognizing that, it's still a huge improvement, both for natural lefties or for those who become lefties due to injuries sustained in a fight.
Bodyguard 380
Here, we have a semi-automatic chambered in .380 ACP that's only 5.25 inches long (but sports a 2.75-inch barrel), weighs less than12 ounces and can carry seven rounds. And, oh yeah, it also has an integral laser. Retail for this package is $575. The slide and barrel are both stainless steel with a semi-impervious black Melonite finish, while the grips are polymer. The gun features a double-action-only trigger, with a second-strike capability in the event a round does not fire. If you don't like the second-strike principle, upon hearing a click instead of a bang, you can immediately proceed to the tap/rack to bring up a new round.
I'm a big fan of double-action handguns for pocket carry. Even with a pocket holster, I'm leery of carrying a 1911 or striker-fired pistol in a pocket. If you inadvertently knock the safety off, your trigger requires only a fraction of an inch of movement and you have a negligent discharge in your pocket. Double-action-only pistols and revolvers require several pounds of force applied in a specific direction to move the trigger something more than half an inch.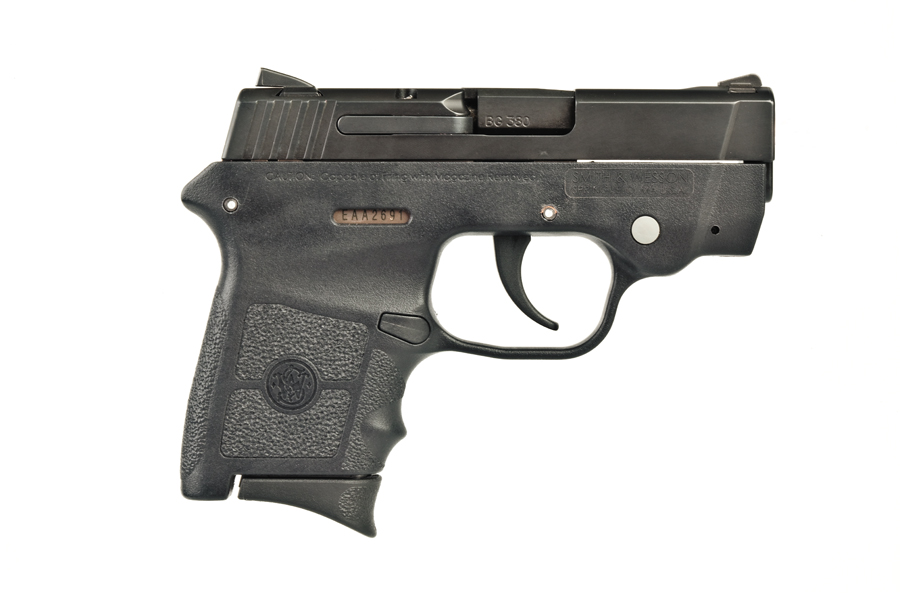 With a concealed-carry permit, I usually carry a small revolver or semi-automatic in my pocket, and I always use a holster for protection against a negligent discharge and to avoid printing. Before I had a concealed-carry holster, it was usually a double-action Walther PP or J-frame .38 Spl. loose in a jacket or trouser pocket. In every case, I ensured there was nothing else in my pocket except my hand, and I tried to keep my hand on the gun the entire time. While things have improved in terms of proper holsters, I'd still be comfortable with a Bodyguard in a pocket.
The Bodyguard 380 features a full set of external controls including a slide stop that worked every time after the last round was fired. While I won't go to court demanding every gun have one, I like slide stops on small semi-autos, with my only reservation being the external controls must not interfere with the pistol's operation.
The small slide-stop lever (or button on the .380 ACP) protrudes just far enough so the slide can be released by the thumb of the shooting hand without releasing the gun. Smith & Wesson got this one right, particularly since the firearm is intended for first-time gun buyers. Also important for those customers is the Bodyguard's external safety. Putting it on or off produces a loud click—audible confirmation of the change of status. The lever requires some force to operate, but it can be done with the thumb on your right hand—even with the gun in your pocket—while holding it in what is close to a shooting grip.
Given a good pocket holster, I'd be comfortable carrying the little .380 ACP with the safety off, but I'd like some more time with the rig before making my final decision. In a recent "Purse/Pocket Gun" event at Gunsite, we ran pocket pistols against the clock and the Academy's robot. Starting with my hand in my pocket (something I would try to do in a threat situation), and loosening the gun partway from the holster in advance, I was able to draw and get off two shots in less than 1.5 seconds. I don't think having the safety on would have slowed me down because if I had time to partially unholster the gun, I could also have pushed the safety off prior to starting the draw. On the other hand, starting with my hand out of my pocket required about a day-and-a-half to get two rounds off. The gun worked fine, but my tactics need some attention.
As on most pocket pistols, the sights are quite small, kind of the typical blade-in-slot type. They're not easy to see, particularly in low-light situations. If you're inclined to dismiss this as inconsequential because you have a laser, don't. During the low-light exercises at the Smith & Wesson Academy, I forgot to turn the laser on prior to starting one of the exercises. Admittedly this was a case of pilot error and not the fault of the system, and while this might never happen to you, the point is I could not see the sights in the dim light well enough to accurately place my shots.
On another day, I was shooting outdoors in daylight under a bright sky. Here the laser was not visible more than a few feet away against the brightly lit background. Factory sights worked fine, producing roughly 2-inch groups at 10 yards. Self-defense trainers have a saying that "two is one, and one is none." The Bodyguard factory iron sights worked perfectly in daylight conditions, and the laser worked beautifully in low-light conditions. But since most self-defense situations typically occur in low light, I wanted "iron" sights that would work in all light conditions in case I didn't have time to turn on the laser or failed to operate it properly under stress.
Given the 380's dovetail-mounted front and rear sights, it was easy to get XS Sight Systems to install its Big Dot package. With the highly visible white dot front sight and V-notch rear sight, I'm on target faster in dim light, while the Trijicon insert provides a good reference point. I won't be taking 25-yard head shots using the XS system, but I'm well prepared for handling threats inside of 15 yards in all kinds of light conditions.
Smith & Wesson and Insight Technology have done a great job in jointly developing the Bodyguard/laser system. For a first-time gun buyer interested in concealed-carry, I really can't think of a more-suitable system than either the Bodyguard 38 or 380. I'm bummed the .380 ACP is not legal for sale here in California, but until that's rectified, the .38 Spl. goes into my inventory and will be spending some time in my wife's hands. Who better than your better half to have as a bodyguard with her own Bodyguard. And remember, "two is one, and one is none," so get your partner involved.