During the early years of my Border Patrol career our pistol qualification included shooting at 50 yards. We shot bullseye, one handed, as well as two-handed shooting for what was referred to as the combat course on a silhouette target. These days when the subject of 50-yard pistol shooting is brought up, folks get kind of nervous. Defensive pistol shooters tend to disregard long-range shooting, but it's not an issue for handgun hunters or those use to competing at 50 yards or beyond.
In the wake of recent terrorist events, my friend and TV personality Michael Bane proposed that defensive shooters should be capable of making a head shot at 25 yards and a body shot at 50 yards. His reasoning: This level of accuracy could be necessary to stop a killer, and he believes armed citizens should ensure their weapons and training are up to the task. I agree with Bane and consider this a training challenge requiring us to sort out our gear and to step up our training.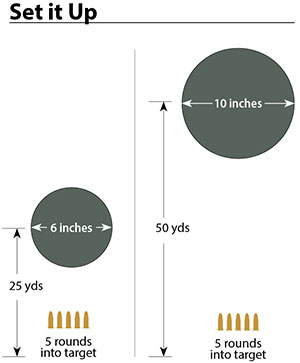 At Gunsite, the Option target we use features a square "head" measuring 6x6 inches. For many years, when asked what my pistol-accuracy standard might be, I replied that the pistol, the sights and I have to work together well enough for me to make head shots on this target at 25 yards. So, for Bane's accuracy standard, let's use a 6x6-inch square or a 6-inch-diameter circle. Although the center scoring area of the Gunsite Option target recently changed, I'm going to default back to Jeff Cooper's original Option and suggest you consider a 10-inch circle for the "body" shots at 50 yards. If you don't have access to these targets, you can inscribe these circles on a target backer or staple a couple of properly-sized paper plates. If you have a couple of appropriate metal targets, or a metal-silhouette target, then all the better.
Here's the drill: At 25 yards, shoot five rounds into the small target and at 50 yards shoot five rounds into the larger target. That's it. As I'm fond of saying, there are no rules in a gunfight, so do what you need to get the hits. Take your time, use a barricade for support, shoot from a braced-kneeling position or shoot from prone. The idea here is to gain the level of confidence in your skills and firearm to know you can make these shots.
If you're like me, you're going to learn some things by practicing this drill. For example, if your pocket pistol with a heavy trigger and minimal sights isn't up to the task, perhaps you should reconsider your personal-defense choices and switch to something more effective. And, as always, keep practicing and training.