The U.S. Army announced on Tuesday that SIG Sauer has been awarded the contract to produce the branch's Next Generation Squad Weapons (NGSW). The decision came after a rigorous 27-month testing and evaluation period. Initial delivery in the 10-year agreement is valued at $20.4 million.
NGSW guns, which are chambered in 6.8 mm, will be issued to Army Infantry troops and to a portion of the Marine Corps. The new firearms will replace M4 and M249 Squad Automatic Weapons in combat units, while the older firearm fleet will remain standard issue for units whose primary mission isn't necessarily frontline duty.   
"The U.S. Army is taking a bold step toward command of the 21st century battlefield and SIG Sauer is immensely proud to be the selected provider for this historic revolution in infantry weapons," said Ron Cohen, president and CEO of SIG Sauer. "The fielding of the SIG Sauer Next Generation Squad Weapons System will forever change the dynamic of military engagement for America's warfighters with American innovation and manufacturing."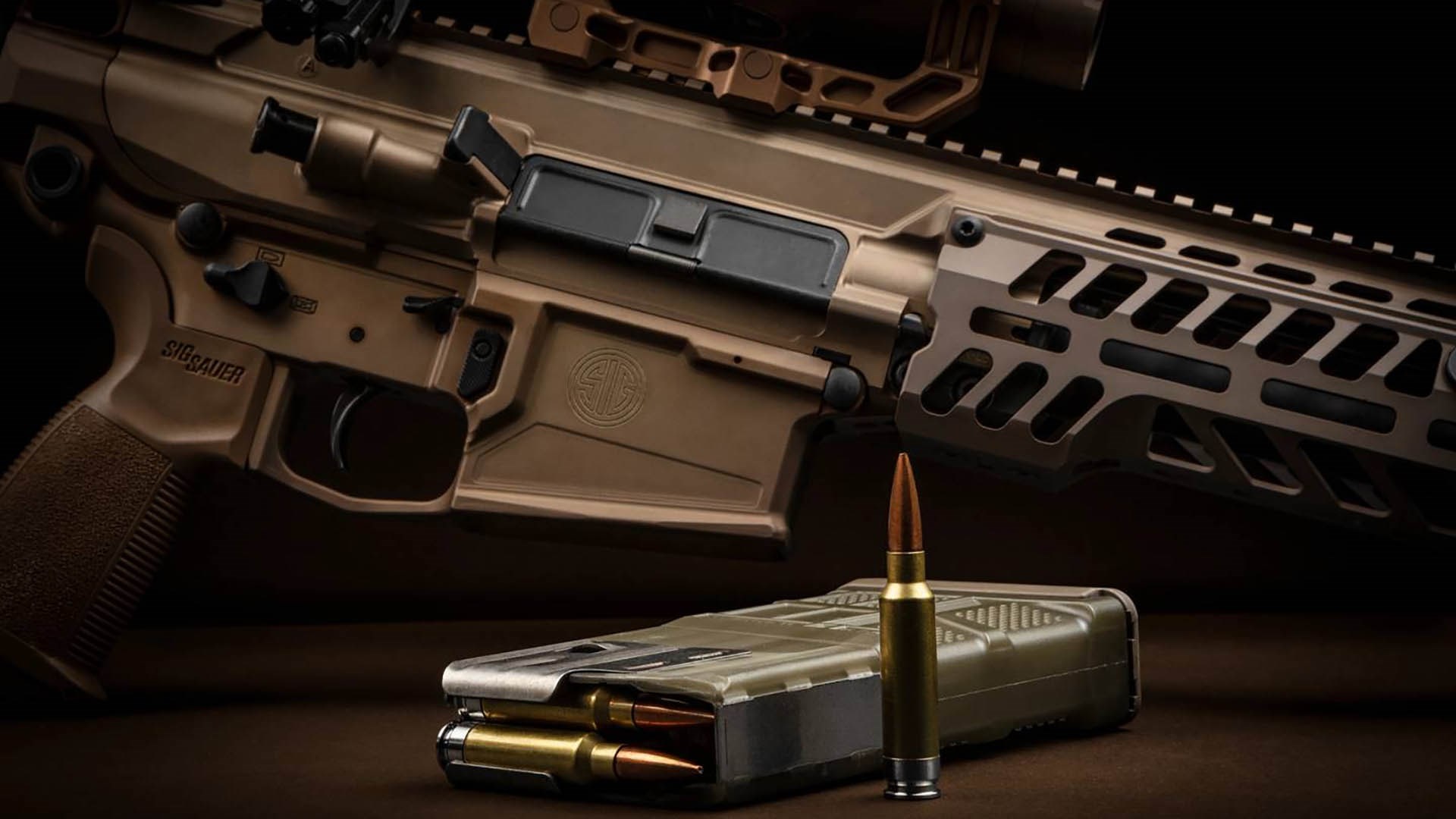 The SIG-LMG lightweight belt-fed machine gun and SIG MCX-SPEAR Rifle are purpose-built to harness the energy of the SIG FURY 6.8 Common Cartridge Ammunition, enabling greater range and increased lethality, while reducing the soldier's load on the battlefield. Both the SIG-LMG and MCX-SPEAR deliver significant weapon and technology advancements to provide a solution for battlefield overmatch in comparison to the current M249 and M4/M4A1. The SIG 6.8x51 FURY Hybrid cartridge they chamber handles pressures higher than conventional ammunition, which delivers increased velocity and on-target energy in lighter firearms. 
"Both weapons provide significant capability improvements in accuracy, range and overall lethality," the Army's announcement stated. "They are lightweight, fire more lethal ammunition, mitigate recoil, provide improved barrel performance, and include integrated muzzle sound and flash reduction."
The procurement of the NGSW System also marks the beginning of an era when combat weapons are coupled with a suppressor as standard-issue equipment. SIG SLX Suppressors are designed to reduce harmful gas backflow, sound signature and flash. A patented quick-detach design allows for easy installation and removal. 
"We commend U.S. Army leadership for having the vision to undertake this historic procurement process to deliver a transformational weapon system to our warfighters," Cohen said. "This award is the culmination of a successful collaboration between SIG Sauer and the U.S. Army, and we look forward to the continuing partnership."
 Check out the upcoming July 2022 issue of Shooting Illustrated for an in-depth look at the entire NGSW program.