by
Shooting Illustrated Staff
posted on January 13, 2015
Support NRA Shooting Illustrated
DONATE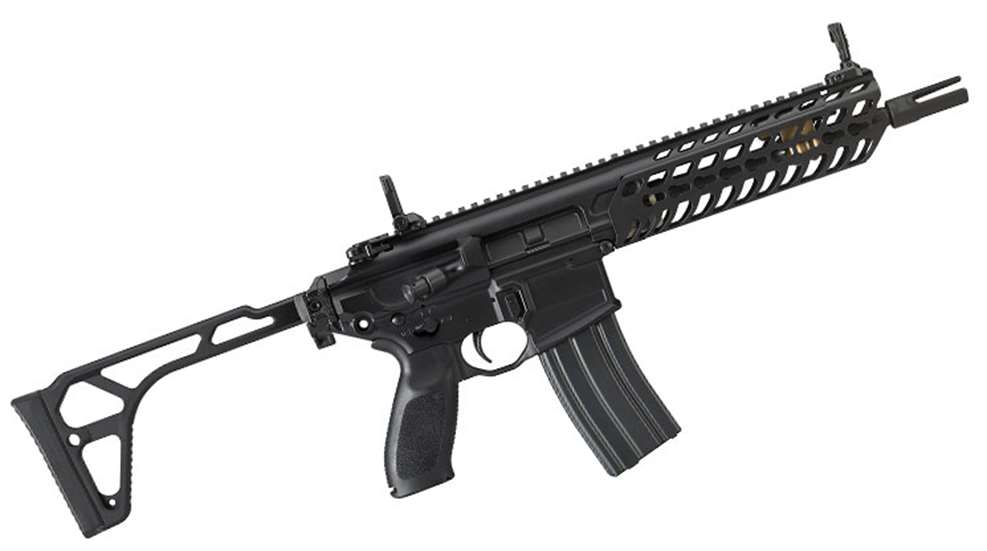 Designed from the ground up as a short-barreled,silenced, lightweight rifle-caliber system, the SIG MCX has reset the standard for modularity, sound suppression, and mission capability.

With the introduction of the SIG MPX submachine gun, SIG Sauer raised the bar for performance and modularity in a pistol-caliber platform. The SIG MCX combines that modularity with rifle-caliber power in a compact package, designed for optimum performance with a silencer.
"We've built a team of the best minds in the industry, when it comes to silencer technology, rifle engineering and the .300 Blackout cartridge," said Jeff Creamer, Executive Director and General Merchandise Manager for SIG Sauer, Inc. "The end result is a technological leap forward in ergonomics, modularity, cartridge performance, and sound reduction."
Unlike every other firearm on the market, the SIG MCX was designed from the start for optimum performance with the .300 Blackout cartridge and a silencer. When paired with a SIG Sauer silencer, the outcome is a firearm with superior suppression capability and enhanced reliability with both supersonic and subsonic loads.
An auto-regulating gas system makes the transition from subsonic to supersonic seamless. In combat situations, the SIG MCX can run supersonic on the silenced setting without damaging the firearm or negatively impacting reliability.

Sharing a modular design with the SIG MPX, the SIG MCX is a mission-adaptable marvel. Changing between .300 AAC Blackout and 5.56 NATO is as simple as swapping barrels and op rods. Converting to 7.62x39 mm simply requires an additional bolt face change. All of this can be performed by the user in the field. Barrel lengths can also be changed, with 16-inch and 9-inch versions initially available.
"The SIG MCX can be set up as a silenced personal defense weapon or a primary rifle in almost no time at all," Creamer said. "The one constant is SIG Sauer reliability and durability."
The SIG MCX features a revolutionary recoil assembly that does not require a buffer tube, allowing for side-folding stocks. A full-length picatinny top rail allows for the mounting of lights or optics. Removable SIG Sauer iron sights come standard.
The lower receiver offers familiar AR-style controls, with ambidextrous selector and mag release as standard. The SIG MCX upper is compatible with mil-spec AR-15 lowers and,with the use of a SIG MCX Stock Kit,allows consumers to fully upgrade their legacy system.
Three variants of the SIG MCX will be available to the commercial market; semi-automatic rifle, short-barrel rifle (SBR) and pistol configurations. All will be available in .300 Blackout, 5.56 NATO or 7.62x39 mm, with caliber conversions available immediately.
All SIG MCX models will feature aluminum KeyMod handguards, ambi AR-style controls, an ambi charging handle, and will utilize standard STANAG magazines.Also unique to the SIG MCX is an upper receiver with hardened replaceable wear points, including a cam path wear insert, a feed ramp insert, a removable / replaceable deflector, and charging handle latch point inserts.
The rifle variant will feature a 16-inch cold hammer-forged barrel, while the SBR will come with a 9-inch barrel. Both will offer a choice of four stocks: a low profile, side-folding skeletonized stock, a telescoping stock, a tubular side folding stock, or a folding telescopic stock. The pistol variant will feature a 9-inch barrel and a side-folding SBX Pistol Stabilizing Brace.
The SIG MCX rifle carries an MSRP of $1,866, while the SBR variant has an MSRP of $2,058. The pistol with side-folding SBX has an MSRP of $2,132.