by
posted on January 24, 2019
Support NRA Shooting Illustrated
DONATE
It's Day Two of SHOT Show 2019, and SI staff has been on the ground, checking out some of the unique, innovative products found at the show. Here are five stand-out guns and gear pieces that made us stop and look during Day Two: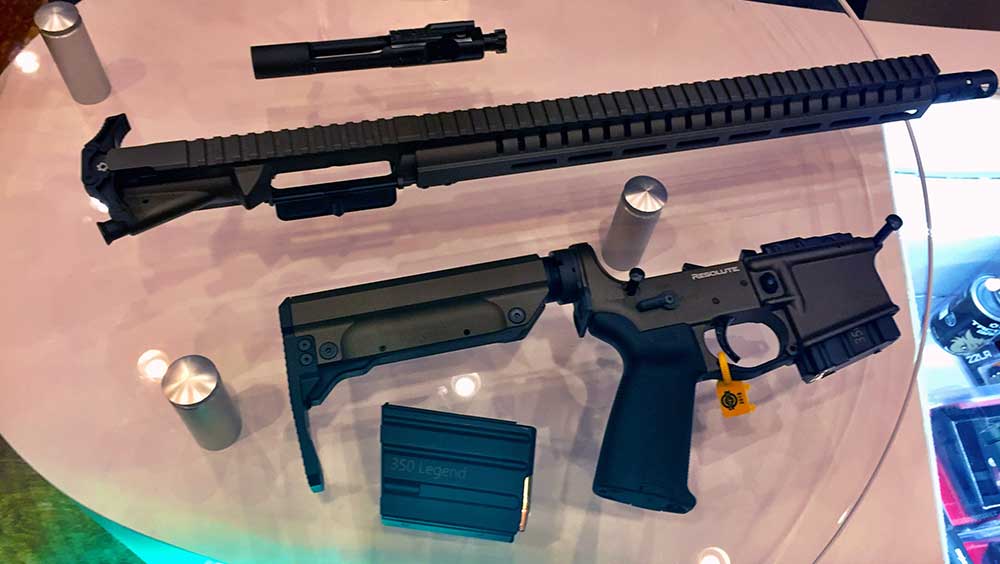 CMMG .350 Legend

Winchester recently released its new .350 Legend cartridge, bringing a straight-walled mid-caliber offering to the company's lineup. Initially billed as a hunting option for states that limit hunting to that type of round, rifles chambered in .350 Legend were limited to bolt-action. That is, of course, until the engineers at CMMG took a good look at the round. Flush with the success of the Guard and Banshee series, CMMG decided to pair the AR-15-style rifle with this new round.

Given that the .350 Legend uses the same case as the .223 Rem., the bolt-carrier group is the same as the 5.56 NATO variant. The magazine, however, is not--currently, only 5- and 10-round models are available from CMMG. Pistols, carbines and rifles chambered in .350 Legend should be available in Q2, and pricing is expected to be on par with CMMG's existing product lines.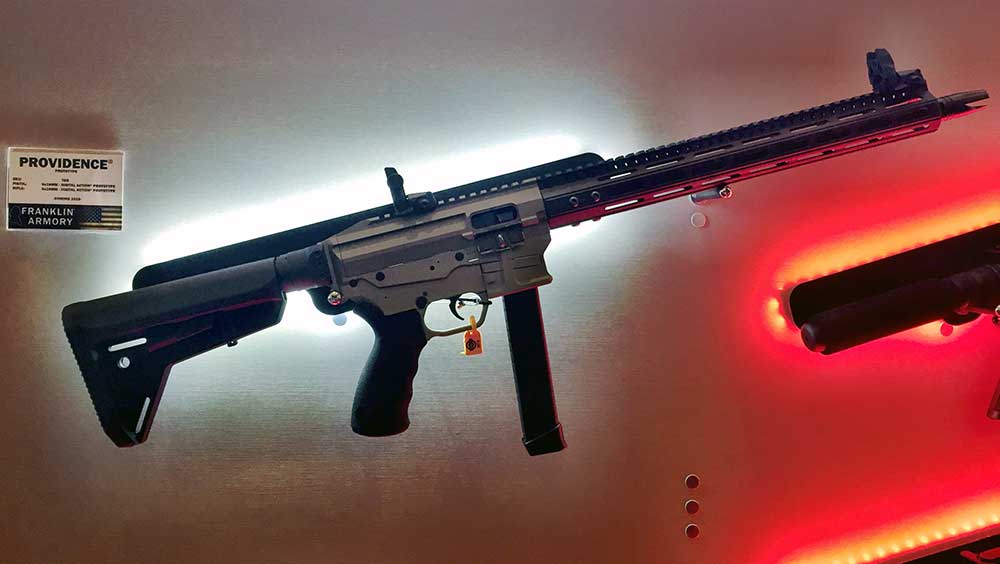 Franklin Armory Providence

The creative geniuses at Franklin Armory are at it again. This time, they've got a pistol-caliber carbine that should be legal in all states--because it's not a semi-automatic (CA is pending…). The company calls it "digital action," which is a clever way of stating double-action-only. Pulling the trigger both fires a round, then cycles the action to eject the empty case and load a new round. The Providence is expected to be available later in 2019, and models should be released in 9 mm, 10 mm Auto and .45 ACP.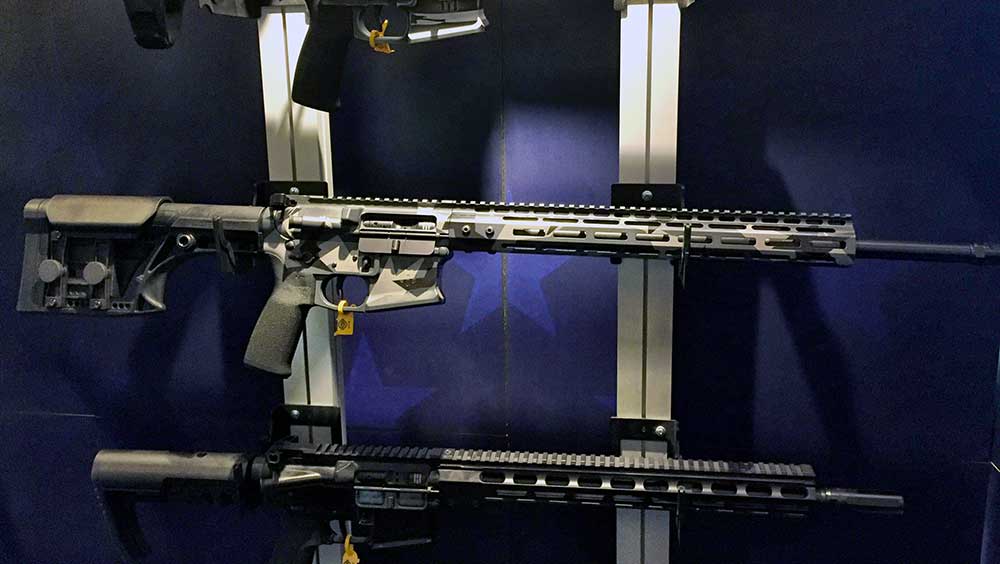 Head Down Arms HD-15.

One of the newer companies on the AR scene, Head Down Arms offers an impressive array of mid- to upper-level AR-15-style rifles. With three trim levels (Cornerstone, Craftsman and Master) offering models from $1,149.99 to $2,129.99 and built with top-shelf components, the most-noticeable feature is the finish. Numerous Cerakote options abound for every tier, with the featured Master Series rifle (MSRP $1,999.99) in the flat-dark-earth Cerakote.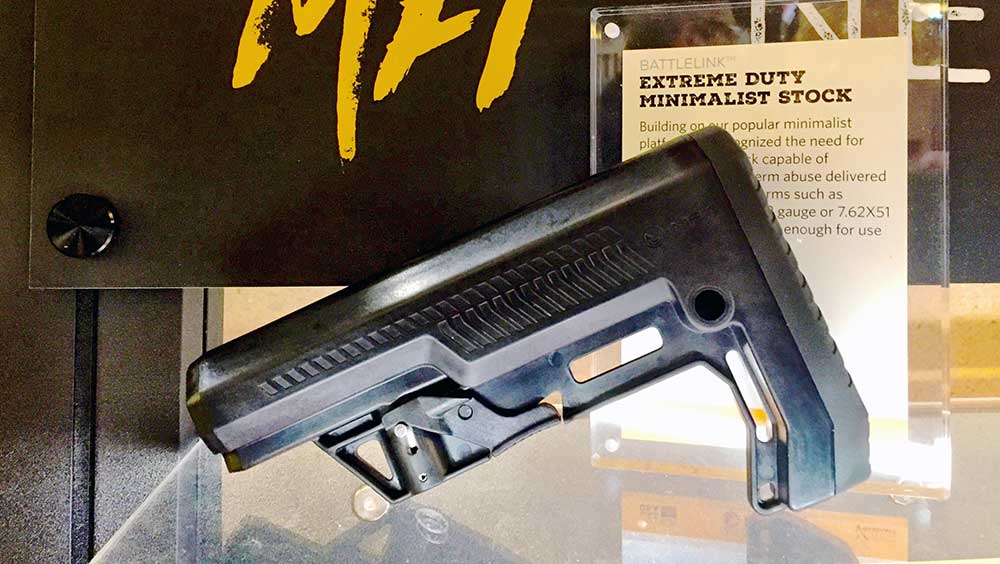 Mission First Tactical Extreme Duty Minimalist Stock

How do you follow up having one of the most-popular, lightweight stocks on the market and a new rugged magazine? If you're Mission First Tactical, you apply the same mindset that beefed up the magazine to the stock. The company launched a prototype of the upcoming Extreme Duty Minimalist stock at the show, with production expected sometime in Q2 and an MSRP only $10 more than the standard Minimalist, $59.99. The Extreme Duty Minimalist offers metal hardware and reinforced construction to handle all the recoil.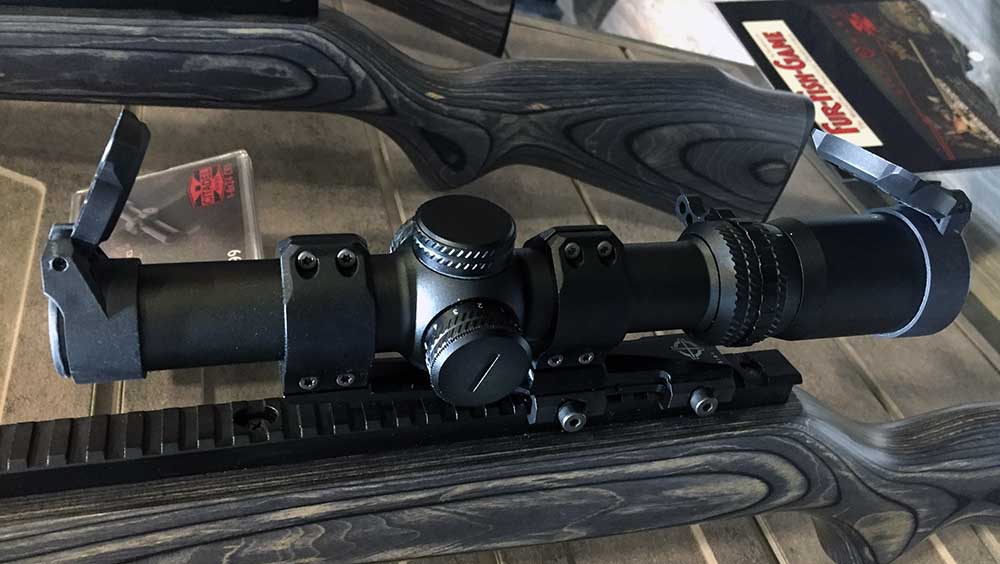 Sightmark Citadel 1-10x24 mm

Looking for a do-it-all scope? Sightmark's Citadel 1-10x24mm offers a 30 mm main tube, aircraft grade aluminum, dot-and-horseshoe reticle and low-profile turrets. Did we mention it was 1-10X magnification? Oh, and MSRP is $479.99. Drop it on a carbine, and the 1X feature is great for both-eyes-open shooting. Crank it up to 10X and you're good on targets way out there. If you're the type that appreciates a scope with a wide range of applications, the Citadel 1-10x24 mm is worth checking out.