by
Shooting Illustrated Staff
posted on December 14, 2012
Support NRA Shooting Illustrated
DONATE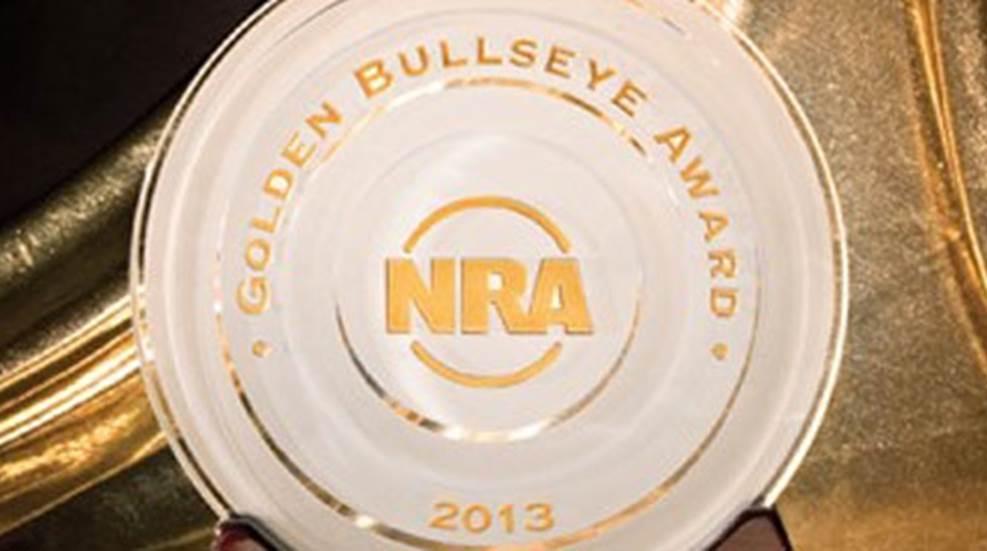 In the course of a year, hundreds of guns, optics, ammunition products, accessories and other pieces of gear come through the offices at Shooting Illustrated and ShootingIllustrated.com. Most of it is good stuff, and it can be challenging to determine what is worthy of coverage. But sometimes a particular product stands far above the rest, whether because of quality, function, price or some other noteworthy feature. The best of the best receive our Golden Bullseye Award, essentially our favorite product in each category from the past year, based on months of testing.
"The Golden Bullseye Award has become a much-coveted symbol of excellence, innovation and quality in firearms, accessories and related equipment," said Joe H. Graham, Executive Director of NRA Publications. "This year's winning slate offers consumers the very best the shooting and hunting industry has to offer. We congratulate the winners."
If you're looking for a new gun, scope, load or accessory, the following products are a great place to begin your search.
Rifle of the Year was not an easy decision, but after Editor in Chief Adam Heggenstaller really put the DPMS Tac2 to the test, Shooting Illustrated staff knew it was the candidate to beat—and no other rifle tested this year outdid it.
Heggenstaller wrote, "DPMS builds the Tac2 around a rifle-length gas system, which is the technical ticket to the carbine's adaptability. The gas tube extends a full 15.125 inches from the carrier key before ending in the gas block. This provides two advantages: an appreciable increase in sight radius and a theoretical decrease in felt recoil."
Ever dream of a semi-automatic, 12-gauge shotgun with a 16-round capacity that isn't longer than a football field? Enter our Shotgun of the Year, the SRM Arms M1216. Gary Paul Johnston summarized after extensive testing, "The SRM M1216 amounts to a major advance in self-loading shotgun technology with the ability to carry more ammunition in the gun, where it's needed. As such, it has great application for military and law enforcement agencies, as well as for home defense."
Handgun of the Year is the FNH-USA FNS-9, the company's first striker-fired pistol. Ammo Editor Richard Mann put the gun through the paces and found, "Results tell the tale. I subjected the FNS-9 to my standard test drill: the Forty-Five. This is a five-shot drill from the holster with the goal of putting all bullets inside a 5-inch circle at 5 yards in 5 seconds. I passed on my first run and the next three. No problems there. I also flipped all six plates on an Action Target Dueling Tree at 10 yards in just a shade more than 4 seconds. No misses mind you. My 12-year-old son also did well on the dueling tree, going five for six on his first run, which took him about twice the time."
Just like with handguns, proven reliability is an important characteristic of self-defense ammunition. If you're looking for a threat-stopping load with consistently high performance, consider our Ammunition Product of the Year. Made with personal protection in mind, Buffalo Barnes Handgun Ammunition by Buffalo Bore uses monolithic Barnes TAC-XP and XPB bullets, along with low-flash powders, to deliver serious penetration and stopping power.
"Buffalo Bore is not mass-producing ammo that just goes bang," wrote our Ammo Editor after extensively testing a wide variety of Buffalo Barnes loads. "It makes a uniquely tailored product designed to be ultra-effective for critical applications."
Optic of the Year was another tough choice, but after Steve Adelmann provided a glowing review of the Bushnell HDMR 3.5-21x50 mm riflescope, it was obvious the product deserved the honor. "Large elevation and windage knobs provide adjustments in .1-mil increments and positively lock down to prevent inadvertent zero loss," Adelmann wrote. "Side parallax adjustment helps fine-tune target and reticle focus, which is especially critical at the long ranges allowed by a 21X scope. Both the Horus H59 and TRMR2 reticles are geared toward rapid, near and far target acquisition through the use of holdovers, moving target leads and wind holds."
Accessory of the Year is always a fun category, because anything goes....well, short of a shotgun, handgun, ammo, optic or rifle. With 250 rounds downrange, another 250 to go, your smartphone rings. It's the wife, so you'd better take it....oh wait, you've got to take your gloves off in time to work the screen. OK, my wife knows I never answer when she calls, so more realistically, the wind has changed and I need to adjust my ballistic app to find windage—those gloves still need to come off. 5.11 Tactical Screen Ops Gloves can stay on, yet your touchscreen recognizes your fingertip commands, which is why they are our Accessory of the Year for 2012. Ed Friedman explained, "I've used the Duty model for a few months and found the adaptation period quite short. From entering ballistic data into iSnipe to posting photos on Facebook, the gloves let me maintain my comfort while shooting thousands of rounds through various firearms without the annoyance or delay of removing one to use my iPhone."
This year's Pioneer Award recipient is a household name to shooters across the globe. NRA Publications Executive Director Joe Graham eloquently explained what an honor this award is when he acknowledged this year's recipient, Stephen D. Hornady. "Whereas the NRA Publications Golden Bullseye Awards acknowledge the finest products available in the shooting sports, the Golden Bullseye Pioneer Award, first presented in 2007, spotlights exemplary achievement by individuals who were responsible for the development, introduction and promotion of equipment that has made a profound and enduring impact on the way Americans shoot and hunt," Graham said.
Shooting should be fun, and Hornady never has forgotten that fact. Take for example his company's Z-Max ammo, just in case rodents can become infected with the zombie virus. Of course, for the two-legged "undead," Hornady introduced Zombie Max first. Getting the next generation of shooters behind the trigger is important to Stephen Hornady, and the relatively recent introduction of the biohazard-handling ammo is a sterling example of that commitment.
However, when it comes to hunting and self-defense, his company reflects his belief that this is serious business. The ammunition needs to be 100-percent reliable, and the bullets need to stop the attack. Hornady's Critical Defense loads were designed with the armed citizen in mind. The ballistic gel tests on .40 S&W speak volumes. Hornady didn't forget about folks who carry smaller guns out of necessity or convenience, either. Take a look at the Critical Defense .22 Mag. performance.
What about providing the same performance for law enforcement, a load capable of defeating the variety of barriers required in the FBI testing protocol? Enter one of the company's latest products, Critical Duty, and it's obvious why Stephen D. Hornady is this year's Poineer Award recipient.