by
posted on January 26, 2019
Support NRA Shooting Illustrated
DONATE
Aimpoint is well-known for making red-dot optical sights, but historically they have been primarily suited for rifles. This year, they will finally make their long-awaited entry into the pistol-oriented market.

Red-dot optics on handguns are enjoying a surge in popularity for a number of reasons, including ease of use and forgiveness for aging eyes. One of the drawbacks has been the durability of the equipment, since the electronics are necessarily small and therefore sometimes delicate and the windows are often breakable glass.

Aimpoint aims to solve both of these problems by fully enclosing the company's new Acro P-1 to make it more shock-, vibration- and water-resistant, as well as to help protect the glass window on which the dot is projected. Early units have been installed on .40 S&W pistols and have continued working through 20,000 rounds of live-fire testing.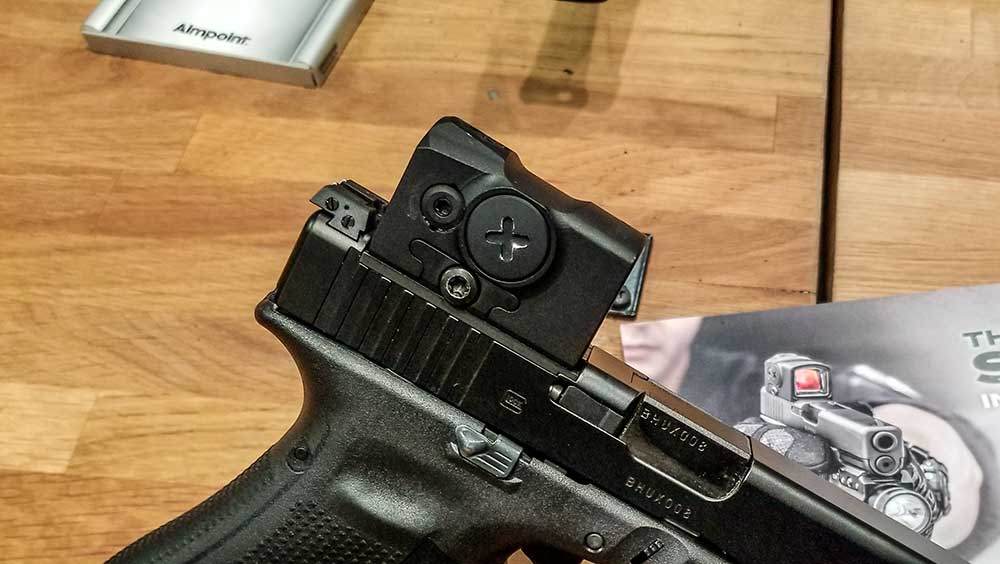 The only controls on the Acro P-1 are a set of brightness up and down buttons that are large, tactile, and covered in rubber. Battery replacement is also simple, with the CR-1225 battery compartment accessible on the side of the unit. It's accessible while still mounted on the gun, so that battery replacement will not require removing the optic from the gun and replacing it.

The 3.5-MOA dot is readily visible through the window of the Acro P-1. While I had some initial concerns about the size of the window and the thickness of the housing around it, I found that the dot was easy to find and track. The blocky rectangle around it ended up acting much like a ghost ring that could be "steered" into a symmetrical shape to help find the dot.

Aimpoint may have taken its time getting to the red-dot pistol market, but it looks like the wait will have been worth it. MSRP is expected at $660, with the first units hitting the retail market in mid-April 2019.