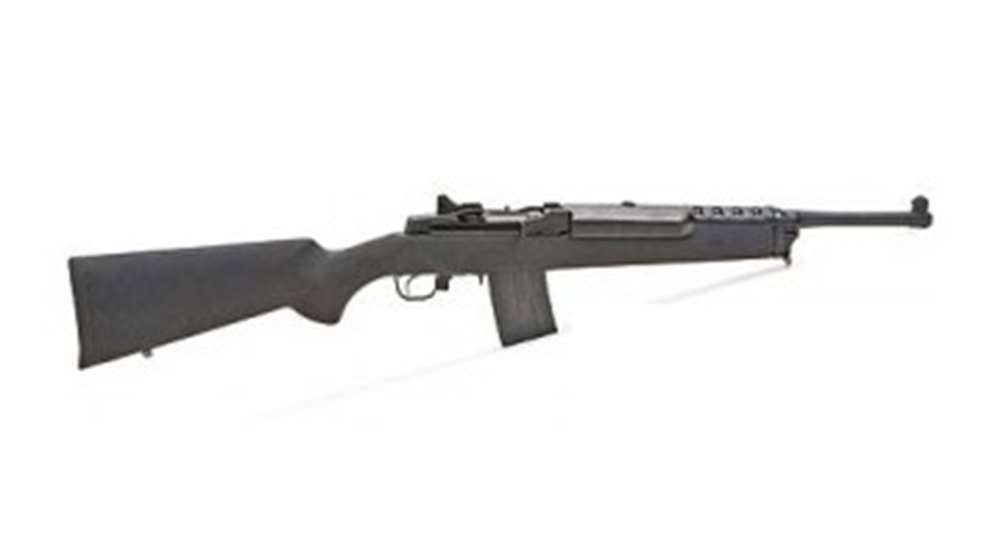 With sales approaching 1 million and the loyalty of a generation of shooters, Ruger's Mini-14 has secured a permanent place in firearm history. Now, more than 30 years after its debut, the Mini has been retooled and is available in a new chambering and several new configurations—including one that can help protect your Second Amendment rights.
Ruger has continued to broaden the Mini-14's appeal through the years with specific models that meet more and more shooters' preferences. Today, regular-production Minis are available in seven distinct variations. The first five, which feature 18 1⁄2-inch barrels for 37 1⁄4-inch overall lengths, are: The Mini-14/5 Ranch Rifle, a blued-steel and hardwood-stocked .223 Rem.-chambered gun that weighs 7 pounds and is the nearest approximation to an "original" Mini-14; the K-Mini-14/5, a stainless steel and hardwood-stocked version; the K-Mini-14/5P All Weather, a stainless and synthetic-stocked model that weighs 63⁄4 pounds; the K-Mini 6.8 5P All Weather, a stainless and synthetic version chambered in 6.8 Rem. SPC; and the K-Mini Thirty-P All Weather, a stainless and synthetic version chambered in 7.62x39 mm. The other two are what, in the past, would have been considered anachronisms. They are .223 Rem.-chambered Mini-14 Target Rifles. The K-Mini-14/5T, with a thumbhole laminate stock and 5TH with a Hogue OverMolded stock feature 42 1⁄2 inch overall lengths thanks to their 22-inch, heavy barrels, which include witness marks and adjustable harmonic dampeners designed to tune barrel harmonics for specific loads and moa accuracy.
The latest Mini-14 variation is a special limited-edition NRA-ILA Mini-14 Ranch Rifle designed to support the NRA Institute for Legislative Action in the fight for all Americans' Second Amendment rights on Capitol Hill and in state legislatures around the country.
The new NRA-ILA Mini-14 benefits from all the latest design enhancements, but is even more compact owing to its 161⁄8-inch barrel, which makes it the shortest semi-automatic Mini to ever leave the Ruger factory. Standard Mini-14 barrels measure 18 1⁄2 inches. The compact size makes the NRA-ILA Mini-14 quite handy and suitable for convenient stowage and quick retrieval from vehicle-mounted racks and scabbards.
In addition, the new gun ships with two factory Ruger 20-round magazines. That will come as a pleasant surprise to legions of Mini-14 fans in view of the company's long-held policy of selling its 20- and now discontinued 30-round magazines only through law enforcement channels. According to Ruger Shooting Sports & Media Relations Coordinator Ken Jorgensen, Ruger plans to make factory 20-round magazines available to the general public if sales of the NRA-ILA Mini-14 demonstrate the public's demand and production capacity becomes available.
In another departure from the norm, the NRA-ILA Mini-14 is set in a black Hogue OverMolded stock. The stock has a rigid fiberglass-reinforced skeleton covered with a textured, rubberized exterior for secure-handling in bad weather and noise attenuation in the brush. Its grip cap sports a gold-tone metal NRA logo.
Finally, the NRA-ILA Mini-14 features the serial number prefix "NRA." Explaining the special designation earlier this year, then Ruger President Stephen L. Sanetti said, "We are extremely pleased to be partnering with the NRA on this special-project Mini-14 to support the Institute for Legislative Action. It is very important that we, as an industry and as individuals, support the efforts of ILA as they work to protect our Second Amendment rights."
Sanetti added, "A portion of the sales from each rifle will go to the NRA-ILA to support their ongoing efforts. This project is also made possible through the support of Hogue Stocks, one of our key vendors, and through our distributors."