Support NRA Shooting Illustrated
DONATE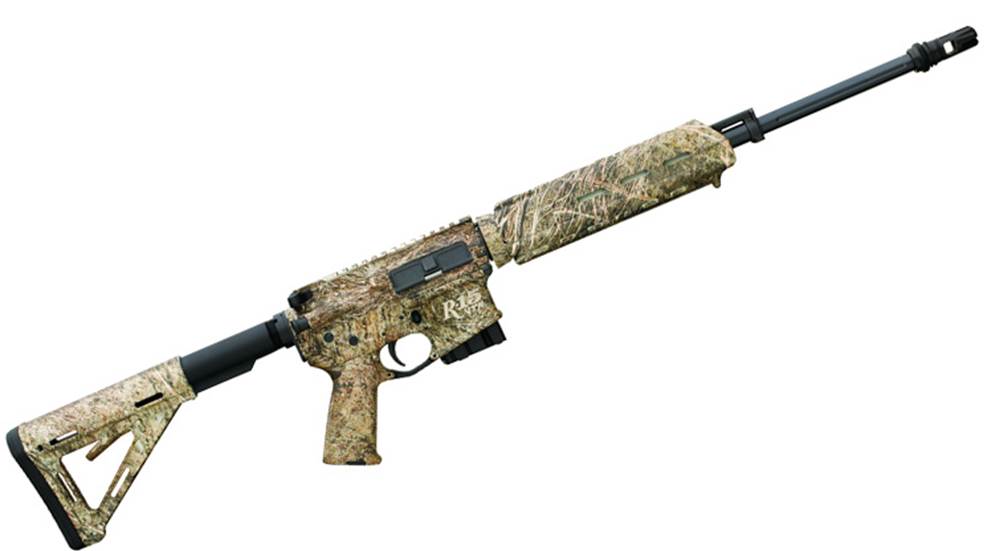 The mere mention of the Remington name likely brings to mind thoughts of sportsmen in the field with the company's classic firearms—more often than not some variant of a Model 700 bolt-action rifle, Model 870 pump-action shotgun or Model 7600 slide-action rifle. However, in the heated debate over civilian gun ownership, it is often forgotten that many firearms viewed as sporting in nature share connections with ones designed as tactical firearms. In fact, those three Remington models so familiar to hunters have siblings developed for tactical applications by other divisions under the same umbrella.
A sound design is a sound design, regardless of its original purpose. And while Remington has a long history of adapting its renowned sporting firearms to tactical variants, Big Green takes a different path with its new R-15 VTR series, building excellent hunting rifles on the AR-15 platform.
Such progression is not as unnatural as it may seem. The semi-automatic AR-15 has increasingly developed a loyal following of hunters and sportsmen who appreciate its appealing combination of low recoil, accuracy and fast follow-up shots. Remington's R-15 offers all these benefits, only in a package specifically designed with predator hunters in mind.
From Combat to Coyotes
As a result of a fortuitous business association, Remington was able to develop the R-15 series with a helping hand from Bushmaster Firearms. "Bushmaster knows AR rifles, and we know the hunting market," said Eddie Stevenson, press relations manager for Remington. "Since we are sister companies now, it was a logical move for us to work together on this project. We relied on Bushmaster quite a bit to get this AR project started, but we also brought a lot to the table ourselves."
Bushmaster, with its reputation for quality AR rifles, provided a great deal of knowledge regarding the manufacture of the new series. Remington, on the other hand, brought a perspective on the hunting market that only Big Green could possess. "We have the connection to the hunter. We know how to make guns for them and cater to that market," Stevenson said.
Remington knows a good hunting rifle when it sees one, and the company knows its customers recognize one as well. This experience with hunters provided Remington with a basis for rolling out its new family of rifles.
"The market for AR-style rifles is just huge, but not many of them are designed from the ground up for the hunter," Stevenson explained. "There are a lot of outdoorsmen who just don't know about how great the AR can be for hunting. The R-15 is our way of showing them that it is."
Perfect Platform
There are three versions of the R-15 VTR: a 73⁄4-lb. Predator Rifle with a 22-in. barrel, a 63⁄4-lb. Predator Carbine with an 18-in. barrel and a Predator Carbine CS variant with a collapsible stock. All three versions are available in either .204 Ruger or .223 Rem.
The focus of these first offerings in the R-15 series is predator hunting, with the rifle version being primarily intended for wide-open spaces and both carbines designed for enhanced mobility. However, it is important to note the strengths of each are not mutually exclusive. While the longer barrel and heavier weight of the rifle provide stability for shots at distant targets, and the handy size and reduced weight of the carbines make them good choices for the sometimes cramped positions encountered when calling furbearers, all three are suitable for just about any predator-hunting situation.
The choice of chamberings is also telling. With targets ranging from coyotes to foxes, a small-caliber, high-velocity round is just the ticket—a cartridge type for which the AR platform is ideally suited. Remington's decision to chamber the R-15 models in .204 Ruger and .223 Rem. was logical due to the former's cutting-edge performance and the latter's broad range of loadings.
What makes the AR platform so well suited to hunting? While in the past hunters may have avoided the AR due to its perceived lack of accuracy, modern versions have turned this misconception on its end. With sub-moa accuracy from AR rifles now quite common, the argued advantages of a more traditional bolt-action rifle are not as convincing. Add to the mix the fast follow-up shot capability of the AR and its ability to employ magazines of varying capacities, and you have an excellent varminting rifle. These attributes also make for a great predator-hunting rifle. "If you end up calling in a pack of coyotes, the R-15 gives you the flexibility to deal with the situation, be it multiple targets or fast running shots," Stevenson said.
There is another built-in advantage to the AR, and one that a more traditional hunting rifle cannot equal. "We have found that the modular nature of the AR platform is a huge benefit to the hunter," Stevenson noted. Remington recognized that predator hunters share some qualities with turkey hunters—namely an interest in using a variety of accessories on their guns. It is this fact that makes the AR a perfect fit, as few guns equal its ability to accept optics and accessories with ease.
Features for the Field
From the outset, Remington decided it did not want to offer just another off-the-shelf AR rifle with a few hunting-style tweaks. Working with Bushmaster, Remington laid out a very specific set of goals and specifications for the R-15 series. First and foremost was the trigger. While most standard AR rifles come with a traditional military-style, two-stage trigger, the R-15 models have a lighter, single-stage trigger designed specifically for them. "We did this to make the trigger pull more suited to a hunting rifle and also more familiar to those who have used primarily sporting bolt-action rifles," Stevenson said.
The heart of any hunting rifle is its barrel, and the R-15 is no exception. All versions have a fluted, chromium-molybdinum steel barrel that is .68 inch in diameter forward of the gas block and ends in a recessed crown. The rate of twist for the .204 Ruger barrels is 1:12, while for the .223 Rem. barrels it's 1:9.
Each R-15 variant has a free-floated barrel sitting inside a machined aluminum fore-end that features subtle checkering around its diameter as well as eight cooling vents to help dissipate barrel heat. The fore-end is drilled and tapped to accept two short sections of Picatinny rail on either side of its forward portion, allowing the user to easily mount lights or lasers.
All R-15s feature an Advantage Max-1 HD finish, which combines neutral earth tones with prairie grass, sage and brush patterns. This combination of colors makes the gun blend into environments from the brown, open ranges of the West to some greener settings. Both the upper and lower receivers have this finish, as well as the fore-end and the buttstock. The barrel, gas block, ejection port cover and controls all have a matte-black finish—magnesium phosphate on the steel components and anodizing on the aluminum parts.
One area where contemporary ARs clearly excel beyond more traditional designs is in mounting optics. With the advent of the A3-style flat-top upper receiver, the AR rifle became extremely adaptable. This configuration removed the customary carrying handle from the AR design and left in its place a section of built-in Picatinny rail on the top of the receiver. Every R-15 variant follows this form, allowing for rock-solid mounting of optics directly to the receiver with no separate scope rails to work loose or add instability to the setup. None of the versions come equipped with iron sights. The R-15's upper receiver features traditional AR appointments such as a forward assist to ensure the bolt is seated fully and a case deflector to keep ejected brass from harassing a left-handed shooter.
While the both the R-15 VTR Rifle and the R-15 VTR Carbine feature a fixed buttstock, the R-15 VTR Carbine CS is fitted with a collapsible stock. Although this stock design originated in the military realm to make for a more compact rifle, it has advantages that extend to hunters. "Basically, the CS model gives you a rifle with instantly adjustable length of pull," Stevenson said. He pointed out the CS can be quickly and easily adapted to situations where a hunter might be wearing a heavy outer coat and therefore require a much shorter length of pull. If he is out a few months later in lighter clothing, the rifle can be adjusted back to a longer length of pull in seconds.
Apart from the single-stage trigger, internally the R-15s are traditional AR-pattern rifles. They are gas-operated, semi-automatic rifles that employ a direct gas-impingement system of operation. In simple terms, this means there is a gas-tapping hole housed in a gas block just forward of the handguard that vents gas from the bore into a hollow tube above the barrel. This gas directly impinges against the gas key located on the top of the rifle's bolt carrier, driving it and the rotating, multi-lugged bolt rearward to cycle the rifle. Much of the AR's vaunted accuracy stems from this system, as it provides for a bare minimum of weight and mass moving back and forth during the cycling of the rifle.
The R-15 VTR Predator Rifle, with its 22-in. barrel, features a standard-length gas system. However, the R-15 VTR Predator Carbine and Carbine CS, having 18-in. barrels, feature a mid-length gas system rather than the shorter gas system commonly found on the 16-in.-barreled AR carbines on the market. The advantages of this are twofold. By extending the gas port a little farther than a conventional carbine-length gas system, chamber pressures are allowed to drop to lower levels before the action is opened during cycling. Another advantage is purely aesthetic—the mid-length system and fore-end look more balanced to many shooters.
Accuracy Abounds
I received the 22-in.-barreled rifle variant of the R-15 in .204 Ruger for testing and evaluation. The fit and finish of the rifle was quite impressive, with the action cycling smoothly and all the controls—such as the non-ambidextrous safety, magazine-release button and bolt-catch release lever—operating positively. The camouflage finish was applied evenly and smoothly, and the matte-black finish on the controls, barrel and gas block was attractive and even. The upper and lower receivers of the R-15 mated together well, with little to no play evident between them.
The handling characteristics of the rifle were quite good, with it balancing just forward of the magazine well. The included five-round magazine fit smoothly in the magazine well, although any aftermarket or military surplus AR-15/M16 magazines will work fine, too.
I fitted the rifle with a Burris Fullfield II 6.5-20x50 mm scope in Warne Maxima quick-detach ultra-high rings and took it to the range for testing. Through the course of a few hundred rounds of ammunition the rifle performed well, but with an odd occurrence. When using the Federal V-Shok 32-gr. Nosler Ballistic Tip ammunition, there were two instances when the bolt did not fully seat. However, a simple push of the forward-assist button nudged the bolt forward a fraction of an inch and closed the action. This did not happen with either the Remington or Winchester loads.
Accuracy was quite good, with the rifle showing a preference for the lighter bullet weights, producing many 100-yd. groups that measured less than 1 in. Recoil was light and easy to manage, which should come as no surprise considering the rifle's nearly 9-lb. weight with the scope and its diminutive chambering.
Irrefutable Evidence
The R-15 series from Remington charts a new course for Big Green, offering sportsmen an excellent AR-based hunting rifle. It is also significant in that it helps break down the perceived barriers between sporting and tactical firearms, instead proving what many shooters and hunters already knew—a great gun design is a great gun design.