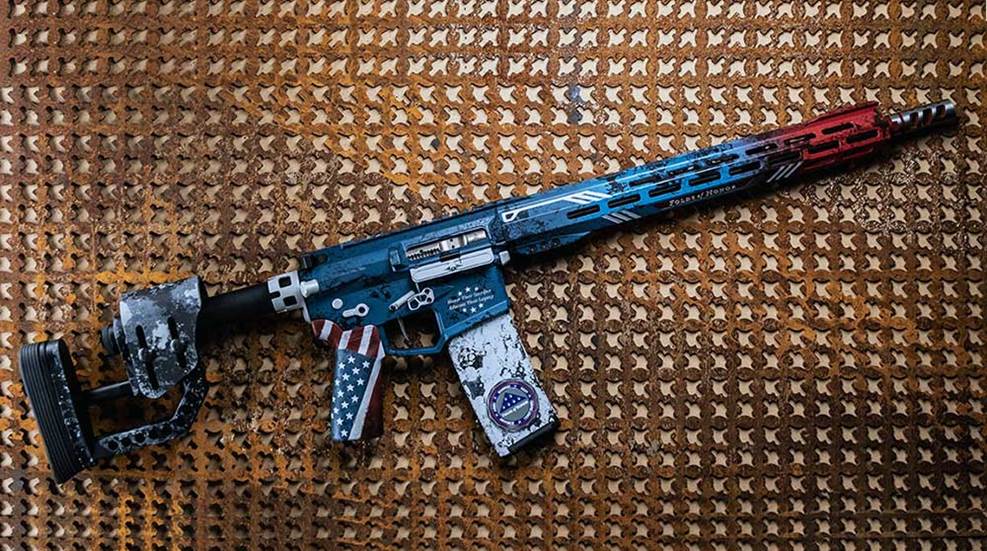 Four of only 13 special-edition Patriot Rifles created by RISE Armament and auctioned in October 2018 generated more than $50,000. Auction proceeds went to Folds of Honor—a non-profit organization that provides educational scholarships to the families of military men and women who have fallen or been disabled while on active duty in the United States armed forces.

"We're thrilled the Patriot Rifles raised so much for veterans' families," said Matt Torres, president of Rise Armament. "We're on a mission to make a lasting difference, and Folds of Honor is an incredible organization to team up with."

On Oct. 22, 2018, Folds of Honor held the auction at a fundraiser hosted by Edmond, OK-based Tall Oak Midstream. The event was located at the Patriot Club in Owasso, OK, and included dinner and a concert by country singer Jerrod Niemann. Proceeds from the gun auction at this alone are enough to fund 10 educational scholarships to children or spouses of fallen or disabled veterans.

Each Patriot Rifle garnered $13,000, totaling $52,000 for the foundation. They are chambered in .223 Wylde and have a Cerakoted flag theme to honor the sacrifices of our veterans. They also come with a display case and commemorative Rise Armament/Folds of Honor challenge coin. Only 13 were created, representing "…one for each time the flag is folded before handing it to a family member at a fallen soldier's burial." These special-edition rifles are only available at a Folds of Honor auction.

Folds of Honor is a 501(C)(3) non-profit organization that was founded in 2007 and is rated a four-star charity by Charity Navigator and platinum on GuideStar. Nearly 2 million military heroes' dependents are negatively impacted by war. The cost to provide educational scholarships to those dependents is $9 billion, and 85 percent of the families don't qualify for federal aid.