by
Shooting Illustrated Staff
posted on February 21, 2012
Support NRA Shooting Illustrated
DONATE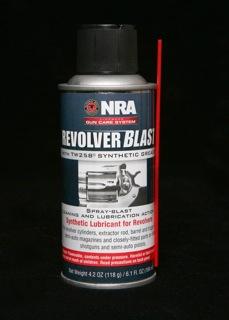 "REVOLVER BLAST" provides spray-blast cleaning, flushing and lubrication to the tightly-fitted parts of revolver assemblies - revolver cylinders, extractor rod, barrel and trigger - as an interim maintenance treatment that does not require disassembly of a revolver.
The spray-blast first flushes dirt and debris from metal surfaces and leaves a light, semi-dry coating of TW25B® synthetic grease on revolver parts. "REVOLVER BLAST" is equally effective on semi-auto magazines and the closely-fitted parts of all firearms. The new aerosol spray allows for cleaning and lubricating in one easy step as an interim maintenance procedure between more thorough cleaning and lubricating with NRA® Licensed GUN CARE SYSTEM products.
"REVOLVER BLAST" is packaged in a 6.1 Fl. Oz. aerosol with a straw dispenser.
In addition to the NRA® Licensed Gun Care System product line, Mil-Comm Products Company manufactures and markets the following brands: TW25B® ... TW25B® WeaponWipes ... MC2500® ... MC25® ... MC50® ... MC3000® ... MC1210® ... Lock Saver® ... Reel Saver® and Bass Pro Shops® XPS® Series Reel Saver® products. Revolver Blast® will also be available to MIL-COMM's military and law enforcement customers as part of the long established TW25B® line.