In a memoir of an now deceased African Professional Hunter from the modern era, he wrote an apology of sorts to his wife. In the book's foreword he said, in effect, "to my loving wife whom I would leave for weeks on end to go into the Bush, while the cities were aflame with civil unrest, with only our our dog and a pair of Benelli shotguns for companions." 

The quote is not 100 percent accurate and the book is long since gone, but close enough that it has come to the forefront of my mind on more than one occasion as we transverse this landscape that is 2020.
Back in January, when coronavirus was little more than a passing comment on the news cycle, I started paying attention. My "spidey sense" kicked in, and something told me 2020 had the potential to be problematic year. At the time I was considering doing an AR pistol build in .300 Blackout. I wanted something somewhat compact, under the designation of "pistol status," but chambered for a rifle cartridge. 
However, despite being an all-American guy, I never really became attached to the AR. Part of it is that I never served in the U.S. Armed forces. The other has more to do with the fact that the gun culture of the late 1980s and early 1990s was inundated with other platforms for the self-loading, magazine-fed rifle.

The darling AR-15 we know today was pushed hard against by other rifles of the day. Hechler & Koch's illustrious models 91 & 93s, FN's FAL, IMI's Galil, and the Valmet M71s all were staunch competitors to Colt's AR-15. One rarely saw an AR on the rifle range, and nine times out of ten when you did, it was in the hands of a "match" shooter who was slung up in a canvas jacket, lying prone atop a shooting mat with a leather sling contorting his body. 
Then came my burgeoning career that was to focus on both the world of private intelligence and executive protection, of which took me, more often than not into non-permissive environments. At times I may have been fortunate enough to obtain a locally sourced Makarov, or something as small as a North American Arms Mini Mag or Beretta's diminutive 21A Bobcat in .22LR.

In most circumstances, I was armed with little more than a fixed blade knife, an extendable baton and a charming smile for defensive purposes. Filed under what you might call "worst case scenarios," should things to go terribly awry and I'd be in the need of a long gun, the prevailing arms of many of these foreign nations were pistol-gripped pump shotguns, British SMLEs in .303 and, the AK-47. So while developed a working knowledge of the AR, I applied my training mainly to the AK-47.

Zastava Arms AK-47 Pistols
The strange winds of 2020 began blowing early this year and that's when I ran across both of Zastava's lastest versions of their AK-47-style pistol, the ZPAP92 Alpha (SBA3 brace) and the ZPAP92 Alpha FS1913 (SB folding brace), both in 7.62x39 mm. I discarded the .300 Blackout pistol build and went with the two AK pistols instead. Everyone has opinions. There is certainly no shortage of them in our day. I happen to like mine and choose to live with them.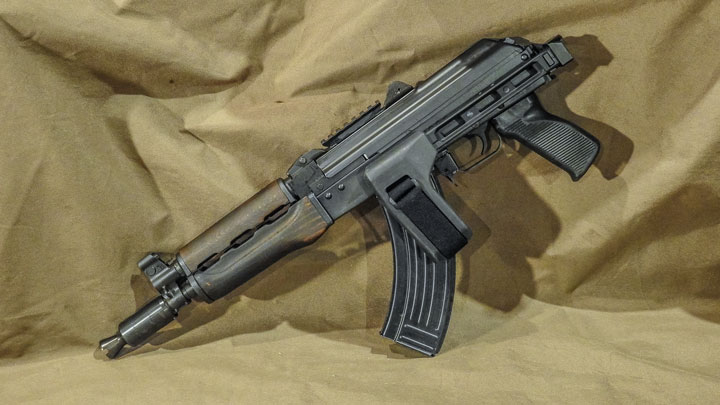 Of those opinions, I like the AK-47-style pistol platform for a few reasons. With its 10-inch barrel, I feel like the 7.62x39 mm Russian round is married better to this pistol platform when an arm brace is in play.
For personal defense when vehicles are in play, a long gun can be an issue. Not every state allows for a rifle to be within easy access and ready to deploy from the confines of a vehicle. And as someone who has kept a long gun in vehicles for work in the private sector and personal life, even the shortest of rifles is largely impractical to wield inside of a vehicle, especially from the driver's position.
Mind you, I'm not talking about driving and shooting but rather, driving or shooting. This is what caught my eye with the ZPAP92 Alpha FS1913 with its left-side folding arm brace. Running countless hours of late night surveillance alone, in less than ideal areas, both urban and rural, there is no small shortage of potential risk.

The relatively flat and compact AK-47-style pistol platform allows for the gun to ride loaded and at the ready while being perfectly legal wherever it is legal to have a loaded handgun on their person or in a vehicle. With its arm brace folded, the ZPAP pistol can be deployed and deliver more than acceptable accuracy using either a point/instinct firing position or flash/sight picture to get into the fight out to 10 yards.

If time or circumstances allow for it, the arm brace can be quickly be brought into position to create a sturdier firing position. My only complaint with the side-folding FS1913 model is that the brace's spine is polymer and has some give to it. I think Zastava would be better served employing a spine made of steel or at least steel re-enforced, but given that until a few years ago this wasn't even an option, I'm not going to complain. It's not perfect, but it works.
Ironically, it was the side-folder that brought all this about in the first place. Yet it was the collapsible arm brace model that follows the AR-15-style buffer tube design that sold me. Any misgivings I might have towards the side folder are non-existent with the SBA3 brace. This provides for a rock solid shooting stance, seated, prone, or standing. The buffer-tube-style attachment adds around 8 inches to the pistol's 19-inch length when collapsed and 10 inches fully extended.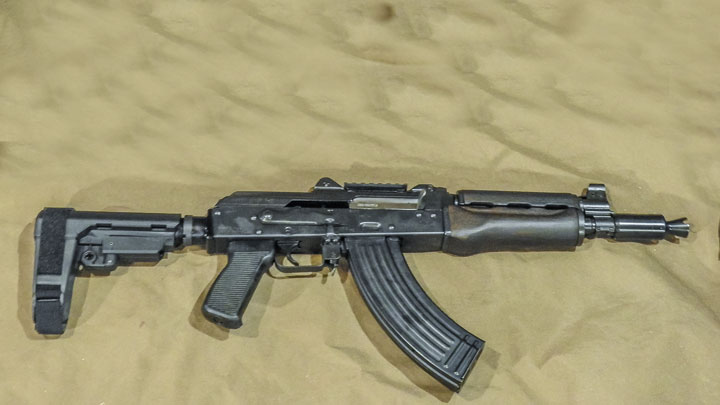 Accuracy Testing
So what is accuracy like from a practicality standpoint?
Running roughly 500 rounds of Tula and Wolf FMJ ball ammo through each pistol over a few range sessions, there was only one failure to feed. This was self-induced when I failed to seat the magazine properly on one occasion, otherwise both pistols fed with 100 percent reliability. From 7-15 yards I used my standard target for short range accuracy testing, a 4x6-inch index card of which all rounds went well within the card's center.

I then moved on from paper targets and went to steel silhouettes at ranges from 25-100 yards. The reason was completely intentional. In the last decade plus there has been a bad habit in the social media world on basing a firearm's worthiness, with regards to accuracy, only so far as pictures of cute little cloverleafs. This is all well and fine to expect such groupings from precision rifles.

A gunfight is a whole different creature that holds no such standard and a goal of neutralizing a threat. Further, we all know that any variation of the AK, pistol or rifle, isn't going to win any beauty or accuracy contests. Yet, one cannot simply dismiss its capability as a rugged and readily capable defensive firearm. 
Ringing steel at 25 yards from either pistol while standing was not an issue, even when shooting from less than optimal positions. A rough sight picture on the target, a surprisingly nice trigger squeeze and the reward was "clank" from down range steel. Each pistol recorded 150 hits. The next two distances being 50 meters and 100 yards.

If I expected any change in the ability to hit, this is where it would begin. At 50 meters, it proved to be no great challenge in getting hits. I recorded three failed strikes at 50 meters, all of which came from the standing position with no sling. These came from the side folding brace, but three errant rounds to 147 strikes is largely irrelevant.
At 100 yards, things became more interesting. My success at shooting and connecting with steel while standing and otherwise unsupported was less than optimal on either pistol, with it taking around 7-10 rounds to connect from either gun. I made no adjustments to the sights, and upon closer attention noted that shots went high and left of the steel silhouette.

Dropping to both a squat and then prone I found my rate of success began to dramatically increase. There were still a handful of misses in each position, but given the rudimentary sight system and basic ammo selection, throw in some basic human aspects of erroneous behavior and nature takes its own course. With each pistol equipped with an optics rail mounted just forward of the rear leaf sights, mounting a small rugged optic would improve the overall  obtainable accuracy by a shooter.
As the old proverb says, "may you live in interesting times." And to that end, 2020 has not disappointed. 
There may have been, in times past where an AK pistol for personal defense here in the U.S. may have struck some as absurd. I doubt you'll find that argument holding much water for the foreseeable future.