The bolt-action rifle world has sure changed over the past 10 years. Rifles with traditional lines were still very much the norm well after fears of computer-generated, Y2K pandemonium had faded away. Contrast that with today's bolt-action offerings, where you can't go three steps without tripping over rifles with skeletonized, aluminum "chasses," fully adjustable stocks and copious rail-mounting space. That is a good thing in my book; it's called progress, or maybe it is just the natural evolution of things. Turnbolt purists may object to this trend, but I am fairly certain rifle purists of a century ago—three years into the First World War—were still scoffing at any rifle that held more than one cartridge at a time. Any rifle manufacturer wishing to get into the tactical or long-range-precision markets has at least one modernized bolt-action model in their catalogue today. Winchester Repeating Arms is no exception, and its new-for-2017 offering, the Winchester XPC chassis rifle, is a solid entry.
Now, I have to be perfectly honest before diving into my evaluation of the Winchester XPC. I am definitely not the best guy to cover the finer points of Winchester bolt-action rifles—at least not in any historical context. I simply have not had much exposure to them. But that also means my slate was clean going into this test. Absent of brand experience and bias, my approach to evaluating the new Winchester rifle was just the same as any other new design: I looked at it through the lenses of reliability, durability, accuracy, practicality and affordability. Anything beyond that did not really matter to me.
The Winchester XPC is billed by the company as a "full-house precision chassis rifle," and at first glance it certainly fits that category. But, you have to go deeper into the rifle to get the real details. It is based on the company's existing XPR action, and strikes a nice balance between a precision target rifle and a long-range tactical tool. Its 20-inch, chrome-moly, button-rifled barrel wears Winchester's "Permacote" matte-black finish and comes threaded from the factory with standard 5⁄8x24 tpi at the muzzle. A knurled thread protector is included for use while you decide what to ultimately mount on it, if anything. At .75 inch in diameter at the muzzle, the meaty barrel balances nicely in its Cerakoted, alloy chassis. A floating recoil lug is nested in that chassis, mating to a slot machined into the underside of the barrel. The fit is tight on both ends, but the lug can be removed when the action is out of the stock. A pair of screws mate action to chassis, one in front of the mag well and one behind, concealed under the paddle-style magazine release.


An extended freefloat tube continues the 20-MOA, sloped receiver rail and provides ample space for day and night optics or other ancillary devices. The fore-end's tube slides over a curved protrusion on the bottom of the chassis and is held in place with three Allen screws. Additional M-Lok-compatible rail sections can be added along the 3-, 6- and 9-o'clock sections of the fore-end.
Ammunition feeding is handled by way of the increasingly popular AICS-pattern .308 Win. magazines. They drop free from the Winchester XPC action after pressing a very accessible, paddle-style release in front of the trigger guard. A beefy, three-lug, 60-degree throw, cock-on-opening bolt is the heart of the XPC's action. A conical, oversize bolt handle is threaded-on in case the shooter wants to change it out. The bolt head and fluted body are machined from a solid piece of steel and wear a nickel-Teflon coating to ensure smooth operation.


Extraction on the Winchester XPC rifle is well-managed by a Sako-style extractor with a spring-loaded, recessed plunger doing the ejecting through an oversize ejection/loading port. The bolt release is set into the tactical-familiar left-side of the receiver at the stock line. Incorporated is a two-position safety that locks the bolt when engaged; a separate button just in front of the safety unlocks it while on "safe" so the action may be opened. This seems a bit cumbersome to me. However, the safety and bolt unlock controls on the rifle received for testing worked as designed.
Winchester chose an AR-compatible buttstock and grip for this rifle, giving shooters a near-endless range of possibilities to customize the Winchester XPC to their needs. Unfortunately, I could not get close enough to any riflescope I tried for proper eye relief due to the length of the Magpul PRS Gen III stock that comes standard on the XPC. It is adjustable for cheek height, buttplate height and length-of-pull and well-suited for modern sporting rifles, but is not the best choice on this platform. The rail on top of the rifle's receiver is significantly forward of where it would be on an AR's upper receiver, so a riflescope mount has to be placed in the rearmost slots and the scope must be slid as far back as possible in the rings or mount to see the target clearly.

Were this my rifle, I would swap the A2-style buffer tube for a carbine buffer tube and go with a collapsible stock. The stock has a socket for a QD sling mount and a longer sling-routing loop, and both can be swapped from one side to the other. The MOE-K pistol grip is also an odd choice here. I love this grip on light, fast-handling carbines or AR-type pistols, but it is a bit small for a precision rifle like the Winchester XPC. Fortunately, swapping it with any other AR grip is simple and inexpensive.


Winchester's MOA trigger system provides an advertised adjustability range of 3 to 5 pounds, and my Timney scale measured the test sample at just a hair lighter than that. The trigger was very clean and consistent, so I left it alone. Adjusting the trigger requires removal of the action from the stock to access weight and overtravel screws with a 1⁄16th Allen wrench. After ensuring the rifle's bore was clean, the action and scope mounting screws were properly torqued to 65 inch-pounds and applying light grease to the locking lugs, I headed for the range. Production rifles are supposed to have a 1:10-inch twist, but my test gun's barrel turned out to have a 1:11.5-inch twist. I made sure to include a couple lighter projectile loads in the mix to ensure twist rate did not hamper accuracy testing.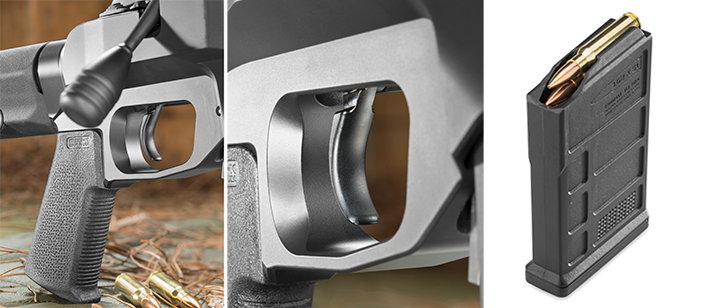 I elected to shoot from the bench using a bag rest because sitting brings my eye closer to the scope's eyepiece than when I am prone. Still, I struggled to maintain a clear target image throughout the test due to the Winchester XPC's excessive length-of-pull. The only other problem I had was that the bolt knob loosened up every few shots, but a couple drops of a thread-locking compound will solve that problem easily enough. The action was as slick as a small-town lawyer and worked efficiently as I moved it through the paces. The barrel's weight helped the rifle remain settled during recoil.  Federal Premium American Eagle's 130-grain varmint JHP load managed the tightest group and barely edged out Black Hills' match load for best accuracy. The 125- and 130-grain loads' light recoil made the XPC particularly fun to shoot.

After testing three supersonic loads, I attached a SureFire muzzle brake and a SOCOM762 suppressor for subsonic-ammo testing. The rifle did not care for the 175-grain subsonic load and with a low standard deviation in muzzle velocity, I cannot really blame that on the ammunition. The subsonic Nexus ammo had very little recoil and my shots were clean, so the loose barrel twist combined with slow velocity were the likely culprits. Overall accuracy was solid. Any production rifle that displays sub-MOA averages from multiple factory ammunition types has strong potential for a wide range of uses. If all Winchester XPC rifles shoot like my test gun, this model should be a solid performer for the brand.
I put a total of 125 rounds through the XPC without any hiccups. The rifle showed itself to be a capable shooter with a weight and size best-suited for long-range precision work. If I were in the market to buy a new tactical turnbolt, the Winchester XPC rifle would be hovering near the top of my list of possibles, alongside rifles that cost three or four times as much. I can no longer claim to have zero useful Winchester rifle experience, and am a happier man for it.