At SHOT Show 2017, held in Las Vegas, NV, Trijicon introduced its latest pistol sights: the HD XR Night Sights.  I received two pairs of these a week before SHOT, installed them on two different semi-automatic pistols and then used them at the range.
Trijicon manufactures these new sights with thinner front posts than its traditional HD sights—.122-inch width for the new XR versus a .144-inch post for the older HDs. The rear sight U notch on both models is the same at .169-inches. Trijicon claims this change to the front posts, "promotes a larger field of view for fast target identification and engagement at longer distances."
I found this to be true. The new HD XR Night Sights are a real aid to distance shooting. I also discovered the sights are actually a big help for my closer range shooting.
I installed one pair of sights on a new Smith & Wesson M&P45 Shield and another on the Glock 27 Gen3 chambered in .40 S&W. The .45 ACP Shield is my everyday carry pistol, so I practice with it often and am quite familiar with its capabilities. The Glock 27? It's a friend's, and while I have run a few magazines through it, it was essentially a new pistol for me.
Shooting at 20 yards from a rest with the Shield, I was actually able to see the diamond bullseye on the 12-inch Shoot-N-C Sight In Target made by Birchwood Casey. I could even see space on either side of the diamond. Credit goes to the thin front post and the deep U of the rear sight. Now, I consider factory Smith & Wesson sights pretty good, and I was able to shoot respectable groups at distance with them. Yet, the front post essentially fills the rear sight notch, and it's not possible to see the bullseye.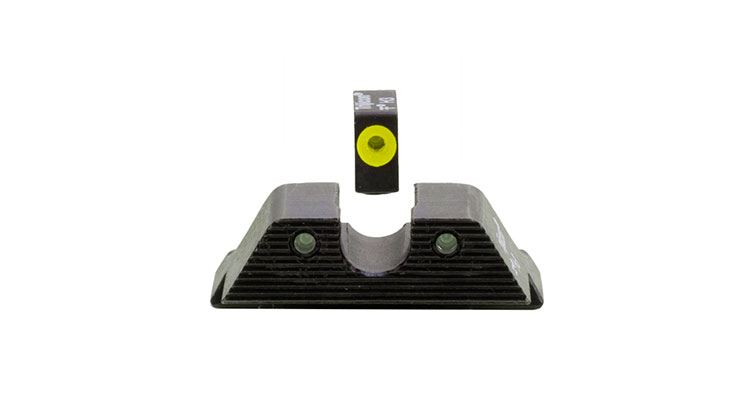 I found my groups shrunk anywhere from half an inch to just under two inches with these new Trijicon XR sights at 20 yards. I used two .45 ACP ammunition loads for this testing: the Federal Premium American Eagle 230-grain TSJ Syntech and Browning's new Performance Target load with a 230-grain FMJ bullet.
As noted, I had much less experience with the Glock. It showed. My five-shot groups at 20 yards, from the rest, were initially more than three inches. However, I got better.
I used a paper plate for my last eight shots, drilling it each time with several center-target hits. Again, I could see the whole target, plus the center aim point, with the new Trijicon HD XR sights at this range. For the Glock 27, I used two different .40 S&W loads: Inceptor Preferred Defense from Polycase with a 107-grain ARX bullet and Remington UMC with a 180-grain Metal Case bullet.
I then moved to my range's 10-yard lane to see what differences I noticed with close-range shooting.
Many of the new pistols I've tested have similar sights: a white dot on the front post and two dots to either side of the rear blade. I get the logic here. You slide the front dot between the two rear dots, and you're locked on. 

However, at closer ranges, these sights don't allow me to see my aiming point. You could argue that seeing a specific aim point in a self-defense scenario isn't a huge deal. For example, say an assailant comes in fast at seven yards. You line up the front dot between rear dots—or likely just the front dot on your assailant—and fire. 
Yet, I'm still a better shot when I can see more of the target. With Trijicon's HD XR sights at 10 yards, I cut tighter groups by a half-inch with the 45 Shield than I did in the past. My first shots were usually right on or right next to the bullseye. The Glock 27 performed admirably at 10 yards as well.
Trijicon makes the HD XR sights for a wide variety of semi-auto models, including FN America, Glock, Heckler & Koch, SIG Sauer, Springfield Armory and Smith & Wesson. Color options are Yellow Outline around Green Lamps/Dots or an Orange Outline surrounding Green Lamps/Dots. The suggested retail price is $175.00 per set.
NOTE:  Trijicon recommends professional installation for all of its sights.