Support NRA Shooting Illustrated
DONATE
Though it was originally developed as a fighting firearm by the legendary John Moses Browning, the many iterations of the classic 1911 design introduced over the last century have been transformed by many manufacturers into functional pieces of art. From BBQ guns to multi-thousand-dollar custom competition jobs, the 1911 has become the canvass for many of the brightest minds in the gun-making world. 

Springfield Armory's new Ronin Operator 1911 is the perfect example of classical style meeting modern function. The company makes the Ronin Operator in a couple of variants, including a 4.25- or 5-inch version, as well options for .45 ACP or 9 mm. Featured in this review is the 4.25-inch version chambered in .45 ACP, which features an aluminum frame to lighten its overall weight. 

Utilizing a two-tone design and hot-salt-blued slide to complement a satin Cerakote finish on an alloy frame, the Ronin Operator is perfectly accented by red laminate wood grips that feature a Crossed Cannon logo and checkering on the lower portion of the grips. The Ronin Operator comes with one eight-round steel magazine with base pad. 

Per company standards, the Ronin Operator features a forged alloy frame rather than cast, giving shooters the best in strength and durability over the long haul. Unloaded, the 4.25-inch version weighs in at just under 30 ounces, making it an ideal option for everyday carry. Likewise, the shorter-variant barrel—stainless steel, hammer-forged, and featuring a 1:16-inch twist—aids in overall concealment. 

Meanwhile, the blued, forged carbon steel slide comes with slide serrations in the rear to aid in manual slide manipulation. The recoil system is Commander-length and works with a traditional barrel bushing system. Other features are pretty standard for the 1911, including a thumb safety, slide lock, and mag release, all on the left hand side. The beavertail grip safety features a "memory bump," aiding shooters in getting a secure purchase on the firearm. The Ronin Operator also features a skeletonized Gen 2 Speed Trigger, which had a crisp break aids in the accuracy department.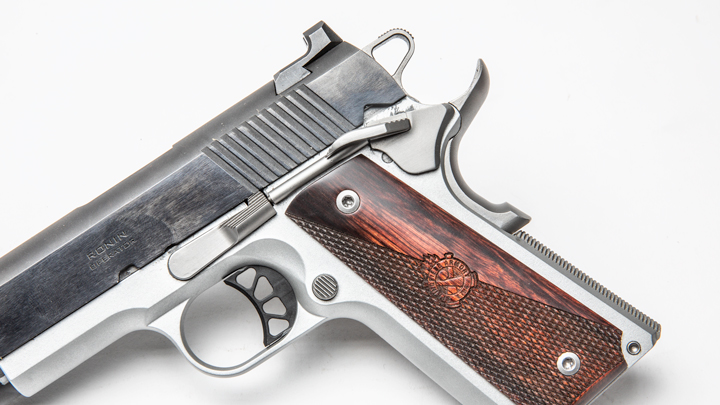 In terms of sights, the Ronin Operator comes with a fiber-optic front sight and tactical rack white dot rear. The 1911 I reviewed came with red fiber optic installed, while several different color options come in the box and can be swapped out based on user preference. 

Everyday Carry 
For review, the 4.25-inch Ronin Operator was paired with a Galco Fletch holster, which utilizes a high-quality steerhide design with minimal plastic parts for reinforcement. The high-ride Fletch holster is built with a butt-forward cant that helps keep the handgun from printing and makes for a comfortable draw. The leather strap buttons in front of the hammer, while a plastic wedge keeps the thumb safety from disengaging while holstered. 

The Ronin Operator was worn extensively with the holster, which made an excellent pairing and was comfortable to wear on a daily basis. The button-retention strap is easily broken by a downward motion of the hand and thumb, there aren't surfaces to drag during the draw process, and the Fletch holster is as good looking as it is secure and comfortable.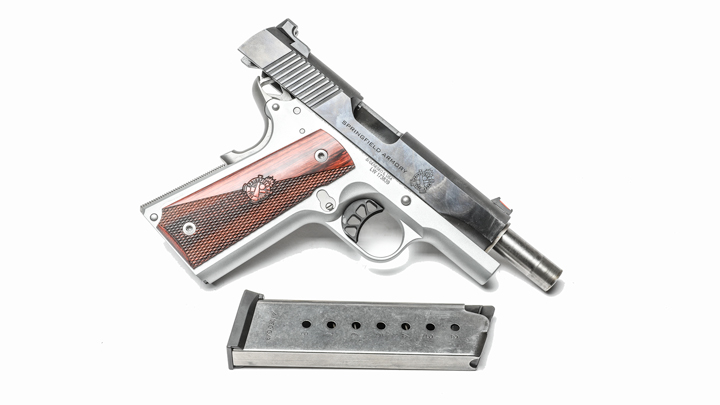 Capacity (8+1 in this case with the .45 ACP) and overall weight are always going to be the talking points with a 1911 as it concerns everyday carry, but that is typically solved by a spare mag kept in a mag holster or, as I prefer, in an offhand front pocket. As for weight, 30 ounces (plus a loaded mag) wouldn't be my first choice when paired with board shorts, but isn't really much of a problem with jeans and a sturdy belt. The added bonus with the Ronin Operator and Fletch is that they pair nicely with a sports jacket for a dressed-up look. 
While we'll talk about accuracy in just a moment, in terms of function with several different blends of personal defense ammunition, I had zero reliability issues, giving solid confidence in the Ronin as a carry gun.  

At the Range 
The Ronin Operator was tested at the range with four loads, each of which was fired in five-shot groups from 25 yards at a bench with supported rest. Loads included Hornady's Critical Defense 185-grain FTX, Black Hills' 135-grain Honey Badger, SIG Sauer's 200-grain JHP, and Winchester's 230-grain JHP. The best group of the day came with Hornady's Critical Defense load, which measured 2.31 inches; average group size on that load was 2.97 inches. Average group sizes for the other loads were 3.12 inches (Winchester), 3.38 inches (Black Hills), and 3.07 inches (SIG Sauer).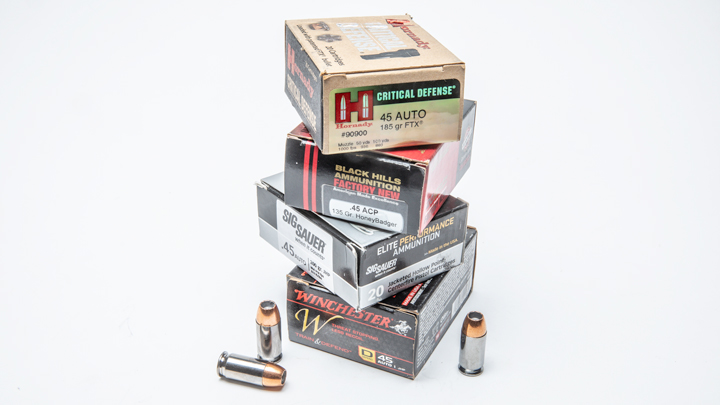 Overall, the Ronin Operator handled a wide variety of loads and bullet sizes without issue. Moving up closer on steel, the Operator is a dead-ringer and definitely gave reassurance that it's more than reliable for personal defense purposes. The G2 Speed Trigger makes for repeatable accuracy and, best of all, it's the kind of handgun that's hard to put down at the range.  

With an MSRP of $849, the Ronin Operator is as good looking as it is functionally sound. It's comfortable to shoot or carry on a daily basis, and the 30-ounce weight isn't overly excessive, especially in the realm of 1911s. When paired with a quality holster like Galco's Fletch, the Ronin Operator is equally at home with blue jeans or black ties.