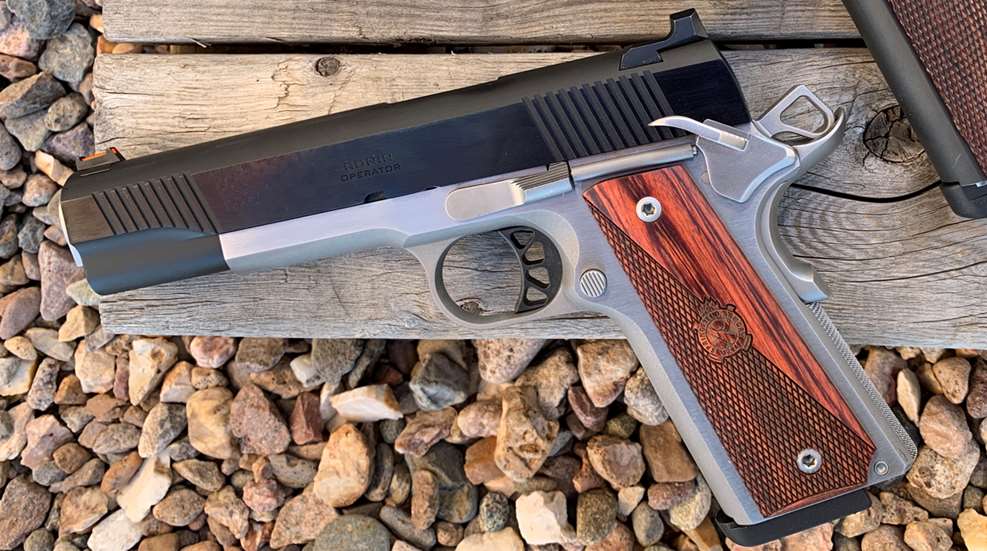 What with their dizzying number of models and variations you wouldn't think there was much room in the Springfield Armory lineup for a new 1911 pistol. At least that's what I thought until I was introduced to the Ronin Operator model, a pistol that fills a niche largely ignored by Springfield since their early forays into 1911 pistol production. 
As I recall, the company initially produced straight up 1911A1 model pistols on the Government Model pattern. They looked, handled and shot just like GI pistols and they were economically priced. In fact, back then Springfield also sold slides and frames and that launched me and some of my friends into building and customizing our own 1911 pistols. It was a good learning experience and we managed to turn out some nice pistols. One of my favorites from that period is a 9 mm I customized for my wife, a pistol she has enjoyed shooting for many years and has graciously loaned to many of my female students. 
So, what's special about the Ronin Operator? Well, after their early success with box-stock 1911 pistols, Springfield began making pistols with all the bells and whistles shooters demand and the prices escalated to reflect the added features. Springfield also has a custom shop and they are capable of turning out as nice a high-end pistol as anyone could desire, assuming you can pay the tariff. What was missing from their vast lineup was a fully featured, economical 1911 to compete with the likes of the Ruger SR1911, and that's what we have with the Ronin Operator. It's available in .45 ACP and 9 mm chamberings; my sample is of the 9 mm flavor.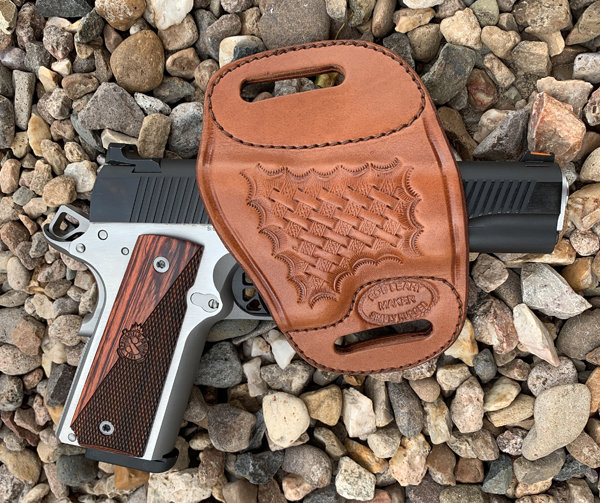 This is a nice looking pistol, with its two tone blued slide and stainless steel frame. The sights include a fiber-optic front and slide-racker style rear with two dots, two features I could do without, but the marketing people tell me this is what consumers want. The frame is cut up high under the trigger guard and this, along with the perfectly fitted beavertail safety allows for a high hold on the pistol. The single-side thumb safety is nicely fitted and blended to remove sharp edges (thank you!). The thin, half-checkered, half-smooth stocks include the Springfield logo. This arrangement allows for the installation of both thinner or thicker stock panels and is the way all 1911s should be set up (bravo!). The mainspring housing is checkered, the front strap is left plain and the checkered magazine release button is of standard length. 
The blued slide, with polished sides and a matte top, has fore and aft cocking serrations and it and the barrel are as snugly fitted to the frame as any out-of-the-box pistol I've encountered. Still, the slide runs easily and passes my "wife test", that being, can my wife and others with less hand strength manipulate the pistol by running the slide and locking it to the rear? The slide contains no firing pin safety, indicating the pistol is a "Series 70" design.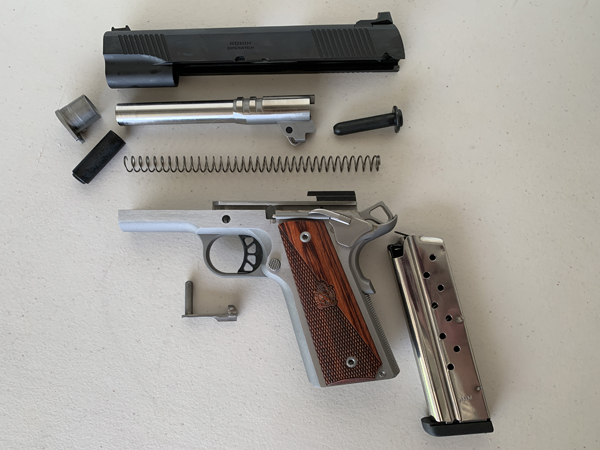 The barrel length is 5 inches, the pistol weighs exactly 40 ounces unloaded with an empty magazine and it comes boxed with a padded zippered case, the usual padlock and a detailed instruction manual. The skeletonized trigger is standard length and according to my Lyman electronic tester, it breaks at an average of exactly 5 pounds, 8 ounces. After taking up the slack there is a tiny bit of creep, then the trigger breaks cleanly without overtravel.
Carrying the pistol in a nice basketweave, stamped beltslide holster from Simply Rugged Holsters, I headed to Gunsite to see if the pistol shoots as well as it looks. Knowing it is sure to shoot better than I do, I didn't bother shooting groups, but instead chose to see how reliable it is with a variety of range and defensive ammunition. I figured, with the ramped barrel it should feed reliably, but I wondered if the tight slide and barrel fit might affect reliability. 
As it turns out, I needn't have worried, as the pistol ran everything I had in my rolling range bag (my truck). The sights give a good sight picture and my aging eyes sure appreciate that red fiber-optic front sight. From quick defensive drills at close range, to shooting the Gunsite School Drill, I went on to shooting plates at 25 and 50 yards. I discovered the sights to be well-regulated back to 15 yards using a center hold, but had to switch to a 6 o'clock hold at 25 and 50 yards. The Ronin Operator pistol is entirely reliable and more than capable in my hands. 
With a suggested retail price of $849, this pistol is good to go "as is" or is an economical starting point for further custom touches. For example, if I buy it (tempted) I will install a short trigger, do a trigger job to take out the creep, bring the pull down to 4 pounds and add a slightly longer magazine release then give it to my Domestic Goddess. This is a nice example of a 1911 pistol and Springfield has successfully filled in that niche in their lineup with the Ronin Operator.