The 6.5 Creedmoor is the latest "hot round" in tactical circles, and has begun showing up in a number of AR-10 platform rifles, including the new Smith & Wesson Performance Center M&P10 rifle. I recently got my hands on the new AR and after some time on the range can say with certainty that the M&P10 PC provides outstanding accuracy from an AR—and I've used quite a few ARs in my time. That accuracy is combined with a sweet trigger, comfortable furniture and obvious durability, making the M&P10 PC a fine choice for longer-range tactical applications, and competitive shooting.
Direct-impingement-operated, the Performance Center M&P10 is decked out with a Magpul MOE stock and Magpul MOE+ grip, plus a 15-inch freefloat Troy Industries Alpha M-Lok handguard. The whole rifle is finished in Armornite, which should provide years of protection to the metal surfaces. There is ample rail and handguard space to attach all manner of accessories. For those of us who can't get enough of those AR attachments, the rifle also comes with a 2-inch M-Lok accessory rail.


The two-stage, match-grade trigger is a pleasure, with the first stage moving back smoothly—about .25 inch or so—before engaging the second stage, which breaks at a very crisp 4 pounds, 6 ounces, according to my Lyman Electronic Trigger Pull Gauge. At slightly more than 9 pounds, unloaded, the M&P10 PC is not a lightweight rifle. You would not want to carry it around all day, especially in difficult terrain, even with a good sling. But part of that weight is due to its 20-inch, carbon-steel barrel, which is also a key reason for the rifle's fine accuracy. That barrel, by the way, is also threaded for a suppressor or muzzle brake.
I received a new-in-the-box Performance Center M&P10. First order of business: install a riflescope. I choose a Swarovski Z6i 1-6x24 mm, and attached it to the M&P's top rail with a rock-solid LaRue Tactical SPR-E quick-detach mount. I then ran a lightly oiled patch down the rifle's barrel and lubricated the bolt. At the range, I ran three different types of 6.5 Creedmoor through the M&P10 PC:  Fusion MSR, by Federal Premium, with a 140-grain bullet, Hornady's Precision Hunter firing a 143-grain ELD-X bullet and some handloads from a few years ago, made for me by the good people at Hornady, launching a 140-grain SST slug.


I started off my range time with the Fusion round at 50 yards, shooting from sandbags, and by shot number five had the rifle properly zeroed. I then moved on to the 100-yard targets. I was quite impressed with the Performance Center M&P10's accuracy, especially as I was firing off my five-round test groupings at a pretty good pace. To me, the whole point of an AR-platform rifle is the ability to put numerous rounds downrange, fast if needed, and so I see little point in taking a shot, waiting a minute or more, firing off round number two, and then repeating the process several more times. Instead, I take my time with that first shot, and then do the next four within 10 to 15 seconds, essentially as fast as I can return my reticle to the bullseye.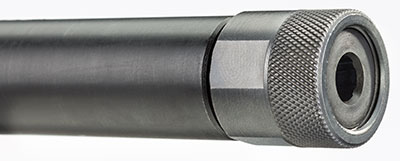 Here, I should note, the Swarovski Z6i reticle was a huge help getting me back on target fast. At the push of a switch, I lit up the center of the reticle at a level that wasn't a distraction but was bright enough to get my back onto the Birchwood Casey Shoot-N-C Targets speedily. My best five-shot group was with the Fusion 6.5, and it came in at .77-inches. I also had several 2.0-inch groups with two of the ammunition brands, and the pattern was the same in every case:  three or four shots at MOA or better, and a wide shot that bumped the group into the 2-inch category. So I think it's fair to say, those who shoot this rifle from a benchrest, taking their time and a few extra breaths between each shot; you'd be drilling sub-MOA groups all day with the Performance Center M&P10.
As AR-10's go, the Smith & Wesson Performance Center M&P10 in 6.5 Creedmoor is not an inexpensive rifle. But it is dependable, accurate and will get the job done. Often, you have to pay more to get all three qualities into one rifle package, and that's the case with this newest version of the Smith & Wesson M&P10.