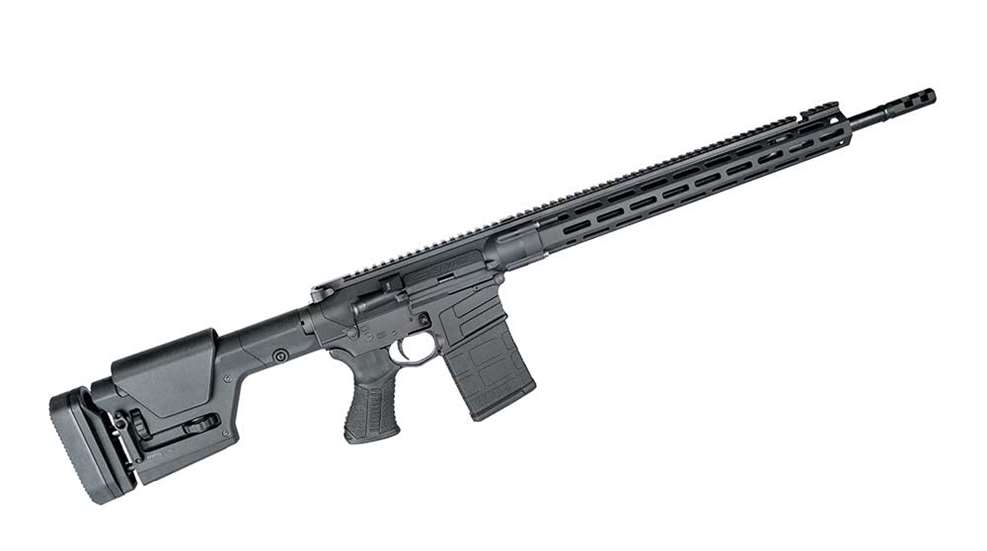 When Savage Arms introduced its line-up of AR-style rifles early in 2017, the MSRs (Modern Savage Rifle), the MSR-15s in .223 Wylde received most of the attention. But Savage also debuted two AR-10s at the same time: the MSR-10 Hunter and MSR-10 Long Range, direct-impingement semi-autos chambered in 6.5 Creedmoor and .308 Win. Accurate and comfortable to shoot, the Savage Arms MSR-10 Long Range is a great choice for long-distance tactical applications where not a lot of moving around is required and the shooting is done from a fixed, stable positions. 

I list those caveats—minimal movement and stable positions—because of this version of the MSR-10 weighs 10 pounds. Add good glass, ammunition, a two-point sling and a bi-pod, and you're now toting around 13 pounds.

Of course, you can shoot the Savage Arms MSR-10 Long Range in the standing, offhand position. I did, and it works. But that's not really this rifle's preferred shooting position, not if you want the accuracy the MSR-10 Long Range rifle can achieve.

The MSR-10 I reviewed was chambered in 6.5 Creedmoor and had a 22-inch barrel, a full-length handguard and rail and Magpul furniture. Savage sent me the review rifle with an optic already attached, a Bushnell DMRII-i Elite Tactical 3.5-21x50 mm scope. 

At my local shooting range, I tested the rifle's functionality and accuracy by using four different brands of ammunition, including a handload firing a 140-grain Hornady SST bullet. I didn't have extended time with the Savage Arms MSR-10 Long Range and fired just under 200 rounds. In that time, I experienced no malfunctions of any sort. All ammunition fed well; spent brass ejected without a hiccup. The 20-round Magpul PMag Gen M3 magazine snapped in with a solid "click" and popped out just as nicely.

The Savage Arms MSR-10 Long Range is built with two charging handles. A standard AR-style handle rides along the top of the receiver and a non-reciprocating side-charge handle located on the left side of the receiver. For tactical shooters, that two-handle set-up is a real plus, as it gives them the ability to easily rack in a new round using the side handle while in the prone position.  Ergonomically speaking, it's hard enough to use a traditional charging handle from prone as you need to roll your body to one side to: A) to get your body out of the way to accommodate the length of the handle; and B) to provide enough leverage to pull back the handle.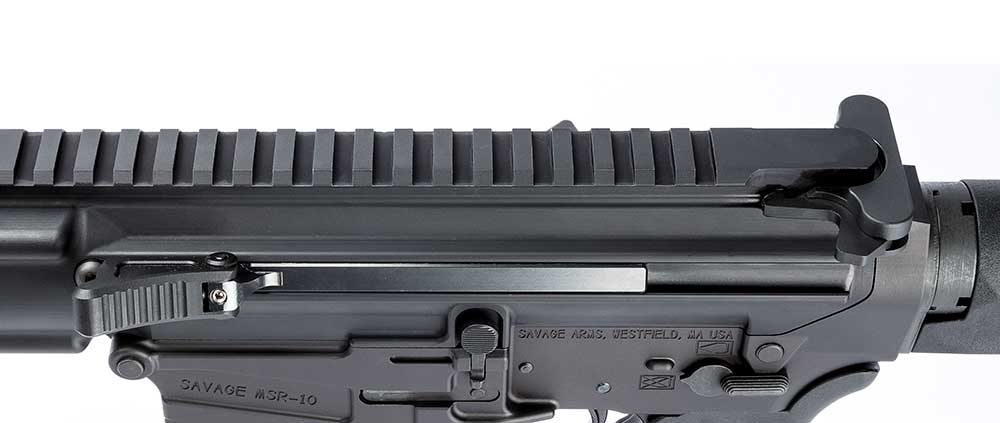 I found it easy to grab the side-charging lever with my support hand, put my right shoulder firmly into the butt of the stock, and use that leverage to chamber or clear a round.

The side charger also allows you to chamber a round without fighting to get your fingers under the end of your scope and around the traditional charging handle, usually located about a half inch right below the end of the scope.

Actually, after using the side charging handle, I had to wonder why more AR manufacturers don't go to this system and drop the traditional charging handle altogether. The side-charging handle does stick out of the receiver about an inch, but given the superior functionality of it versus the usual charging handle, I'd take that extra inch over the difficulty of using the traditional charger with an optic from the prone position.

For accuracy testing on the Savage Arms MSR-10 Long Range, I used three brands of ammunition: 140-grain OTM Federal Premium American Eagle, Federal's Gold Medal Berger with a 130-grain bullet and Hornady's 120-grain GMX Full Boar.

Accuracy was great across the board.  Firing at 100 yards from a rest, I achieved five-shot groups between 0.7-1.0 inches with each brand of ammunition. Some of my three and four-shot groups were outstanding including: a .352- and .439-inch three-shot group with the American Eagle; .520-inches with the Federal Gold Medal for three shots; and, a four-shot cluster with the Hornady Full Boar at just .522-inches.

With these kind of groups, I would expect a proficient marksman to peg MOA or better out to 500 yards or more using the Savage Arms MSR-10 Long Range. Certainly, this rifle is a compelling option for competitions like the 3-gun Heavy Metal Division and the recently launched PRS Gas Gun Series.

The first stage of the rifle's Blackhawk Blaze two-stage trigger was a little gritty, though the second stage broke very cleanly. The Magpul PRS Gen3 stock adjusted easily for cheek height/weld and length of pull, and the free-float M-LOK handguard can host a slew of accessories.
Savage Arms MSR-10 Long Range Specifications (As Tested)

Action: Direct-impingement semi-auto
Caliber: 6.5 Creedmoor
Finish: Matte black hardcoat anodized receiver and Melonite QPQ barrel
Barrel: 22 inches long, fluted, free floating
Rifling: 1:8-inch 5R Right-hand
Stock: Magpul PRS Gen3
Trigger: Blackhawk AR Blaze two-stage target trigger
Length: 43 5/8 inches
Weight: 10 pounds
Other Features: Custom forged upper/lower receivers; non-reciprocating side charging handle; free-float M-Lok rail.
MSRP:  $2,248