Shown above: With Smith & Wesson and Crimson Trace both under the umbrella of American Outdoor Brands, the Smith & Wesson M&P Shield M2.0 can be had with an integrated laser unit without much added cost.

The advent of polymer-frame, striker-fired pistols that accommodate double-stack magazines led to an industry-wide rush to create similar pistols. It seemed as though there were some magic in the basic formula: build a plastic gun that took a double-column magazine and had either a double-action-only (DAO) trigger mechanism or one that felt like it and you'd find success. Then smaller pistols, typified by Kahr Arms' PM9 and others, demonstrated that a mere two elements of the trinity were necessary for transcendence in the handgun marketplace. A medium-caliber DAO polymer pistol that accepted only a slim, single-stack magazine still sold like hotcakes and companies exploited a market sub-segment mighty Glock had ignored.
While Glock took its time creating the G43, other major manufacturers quickly followed the PM9 to market with their own single-stack polymer DAOs. Among them was the venerable Springfield, MA, firm of Smith & Wesson. When the company introduced the Smith & Wesson M&P Shield M2.0, I think even it was shocked by market demand for such a pistol. Despite the presence of several competitors, the Shield flew off shelves and onto hips. The gun was compact, slim, light, simple to operate, reliable and chambered in potent defensive calibers. Moreover, whether you were a grizzled, veteran shooter or a complete newbie, you no doubt knew the name Smith & Wesson and its status as an iconic American gun manufacturer.

Tiny Tweaks & Big Doings in the Smith & Wesson M&P Shield M2.0
That firepower was a selling point with the first polymer-frame, striker-fired pistols is undoubted, but it wasn't as crucial to the equation as originally thought. Sure, the absence of stocks meant the guns could be surprisingly slim and the plastic also made them lightweight, but that was because there were no single-stack polymer pistols for comparison. Once those appeared on the scene, people were pleasantly surprised at just how slender a carry pistol could be. Also, single-stack guns fit more hands than did double-stack models. Lastly, despite polymer's light weight, the ammunition held by a double-stack added noticeable weight and also appreciably changed the balance of a loaded gun.
All of these factors—as well as Smith & Wesson's reputation—made the original Shield a runaway best-seller. The company was smart enough to know you don't mess with success—but you can tweak it a little.
On the Shield, there were remarkably few tweaks required. However, Smith & Wesson hasn't stayed in business all these years by avoiding customer input. Oh, no. If Smith & Wesson's customers wanted changes, they'd get them. The company has now unveiled the Smith & Wesson M&P Shield M2.0. Moreover, as Smith & Wesson's parent company had, prior to the introduction of the M2.0, purchased laser-sight manufacturer Crimson Trace Corporation (CTC), the new gun is available with an integral, fully adjustable CTC laser for just a smidgen more than the asking price of a laserless M&P Shield 2.0. 
Fixes
The improvement most evident in the Smith & Wesson M&P Shield M2.0 (laser not withstanding) is the gripping surface. On the learning curve for plastic pistols, it is now understood that checkering isn't nearly as effective as stippling and aggressive stippling is even better. The original Shield felt good in the hand; the Shield 2.0 feels great. The stippling permits excellent purchase, even with damp hands, but is not so extreme as to be abrasive or uncomfortable during a normal shooting session.
Another change is the inclusion of just a touch of scalloping on the front of the slide. We're not fans of grasping a pistol near the muzzle, but for those who prefer to perform press checks that way, the process is now surer and easier. Of course, the new Smith & Wesson M&P Shield M2.0 has a window in the barrel hood that serves as a loaded-chamber indicator, so we're not sure of the value of doing press checks with this pistol.


You'll note that the trigger stop is now higher and more pronounced. That likely reflects a change to tactical focus in the interim between the introduction of the original Shield and the new model. Trainers now stress the importance of trigger reset in engagements. They claim that it is crucial a combat pistol both limit overtravel (hence the big trigger stop), and reset after only minimal forward movement. The high trigger stop signals to the consumer the 2.0 is in accordance with the most current defensive handgunning theory.
The trigger itself is better than the original. It is still steeply curved and horizontally divided at the midline. As pressure is applied, the hinged lower portion levers down slightly before the trigger begins its rearward arc. If pressed, I'd say the original pistol's pull was just "adequate," whereas this one has progressed past "satisfactory" to "good."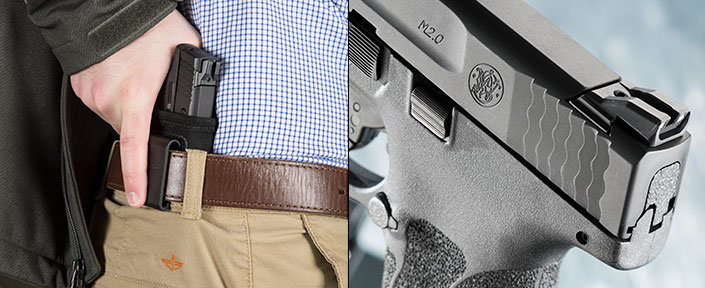 Laser Integration
The Crimson Trace Corporation revolutionized alternative-sighting systems decades ago with its Lasergrips and their grip-integrated laser modules. The company was briefly stymied for consumer-installed lasers on polymer-frame pistols without detachable stocks. However, it soon brought to market units that could be attached to the backstrap by end users. These were augmented by models that mounted on the rail of pistols so equipped or to the front of the trigger guard for pistols without rails.
The natural end was for gun designs to have lasers designed into them from the factory. Such became an increasing likelihood when Smith & Wesson acquired CTC. Although CTC will continue to work with and sell lasers to other manufacturers, the first real impact of the acquisition is that certain Smith & Wesson handguns will be available with CTC lasers at an incredible savings. The red-laser-equipped Smith & Wesson M&P Shield M2.0 lists for only $20 more than the laserless model. Essentially, the consumer is getting an integrated, adjustable laser from the leader in laser-sighting technology for less than the price of a box of premium ammunition.


Smith & Wesson M&P Shield M2.0: Sized Right
That pistols sized like the Shield proved so popular seemed curious. After all, they were too large to be true pocket pistols for most people. If you were going to wear them in a belt holster, even with an IWB holster you still had to wear a concealing garment, so why not opt for a bigger, more capacious pistol? Well, if you regularly carry a double-stack, just wear the Shield on your belt for a day. The difference between a fully loaded double stack  and a fully loaded Shield becomes profound over the course of several hours. Even with a spare mag in an off-side pocket, carrying the smaller gun is just less burdensome.
One consumer complaint has been the difficulty locating holsters to accommodate pistols with rail- or trigger-mounted lasers. This problem has largely been solved by CTC and its online Holster Resource Guide, located at holsterresourceguide.com. It lists some 3,300 holsters from participating manufacturers that will work with various CTC products, including guns like the Smith & Wesson M&P Shield M2.0 with integrated lasers.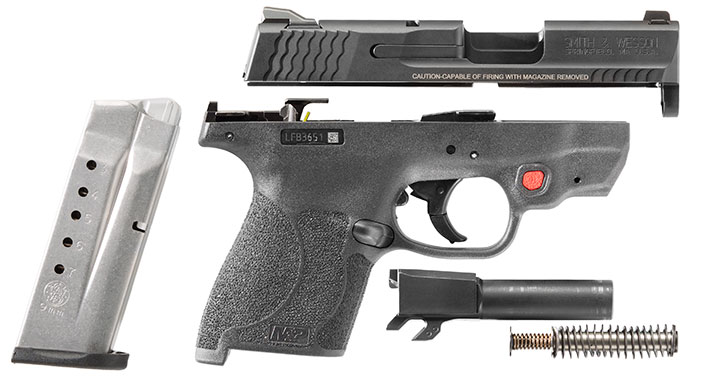 Handling
We tried a suede Stow-n-Go IWB holster from Galco and a Kydex IWB from Comp-Tac. The gun presented quickly, the short barrel clearing the holster almost instantly to come up on target. The height of the gun from the trigger guard to the top of the slide is a little off-putting at first. It feels a little like you're holding a paperback by the bottom with the spine pointed up. Despite this, it is actually a fast-handling gun, both on the draw stroke and when shifting between targets.
While the flush-fitting magazine is slightly more concealable, we'd advise going with the extended magazine that allows for full hand placement. It is more comfortable, and offers better control and an extra round of ammunition. That's a pretty good trade for a marginal loss of concealability.
Also disconcerting—if you are not used to M&Ps—is the swing of the lower portion of the trigger. It straightens just enough that it aligns with and continues the curve of the top half of the trigger, then the entire unit moves through just a bit of takeup before breaking with a fairly clean snap. If you are used to double-stack pistols, you may initially tend to insert your index finger too far through the trigger guard, pulling the trigger with the first joint rather than with the pad of your fingertip. It's something to pay attention to if the Shield (or any single-stack) becomes your EDC gun.


One would expect significant felt recoil from the Smith & Wesson M&P Shield M2.0 since it is a lightweight pistol with a narrow backstrap offering little surface area over which to distribute the recoil impulse. We're not sure why, but such turned out not to be the case. There is a little smacking of the trigger finger within the guard, but no painful palm slap, even from some pretty hot ammo.
During testing, there  were no failures to feed or fire and only one failure of the slide to lock rearward on the last shot. Accuracy was good, though with Hornady Critical Defense there was a pronounced tendency toward first-shot fliers that significantly opened up some otherwise excellent groups.
The optional laser unit built into the Smith & Wesson M&P Shield M2.0 is fully adjustable. An included hex wrench inserted into the respective windage and elevation holes allows the user to adjust the unloaded pistol's beam, if necessary (it's pre-zeroed at 50 feet). Just move the dot to appear atop the front sight at your chosen distance. At the range, you can confirm proper beam location or further fine-tune it (unload first), if needed.


The laser lacks automatic activation. Ambidextrous activation switches are incorporated on either side of the pistol on the dustcover just ahead of the trigger guard. You can activate the laser with your trigger finger or the thumb of your support hand. We prefer the latter so as to limit our trigger finger to a single task in the event of a dangerous encounter. The lack of automatic activation slows implementation of the laser unless you learn to make that part of your presentation, something that may take considerable training.

On the other hand, should you desire to have your sighting system and the target in the same focal plane; if you should need to hold the gun at an odd angle, one without your eyes aligned behind the pistol, but still need to be sure you are on target; or if you just want to test the accuracy potential of a given load in your gun, the laser is a pretty handy thing to have. It is supplemental to the iron sights, but it's only $20 more than a "standard" Smith & Wesson M&P Shield M2.0. That's virtually too good a deal to pass up, especially now that holsters are readily available.
In you're dead set against a laser or can't will yourself to pry a double sawbuck out of your wallet, Smith & Wesson will sell you a Shield 2.0 without one, or any way you want it. There is a great variety of SKUs; 16 in all. You can have your Shield 2.0 with the integrated red laser or with an integrated green one (more expensive) or no laser at all. You can have it with or without a thumb safety. You can have it with night sights. You can have it in 9 mm or .40 S&W. You can—oh, I think you get the idea. Smith & Wesson has very prudently enhanced a very fine pistol with the Smith & Wesson M&P Shield M2.0.
The company has taken what may be the most popular subcompact personal protection handgun and improved it in ways large and small, focusing on customer desires like—well, like a laser beam.