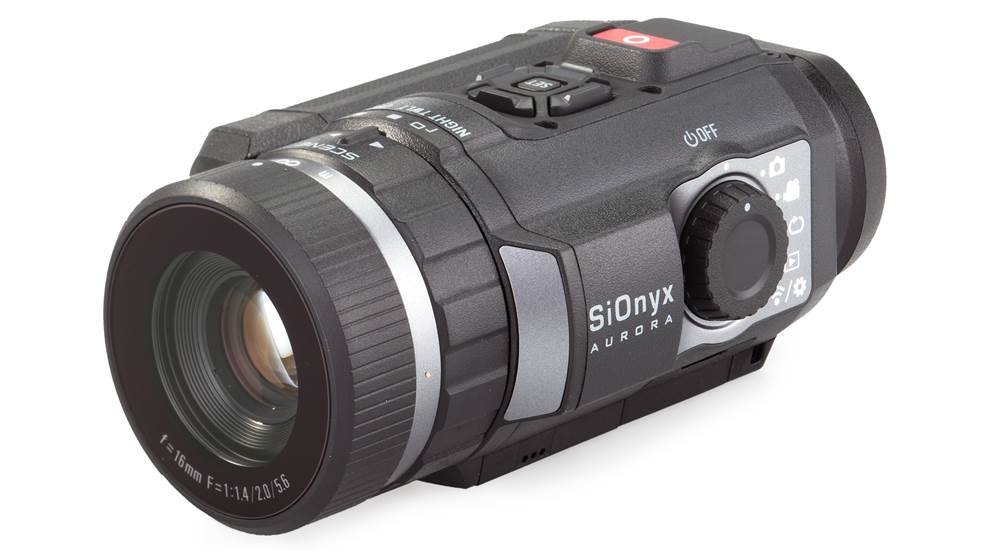 Night-vision devices (NVDs) are increasingly available and affordable. One can find everything from products barely qualifying as toys through military-grade thermal optics at a variety of retailers, at prices ranging from less than $100 (for the toys) to the price of a fairly nice car (for the high-end thermal stuff). How these products help us see in the dark—and more importantly, how well they do so—is almost as varied as their prices, but in general, the more expensive it is, the better it illuminates the night. Enter the SiOnyx Aurora Black, which is both useful and relatively inexpensive for an NVD.
The biggest selling point, and indeed the factor that drew my attention to the SiOnyx product line, is the fact that the Aurora Black (and the other Aurora models the company offers) provides a full-color image as opposed to the green or gray we are used to seeing through NVDs. This isn't the temperature-gradient color palette some thermal devices offer, which is merely using an array of colors to show the differences in heat signature given off by whatever you're looking at. No, this is actual "visible" color. If you're looking at a buddy wearing a blue shirt, his shirt will be blue in the viewfinder of the Aurora Black, even when you can't see him with your naked eye.
How does that work? The NVDs you've likely seen before intensify the light entering the objective lens via science that takes more space to explain than we have in this article, but does so via cathode tubes and phosphors rather than software and algorithms. The SiOnyx Aurora line, on the other hand, is "digital," meaning the light entering the objective lens is transformed into a digital signal by an image sensor. This is also how digital cameras work, so the technology isn't exactly earth-shattering, but SiOnyx has patented technology that especially enhances light in the near-infrared spectrum (about 700 to 1,000 nm). This, among other bits of software magic, enables the Aurora models to deliver full-color night-vision. Like most non-thermal NVDs, the SiOnyx products do require some ambient light source to work, be it starlight or an IR spotlight.
So now that I've thoroughly confused you with my own confused explanation of how the Aurora Black works, we must determine the answer to a more important question: Does the Aurora Black work?


The answer is an emphatic yes, with a caveat. I tested the Aurora Black for about a month, both on a 5.56 NATO AR and as a handheld monocular. To use it on a rifle, you must purchase a $49 Picatinny-rail mount that screws into the Aurora Black's tripod-mount socket. The optic has three "light" modes: daylight, twilight and night. This makes it extremely versatile on a rifle, since you don't have to take it off the firearm (or even turn it off) to use it at any time.
Mounted in front of a red-dot sight, the Aurora Black provided clear images in daylight and did not result in any change in the point-of-impact at 50 yards. It can also be mounted in front of a magnified optic or behind a reflex sight. The one negative for rifle use is SiOnyx rates the Aurora Black for 5.56 NATO/.223 Rem. only. The product is not guaranteed to function or maintain its integrity on anything more powerful. But on a standard AR-15, it worked quite well in testing.
Why only 5.56 NATO? Well, the SiOnyx Aurora line is composed of products that are fundamentally cameras first, and "tactical" devices second. They provide outstanding images, including up to 29 minutes of video, in all light conditions, but it seems clear that they were not initially designed for use on guns.
As a handheld monocular, the Aurora Black was also outstanding. It provided similar viewing ranges to other NVDs I've used, with the added bonus of multiple image-capturing options and an included 32 GB micro-SD card to store them. It can also wirelessly stream to your smartphone via a free app, which means you could set it up for remote surveillance.
Two rechargeable lithium camera batteries ship with the unit, and battery life is reasonably long—I never had the battery die on me, even after multiple hours of viewing and shooting. The company also says the Aurora black is waterproof (submergible to 3 feet for 30 minutes), so you can use it in the rain or snow.
If you're looking for a versatile night-vision camera that is both capable and fun, the SiOnyx Aurora Black is definitely worth exploring.