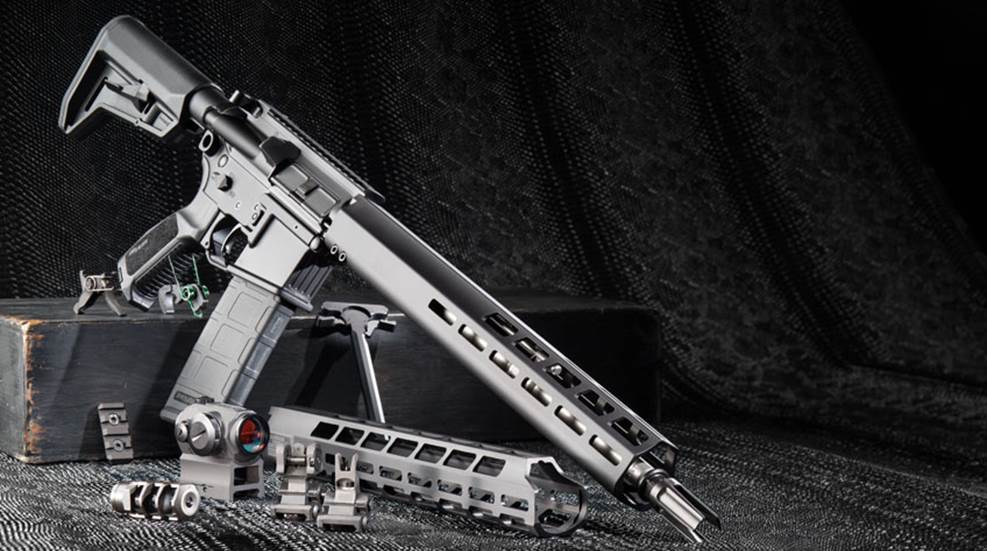 SIG Sauer's marketing and product-development teams were on to something in early 2017 when they designed the company's first AR-15 priced below $1,000. There was a glaring gap in SIG's product mix for a mid-level AR-15 intended to compete in the main line of that market, and that gap became more evident in the current environment, where quality and perceived value—not fear of increased regulation—are driving sales.
The company's strongest suit is its extensive line of pistols, while long gun R&D is directed at specialty builds like the MCX and MPX aimed at the Tier-1 military market. These rifles are distinctive and advanced, but high priced and lower-volume movers. As to SIG's AR-15 rifles, the M400 (direct-impingement) and M516 (gas-piston) series were almost ignored in recent years with very few variants offered, all of them priced north of $1,000. The M400 Tread, however, changes that paradigm with an MSRP of $951 and a street price closer to the minimum advertised price (MAP) of $799, according to the firearms manufacturer.
The Tread is named after the yellow Gadsden Flag with its coiled "Don't Tread on Me" rattlesnake and is supported by advertising evocative of American individualism. More broadly speaking, the Tread's brand concept is a mid-priced utility rifle marketed to a newer shooter alongside a package of like-branded and 100-percent compatible accessories. That last point—100-percent compatible accessories—appeals to both the shooter who values simplicity, and the sophisticated AR aficionado with the experience to know that parts from the same manufacturer tend to fit better and have more closely matched finishes than components from multiple sources. In the case of SIG Sauer, these accessories have the added benefit of having been tested by the SIG Academy's firearms trainers, who typically work with the design team.
Tread-branded accessories include handguards, foregrip and handstops, optical and iron sights, a muzzle brake/compensator, an ambidextrous charging handle and a lighter-weight trigger. All of them, with the exception of the trigger, install with nothing more than an Allen wrench. These accessories are sold in consistent Tread-branded packaging that should appeal to dealers who can more easily educate their customers on the ease of do-it-yourself rifle accessorizing.
The M400 Tread: Full Featured
The Tread's competitive advantage stems from certain features it shares with SIG's higher-priced M400 and M516 tactical rifles. Starting with its proprietary, forged lower receiver, which is made more substantial than most—it's thicker at the bottom of the magazine well and the integral QD sling swivel sockets at its rear provide a measure of added strength around a stress area where the buttstock connects. The Tread lower also has improved controls and a rubber wedge embedded behind the rear takedown pin to keep the upper and lower receivers tightly joined.
The controls used also improve upon the industry norm. Sturdier safety levers are ambidextrous, with the right-side lever appropriately shortened so that it does not abrade the trigger finger and an ambidextrous mag release with the left-side release protected from inadvertent activation by a fence integral to the receiver. To improve manipulation of the bolt catch, the bottom portion of the "ping-pong paddle" is extended forward.


Another noteworthy and often overlooked additional safety feature is the extractor-support pin located within the barrel extension, which keeps the extractor pressed against the cartridge case rim when the bolt is locked in battery. The support pin was first used on SIG's 516 rifle, designed for military users where the chance of a chamber overpressure situation caused by an obstructed bore was a more-than-theoretical risk. The overpressure could blow out the extractor, as it is the only unsupported area on the bolt face, which obviously creates a hazard to the shooter or bystanders. At a minimum, it would render the rifle immediately nonfunctional. Though mud and water are risks to the casual shooter, squib loads and ice-obstructed barrels from hunters dropping them into the snow are more common. SIG's support pin alleviates the downside of these risks substantially and its M400 and M516 rifles are the only production AR rifles I know of that use it.
The Tread uses a 16-inch freefloated, stainless-steel hammer-forged barrel with a lighter-weight profile made in house. A symmetrical, three-prong flash suppressor that dispenses with timing issues presented by some other designs caps the threaded muzzle. More significantly, the barrel uses SIG's Taper-Lok muzzle thread whereby the shoulder behind the threads is machined at an angle that provides more frictional contact than a square shoulder and obviates crush washers to secure muzzle accessories. The barrel has a relatively fast 1:8-inch rate of twist, which has become more popular in recent years to stabilize heavier and thus longer bullets. My experience shows that projectiles weighing about 77 grains seem to shoot more accurately with faster twists. The potential downside, however, is diminished accuracy using less costly and more widely available 55-grain bullets.


The Tread uses a mid-length gas system that is more reliable over a wide range of ammunition than carbine length because it is ported farther ahead of the chamber where gas pressure and gas volume are more consistent. SIG also selected a stainless-steel, micro gas block that mounts close enough to the barrel to allow for narrow-diameter handguards that are easier to grasp and lighter weight than most designs used in the past.
The Tread's visually striking, full-length 15-inch handguard may not be aesthetically pleasing to all, but it is mostly an improvement over the chunky and outdated quad-rail handguards that add weight and are uncomfortable to grasp. The Tread handguard mounts to a proprietary barrel nut with two Allen-head screws and rigidity is augmented by a slot atop the handguard that fits the guard tightly to the upper receiver. Two optional handguards of 15-inch and 13-inch long are made that are fully milled with M-Lok slots and reduce weight by approximately 6 to 7 ounces.

Though it appears boxy, the Tread's standard handguard is rounded in areas where it matters and is narrow enough to use a "C-clamp," support-hand grasp if you prefer that technique. I found it also furnishes comfort with a smooth, but not slick texture and chamfered edges on each M-Lok slot that are devoid of even a hint of sharpness. Perhaps homely to some, this Tread handguard is arguably preferable to the round cross-sectional styles, and its M-Lok slots are located where you would use them for lights/lasers and sights. And if you don't like the feel of grasping M-Lok slots, SIG sells grip plates to make the surface smooth. SIG also offers several Magpul foregrip and handstop options with M-Lok attachments, and (of course) rail sections can be mounted to the M-Lok slots if needed.
Tread-compatible sighting options include a Romeo5 micro-size (20 mm) red-dot sight and a durable set of adjustable aperture sights made from steel. These flip-up sights come with a short rail section for mounting the front sight to the front of the handguard and they co-witness with the 2-MOA dot of the Romeo5. Interestingly, SIG sells the Tread-branded Romeo5 on its website at a price substantially less than the unbranded but identical sight.
Finally, the Tread's grip deserves mention because it has an internal compartment that is molded to securely hold a CR2032-, AA-, or CR123A-size battery without rattling about as with other grips that offer storage. That's not an inconsequential feature as anyone who has been stranded afield with a dead optic and no spare battery can attest to.


On the Range With the M400 Tread
I tested the Tread for accuracy and any ammo preference at 100 yards using a Leupold Mark 4 8.5-25x50 mm scope and shooting off a Caldwell Tack Driver bag rest using three match-grade and one practice-grade loads. Range conditions were ideal with no perceptible wind.
Of the premium ammunition fired, Black Hills' 77-grain JHP delivered the best five-shot groups of .81 inch and 1.6 inches followed closely by SIG Sauer's 77-grain Match load at 1.3 inches and 1.9 inches. Black Hills' 69-grain JHP load came in at 1.5 inches and 1.9 inches, while the Federal Premium XM193 55-grain FMJ shot 2.5 inches and 2.9 inches.

Despite using a powerful scope, these groups were not easy to achieve on account of the heavy trigger pull which measured 7 pounds, 10 ounces as measured by a Lyman electronic scale. The trigger had a typical amount of creep just before breaking, but with a "smooth-roll" rather gritty thanks to the DHC finish applied to the hammer and trigger. To minimize movement, I strapped the rifle's handguard to the shooting bag which did not impact accuracy since the barrel is freefloated.
Function testing was done with an additional 350 rounds of Federal XM193 during a fast-paced AR-15 class given by Green Ops firearms training in Northern Virginia. Reliability throughout the course was perfect with no stoppages except for a few caused by aftermarket mags. Remember what I wrote earlier about parts being 100-percent compatible? Well, these words rang true because the SIG-supplied Magpul magazine worked every time while the substitutes worked part of the time.
The Tread handled well during shooting drills and was not muzzle heavy. The ambidextrous safety applied and disengaged with the correct amount of tension and the Magpul SL-K telescoping stock fits tightly to the buffer tube without any annoying wobble. One drawback I discovered during Green Ops' switch-shoulder firing drills was the left-side magazine release is somewhat stiff and less easily activated than the right side. The left-side release is a pivoting lever, not a button, and could be slightly longer to provide better leverage. Trimming a coil off of the spring to slightly reduce its tension may also improve its functioning. Improved performance during these drills will also be assured by installing SIG's ambidextrous charging handle.
The trigger also made firing offhand under time constraints into 4-inch circles and headboxes more challenging and underscored the necessity of lighter weight if you intend to compete with your Tread. Though the factory trigger can be lightened somewhat by changing to lighter hammer and trigger springs, you should verify reliability by checking for adequate primer strikes and trigger return. SIG's optional upgraded model is also a solution. Its nearly flat face allows the shooter to change the weight and amount of travel by positioning the finger at different places. For instance, depressing the bottom of the trigger provides more mechanical leverage and lighter weight, but with more travel distance than depressing it at the center.
Final Thoughts
Given the size of the aftermarket for AR parts and the growing popularity of the AR-15 with newer shooters, it's easy to see the need for a rifle that comes with a road map for accessorizing by those who don't have the knowledge of an experienced AR tinkerer. As for the rest of us, the Tread offers a lot of functionality for a stock utility rifle, a solid build and is equipped for left-handed shooters at a price substantially less than any other SIG Sauer AR.