Shadow Systems takes a familiar pistol platform and adds a spin, literally, with a spiral-fluted, match-grade barrel and other distinguishing features. Released this year, the CR920 (Covert Role) is Shadow System's first subcompact pistol and is compatible with G43X MOS and G48 MOS holsters. The CR920 comes with a 10-round flush mag and 13-round extended magazine for a 10+1 and 13+1 capacity. This new offering has approximately the same length, width, and barrel length as a Glock G43X, but is .75-inch shorter with the flush mag and .25-inch shorter with the extended magazine. While this may not seem like much, a smaller gun with three extra rounds is impressive and more concealable, especially when built on a familiar platform. 
Choose Your Configuration
The CR920 is available in two configurations, Combat and Elite. The combat has an MSRP of $799, the Elite is a bit more at $940, though you can find both of them for less at retailers. This extra $140 brings topside directional serrations, a weight-optimizing window cut, and a standard optics cut. An optics-ready version of the Combat is also available.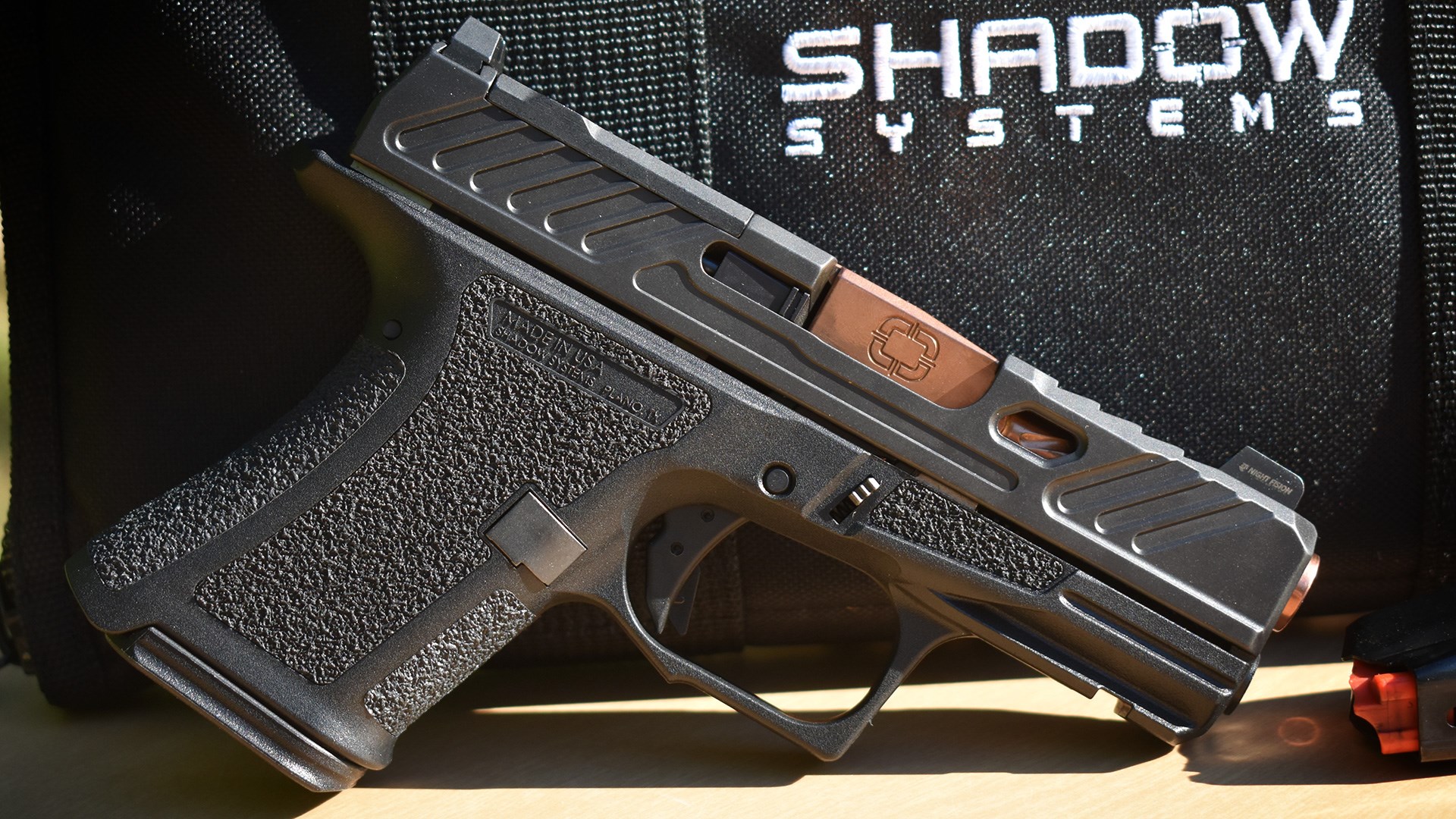 Many black polymer concealed carry guns tend to look alike. After a while, they also start to feel the same. One look at the CR920 draws you in. I tested the Elite model with the window cut, which exposed even more of the bronze, fluted barrel. Though designed this way for weight reduction, the pattern and coloring add a unique aesthetic. There is also a black nitride barrel option.
This approximately 17-ounce pistol is lightweight and balances well. I immediately appreciated the generous stippling on the grip, backstrap, and finger pads as well as on the extended magazine. The gun was a bit uncomfortable to hold with the flush mag, but perfect with the extended magazine, the extra grip providing a resting place for my pinkie. Slide serrations made the 17-4 stainless steel slide easy to operate. Though the serrations on the top of the slide look cool, I didn't see any monumental advantage to them. The gun takes down like a Glock, quickly and easily. A captured guide rod keeps the spring from flying across the room.
Sight Sets And Other Nice Features
Several features of the CR920 stand out. Firstly, the sights. The CR920 comes equipped with a tritium Night Fision front sight and rear black Novak. In addition to a quality sight, Shadow Systems put some thought into their patented multi-footprint optic cut. This cut allows direct-to-slide mounting for many popular red dots with small inserts for a tight fit. I was especially impressed with the included inserts, screws and easy to follow instructions! As an added bonus, the included sights co-witness in the lower third of the optic with most popular red dots.
At 4.5 to 5.0 pounds (my gauge only gave me an estimate), the CR920's trigger pull is ideal for a concealed carry gun. What surprised me the most was the feel, reminiscent of my two-stage match rifle trigger. After you hit the wall with this flat-faced trigger, there is zero creep. A slightly flared mag well makes loading easy while a Picatinny rail allows for accessory mounting. To the chagrin of some, the 3.41-inch barrel is not threaded. While this striker-fired pistol has no manual safety, it does have an integrated trigger and drop safety. Though minor to some, another big plus for me was the soft carrying case the pistol arrived in, ideal for taking multiple pistols to the range with straps to secure magazines.
As previously mentioned, shooting with the flush mag was a bit uncomfortable. Due to its small size, the gun recoiled more than full-size pistols. The extended magazine completely changed the experience. Though the flush mag would slightly reduce the size of gun for concealment, I found myself always returning to the extended. This 13-round magazine afforded me a more comfortable experience with a better grip on the gun.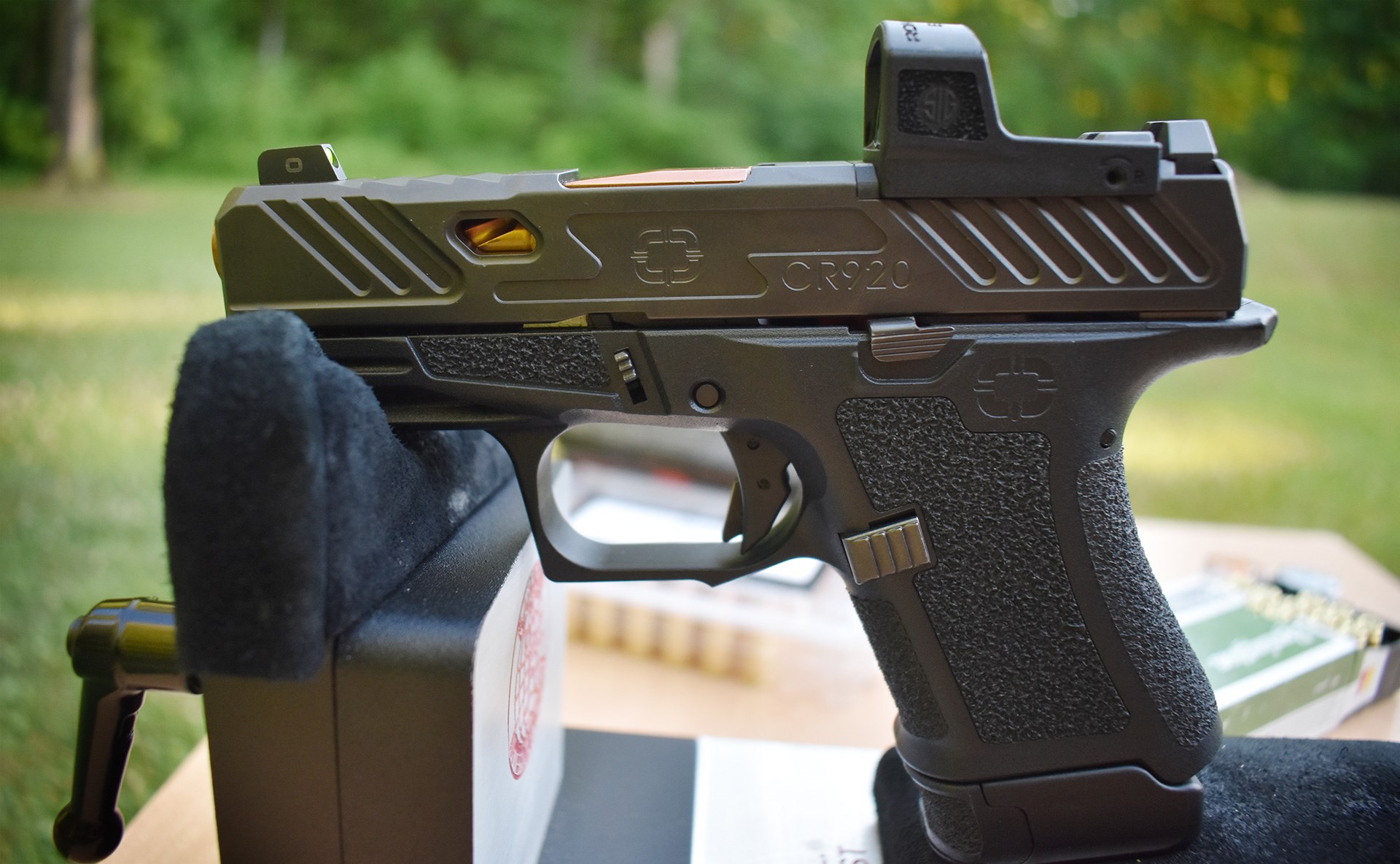 Out of approximately 200 rounds fired, I only had one malfunction. Upon closer examination, it appeared I had not seated the cartridge all the way back in the magazine. I chronographed four different types of ammunition (two target loads and two self-defense loads) using a LabRadar chronograph indoors, 10 rounds each. Speeds for all ammunition fell at or just below 1,000 feet per second. To my surprise, each of the target loads more closely mirrored a defensive load than the other target load. Out of the gun, all ammunition impacted high on the target with the exception of the House of Payne (HOP) Munitions 9mm 124-grain V-Crown HP, which was pretty trued up. I was really impressed with quality and performance of this particular ammunition, manufactured by a veteran-owned and operated ammo company currently in its infancy. 
Range-Testing the Shadow Systems CR290
Group sizes for all four types of ammunition averaged about 1.3 inches at 15 yards. I am convinced, however, that the gun can do better. Many times, shots stacked in nearly the same hole, leading me to believe that I was the limiting factor. 
Ammunition Tested *
Average Velocity (FPS)
Max. Velocity (FPS)
Min. Velocity (FPS)
Group Size (Inches)
Remington UMC 9mm 115-grain FMJ
1,059
1,087
1,020
1.29
Federal 9mm American Eagle 147-grain FMJ 
969
990
944
1.529
Speer Gold Dot Duty 9mm 124-grain GDHP

 

1,066
1,109
1,039
1.315
House of Payne Munitions 9mm 124-grain V-Crown HP
979
1,019
956
1.3275
*five-shot groups shot from 15 yards from a Ransom Multi-Cal Steady Rest and measured from middles of furthest bullet holes using a caliper.
By the end of the testing, the gun is begging for a thorough cleaning, but it still functioned. I was pleasantly surprised by this gun and the thought Shadow Systems put into features like their patented optics-cut. This gun is small and similar to some very popular carry pistols, but with a greater capacity and more upgrades. For only a small uptick in price, Shadow Systems offers a variety of valuable features on a gun proudly made 100-percent in the USA.