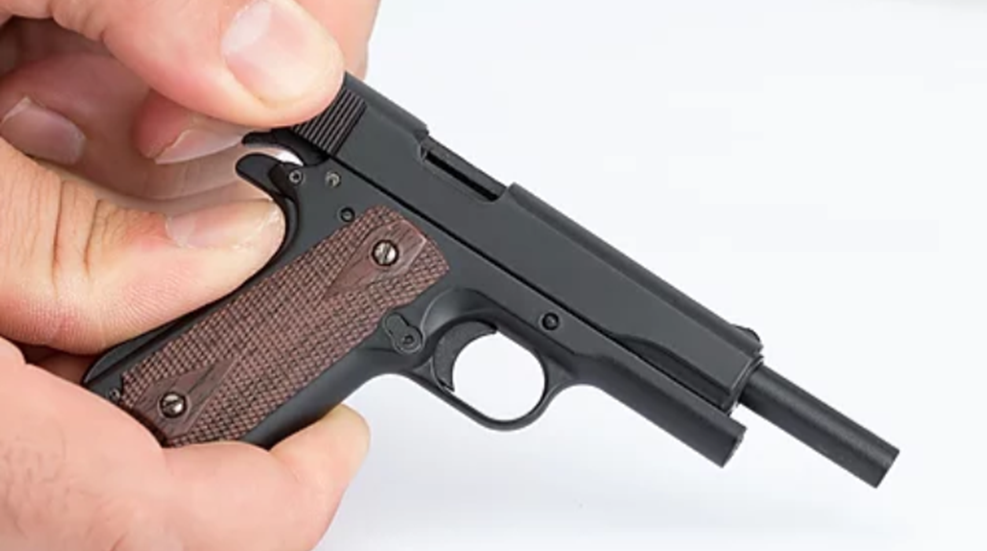 The 1911 from RW MINIs is a reduced-size, non-firing metal replica of the iconic .45 ACP-caliber M1911A1 pistol. At 1/3 scale, the pistol is a mere 3.75 inches long. What makes it more than a toy, though, is the fact that it functions (aside from discharging a round) just like the real thing. The replica consists of a slide, recoil assembly, frame, safety lock, magazine, three dummy rounds and a display stand.

The slide can be racked, the slide lock engaged, the magazine inserted or removed, the thumb safety locked and the hammer cocked. Want to pull the trigger? You'll have to depress the grip safety first. Oh, the lock time of the hammer falling may be glacial, but the fact is it does work, a pretty impressive feat of engineering in a mass-produced item this small available at a reasonable price.
Despite the detail and functionality of the replicas, RW MINIs have solid barrels and cannot be altered to fire. The 1911 comes unassembled in a textured, fitted tray covered in plastic and inserted in a three-color cardboard box. The box touts it as suitable for ages 12 and above, and that it assembles in minutes. How easy is it to assemble? An editor can do it.
We had only one quibble: The included dummy .45 ACP rounds were bottleneck cartridges. We got over it, though.

RW MINIs offers an assortment of similar miniature replicas of famous firearms. The .50 BMG-caliber rifle was featured in our most recent "Holiday Gift Guide." There are also ARs, AKs and sniper rifles, with some offered with FDE, camo, wood grain and even pink furniture, in addition to black. On the display stand, each makes an intriguing desk display, one you'll have trouble not picking up and handling at every opportunity.

The 1911 comes with a 30-day guarantee and the company offers free shipping on orders over $29.99.
MSRP: $39.99. For more information, visit the RW Minis website: rwminis.com.