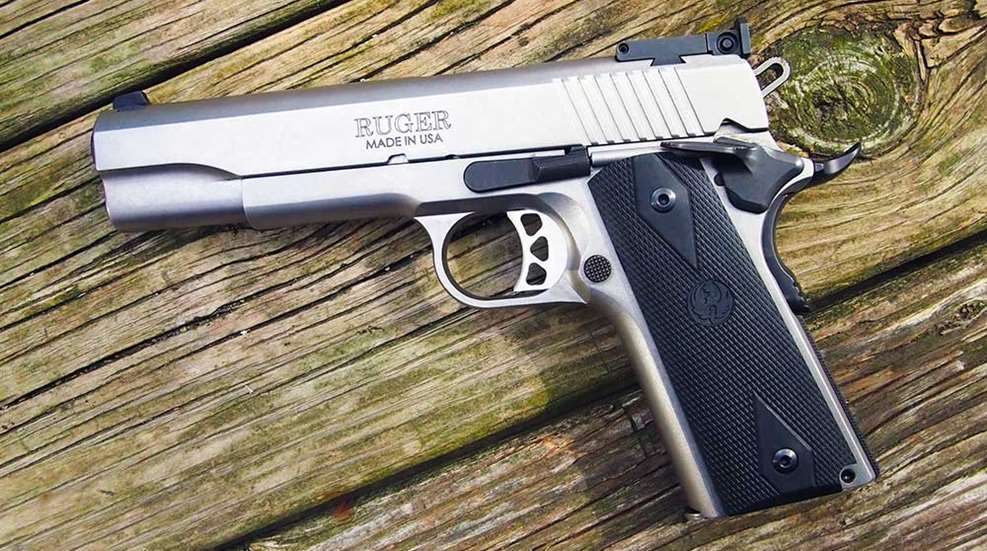 The .45 ACP may be the go-to cartridge the 1911 platform is known for, but lately 9 mm seems to be garnering the lion's share of attention. In fact, in 2016 Ruger went along with the 9 mm's popularity by releasing its SR1911 in 9 mm, Although the pistol was well-done, it wasn't until 2017 that the company stepped up with an SR1911 that immediately captured my attention: the Ruger SR1911 in 10 mm.

The Ruger SR1911 in 10 mm is aesthetically appealing with its silver, stainless-steel slide and frame and black, rubberized grip panels. Rather than appearing rough and bulky, the new SR1911 is sleek and presents an understated "cool" factor. Ruger bills it as a Series 70. In 1983, Colt made several changes to the 1911 and classified post-1983 pistols as Series 80 guns.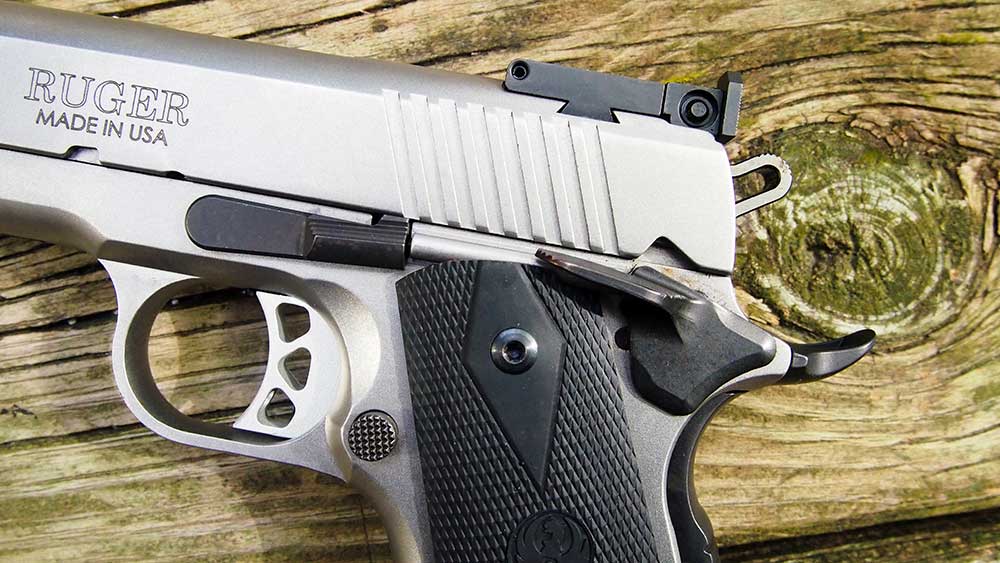 Originally, Series 70 1911s differed in a variety of ways, such as the change from the Series 70 collet bushing to the Series 80 solid bushing, and the 70's hammer's half-cock notch versus the 80's hammer shelf. But the most significant difference is the firing pin block added to the Series 80. For its Series 70 SR1911, Ruger uses a titanium firing pin and heavy spring rather than a mechanical firing-pin block.

Ruger did blaze its own trail when it came to the newest SR1911's barrel. There is no Series 70 collet bushing; this 10 mm features a bull barrel, which gradually widens slightly towards the muzzle. It also has a full-length guide rod, which works with the weight of the bull barrel to lessen felt recoil and improve accuracy.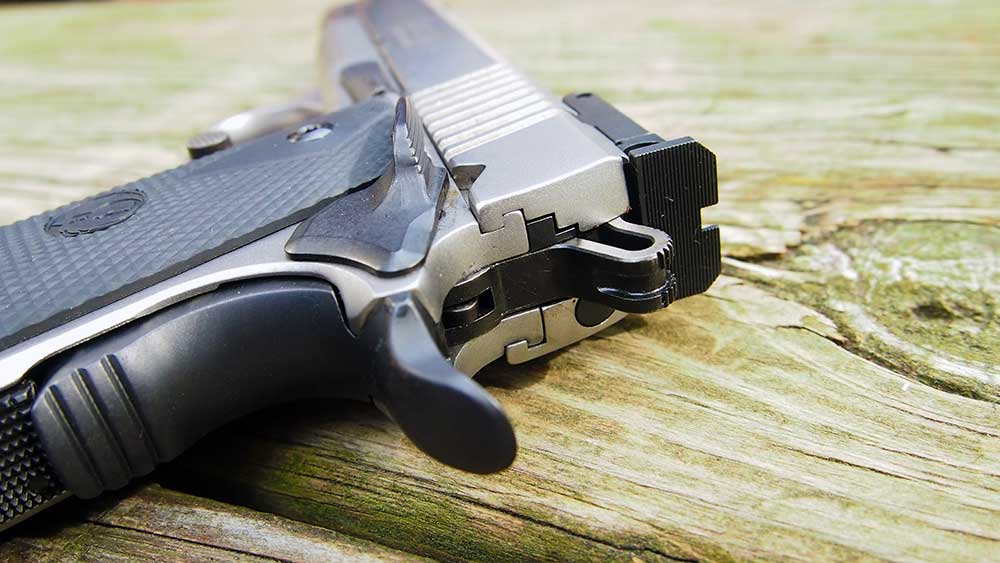 There are, of course, the usual concerns when presented with a new large-caliber pistol. Will it recoil roughly? Will its muzzle rise be excessive? Will the grip panels be sharp and uncomfortable to hold? Will fit be up to par? Only one way to tell. Trigger time.

The Ruger SR1911 in 10 mm fit my hands comfortably. I use a thumbs-high grip and the placement of the extended thumb safety is just right. Even better, the rubberized grip panels are textured enough to facilitate a firm grip without the sharp edges of some panels. During accuracy testing, I fired the pistol from a variety of positions at 10, 15 and 25 yards. A half-dozen brands of ammunition were used, including Hornady Critical Duty 175-grain FlexLock, Federal Premium 180-grain HydraShok JHP and SIG Sauer Elite 180-grain FMJ. In addition, I used the pistol as part of the final testing process for PolyCase's new 10 mm round, sending hundreds of those rounds down-range in one session without breaks.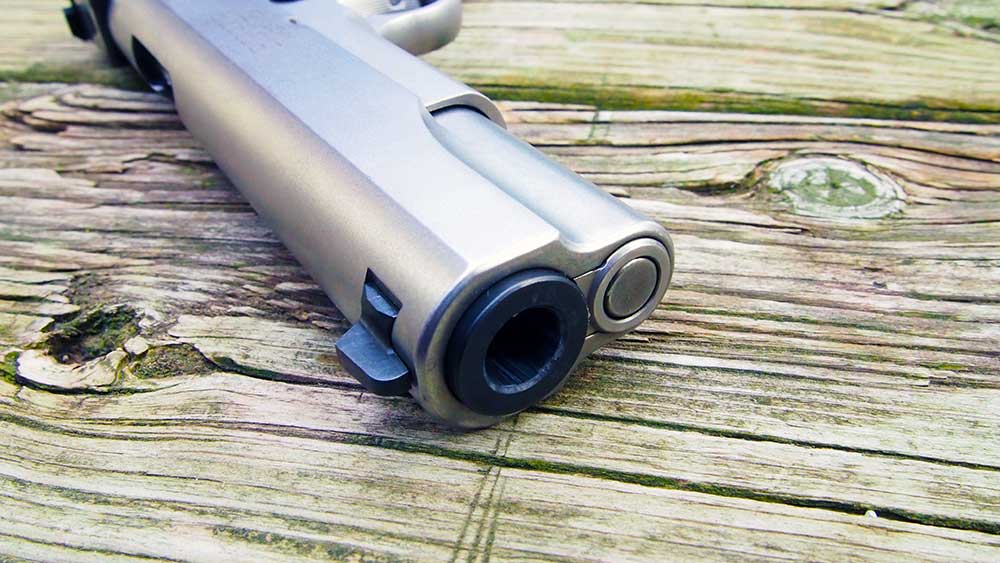 Recoil proved quite manageable, and muzzle rise is negligible. Both are partially mitigated by the gun's 40.4-ounce overall empty weight, but the Ruger SR1911 is by no means excessively heavy. It's one of the softer-shooting 10 mm pistols I've run, and thanks to my enjoyment of the cartridge, I've used quite a few of them, both 1911s and striker-fired. Rather than a shocking jump back into your hand, the SR1911 gives it a firm shove, allowing far better control and significantly faster target acquisition. It's an accurate gun, something likely helped along by the skeletonized trigger's crisp, clean break and short reset. The skeletonized hammer also contributes to faster cycling while also lightening the gun's overall weight. According to my Lyman Products Trigger Pull Gauge, the trigger pleasantly light pull weight is 2 pounds, 5 ounces.

Shooting off-hand at 10 yards with the Ruger SR1911 in 10 mm loaded with PolyCase 91-grain ARX I had a best five-shot group of .538 of an inch. Moving out to 25 yards yielded an average five-shot group of 1.84 inches. One of the greatest things about running frangibles through your gun is the ability to fire at AR500 steel targets up close. Frangibles are manufactured using powder metallurgy with powdered copper as the main ingredient and metals like tin as binding agents; PolyCase uses polymers to bind their bullets. After all, while there are benefits to long-range pistol work, the majority of self-defense scenarios play out at closer ranges. Frangibles allow you to train on steel at close range without fear of ricochets or backsplash, but they can also be used for self-defense and hunting. 10 mm frangibles make a fantastic hunting round and are absolutely a viable option for self-defense.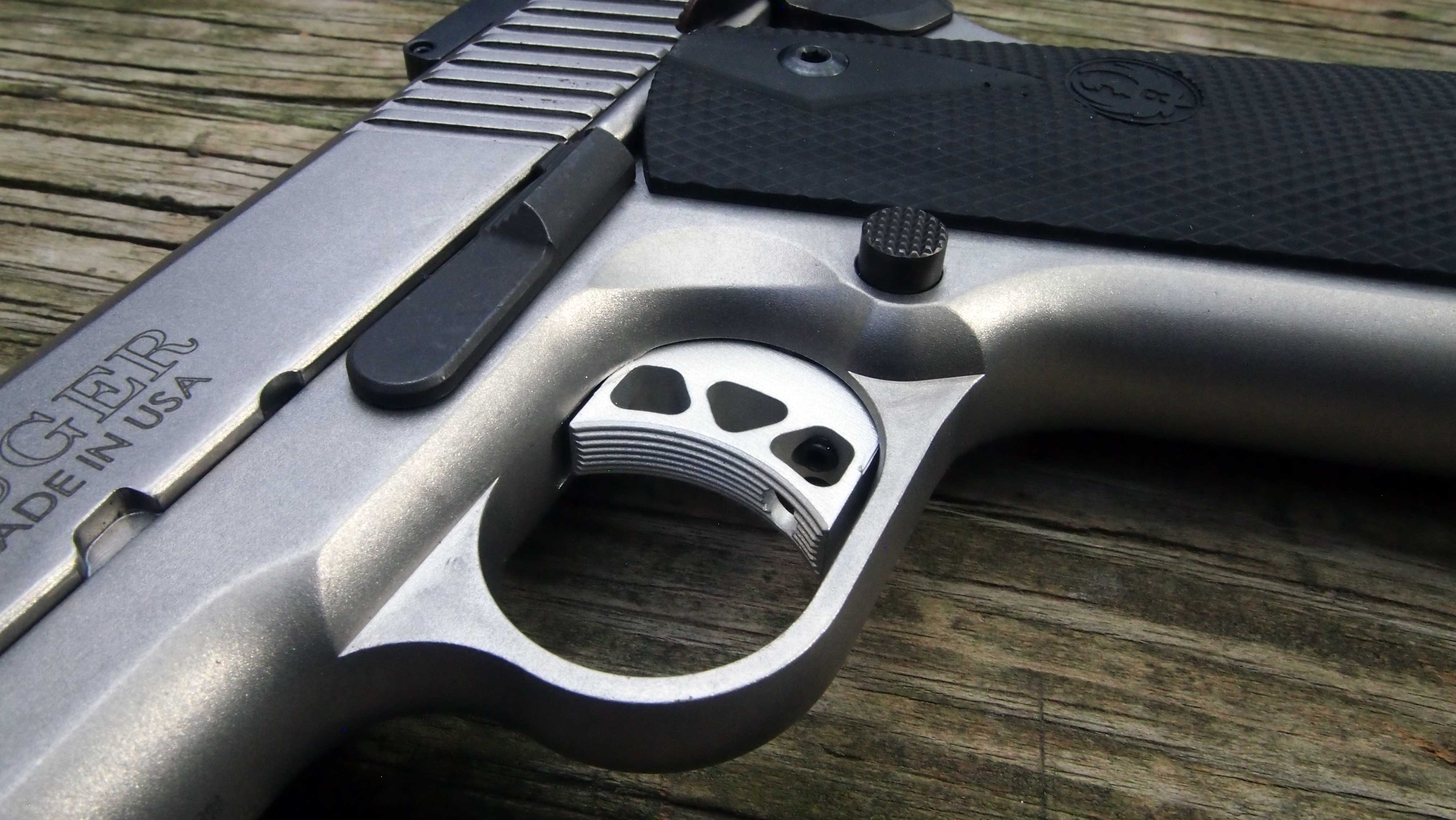 Throughout the first 1000 rounds, there were no failures of any kind. The Ruger SR1911 in 10 mm ate FMJs, JHPs, ARXs and FlexLocks with the expected variations in accuracy. SIG 180-grain FMJs delivered consistently tight group at varying distances from the bench, off-hand and prone with a best 15-yard five-shot group of .597 of an inch. Hornady Critical Duty 175-grain FlexLock nailed a best five-shot group of 1.24 inches at 25 yards, and Federal 180-grain Hydra-Shok JHPs had a best five-shot group of 1.79 inches at 25 yards. For the most part, group averages hovered around 2 inches at 25 yards, which is impressive for any handgun. For a pistol chambered in 10 mm, accuracy depends even more heavily on the quality and fitment of the gun.

Aside from the usual time spent firing on paper targets for accuracy testing, the Ruger SR1911 proved itself in other ways. Shoot-and-move drills using Winchester Super X 175-grain Silvertip JHPs resulted in a best five-shot group of 1.72 inches and Hornady Critical Duty 175-grain Flexlocks had a best five-shot group of 2.2 inches. The SR1911 also reliably rang steel at 50 yards because, yes, long-range pistol skills are worth honing, and the 10 mm is a great round for these extended ranges.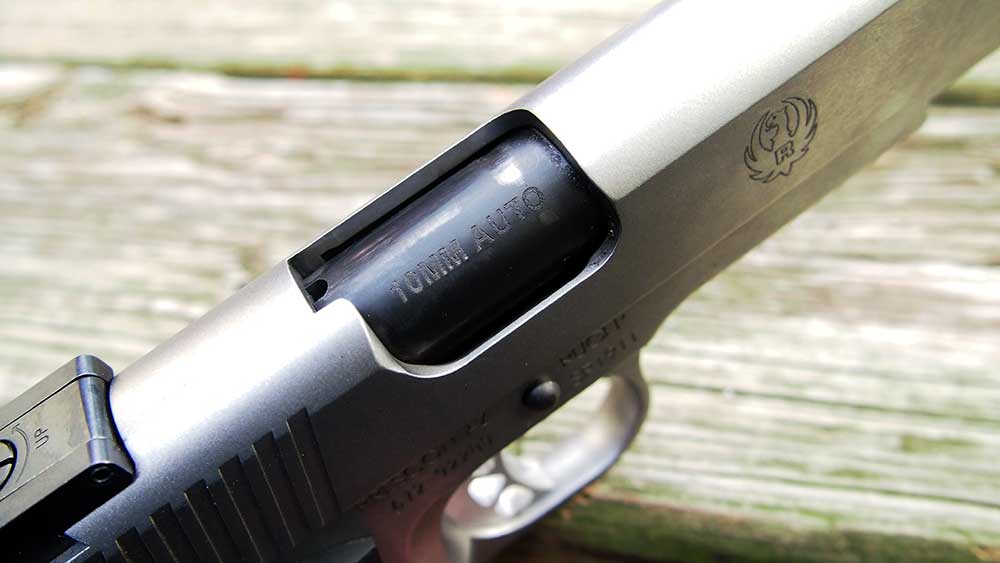 Overall, the 10 mm Ruger SR1911 is a well-made gun with superior performance capabilities. The slide and frame are CNC-machined and work together smoothly and securely – something you'll find some shooters claim doesn't matter, but it does – and the stainless bull barrel fits tightly. The added weight and design of the bull barrel has a dampening effect on recoil which works in conjunction with the full-length guide rod to noticeably improve accuracy. Additional features include a swaged link pin, nitrided, ramped barrel, Bomar-style adjustable sights and an oversized beavertail grip safety.

Whether you're interested in a solid 10 mm for target-shooting or self-defense use, the Ruger SR1911 in 10 mm is an excellent choice. Maybe the phoenix imprinted on its rubberized grips is symbolic, and this SR1911 will lead to the rebirth of interest in the 10 mm.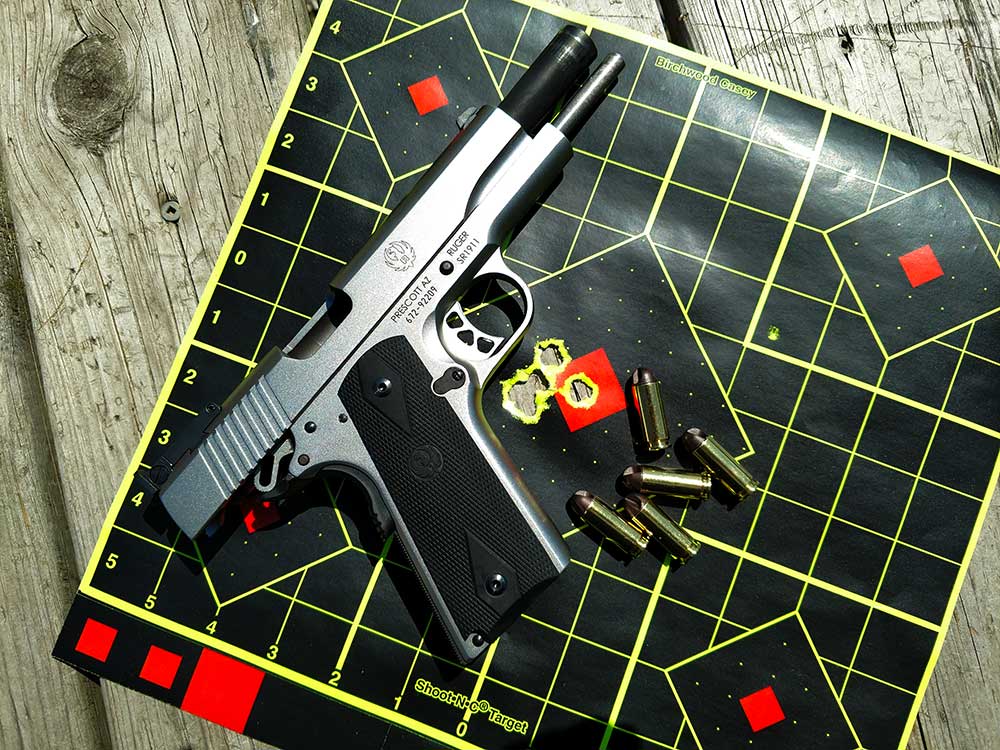 Ruger SR1911 10mm Specifications

Manufacturer: Ruger
Model: SR1911
Caliber: 10mm
Capacity: 8 +1
Slide material: stainless steel
Slide finish: low-glare stainless
Sights: Bomar-style adjustable
Frame: low-glare stainless steel
Grip panels: black rubberized
Weight: 40.4 ounces (empty)
Overall length: 8.67 inches
Height: 5.45 inches
Barrel length: 5 inches
Grooves: 6
Twist: 1:16-inch RH
Accessories: Ships with two stainless-steel magazines
MSRP: $1,019