OK, I'm not gonna lie here. The Ruger 10/22 is probably my favorite "fun gun." I've taught both of my kids the "fun"damentals of semi-automatic rifle shooting with one, used it on a firing line to instruct new shooters both young and old and fired countless thousands of rounds through one or another over the years. It's just a great platform. One of the benefits is the robust aftermarket of parts and accessories that exist for Ruger's little rimfire, and one of the latest is the Rival Arms 10/22 Precision Chassis System.
Constructed of billet aluminum, the Rival Arms 10/22 Precision Chassis is available in black, flat dark earth and gray. M-Lok attachment slots adorn the 3-, 6- and 9-o'clock positions should you wish to mount accessories or a bipod, in addition to a section threaded for a sling swivel. It's a solid, well-built chassis for the 10/22, and is pretty much a blank canvas upon which you can build a rimfire rifle in any number of configurations.
A couple notes on installation. First, the Rival Arms 10/22 Precision Chassis uses a standard AR-15 buffer tube. It's a clever system that works with either adjustable carbine tubes or fixed stocks; all you have to do is loosen the set screw, tighten the buffer tube (crank down the castle nut if using the carbine) and lastly tighten the set screw in the chassis. This is a great place to use that, ahem, discount buffer tube you might have picked up in a Black Friday special. 
Second, while the Rival Arms 10/22 Precision Chassis uses a standard AR-15 pistol grip, the design precludes the extended beavertail prevalent on most aftermarket grips. Since I wanted to use Mission First Tactical furniture, including the Engage pistol grip, there was some "garage-engineering" (sometimes called WECSOG, which I'll let the reader discover on their own) involved—10 seconds with a coping saw and 10 seconds with fine-grit sandpaper and the grip worked just fine. Who knew all those years of "helping" my son build Pinewood Derby cars would come in handy?

Actually getting the barreled receiver in place is standard 10/22 easy-peasy work. First and foremost, remove the magazine and triple check to make sure the gun is unloaded. Then, unscrew the receiver screw, finagle the safety into a vaguely middle-ish position and remove the barreled receiver from the old stock. Repeat in reverse for the Rival Arms 10/22 Precision Chassis, tighten the receiver screw and you're all set. The amount of skill needed to put all this together is minimal.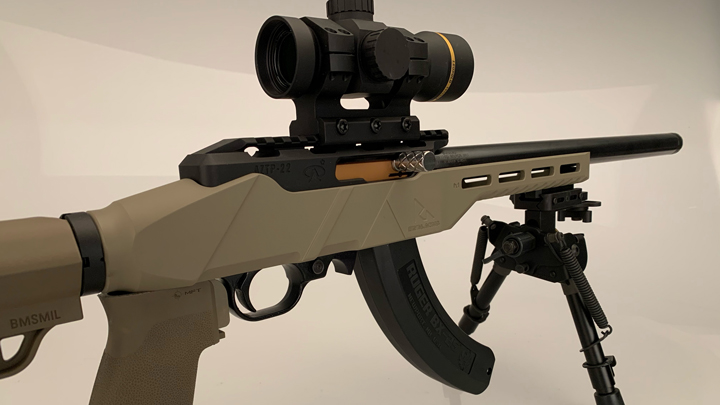 The "precision" aspect of the Rival Arms 10/22 Precision Chassis is evident. It's cut generously to allow up to a 1-inch diameter barrel, which left plenty of space for the .920-inch E.R. Shaw barrel I had attached to an Azimuth 10/22 receiver. This puts an excellent, threaded barrel secured to a stout receiver with precision-milled rail slots for optics. While it certainly could serve as a platform for a rimfire version of one's centerfire, chassis-based precision rifle, I opted to go for more of a fun route, adding a Mission First Tactical Minimalist stock for a multitude of shooter fits and a
Leupold RDS red-dot
. While this rig is definitely overkill for a simple plinker, one thing I've found when teaching new shooters is that the more accurate they can be, the more fun the outing can be.
And, accurate it was. Leupold touts the RDS sight as a 1-MOA dot, and sure enough, at 50 yards this setup produced a half-inch group. While I'd love to take credit for it, it's far more likely the result of the bull barrel solidly mated to a quality, high-tolerance receiver and resting in Rival Arms' solid 10/22 Precision Chassis. Whether used to ding steel plates or start a new shooter learning the fundamentals, this will certainly work well.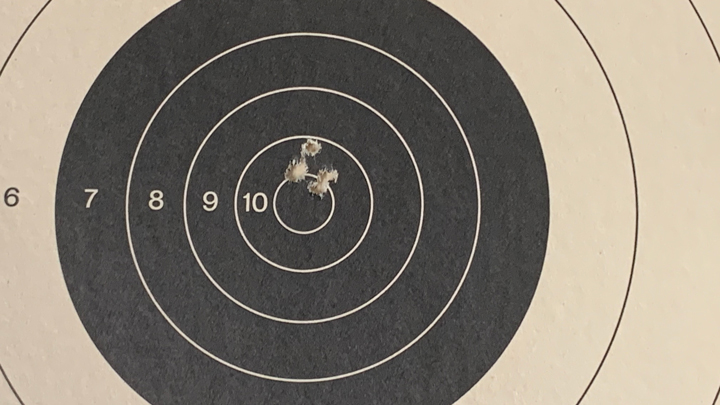 Whether you want to build a scaled-down version of your favorite centerfire chassis gun, put together a dedicated plinker for fun or instruction or simply want to give your 10/22 a new look, Rival Arms' 10/22 Precision Chassis is definitely worth consideration. It's rock-solid, lightweight and offers untold new directions for the 22 LR semi-auto.