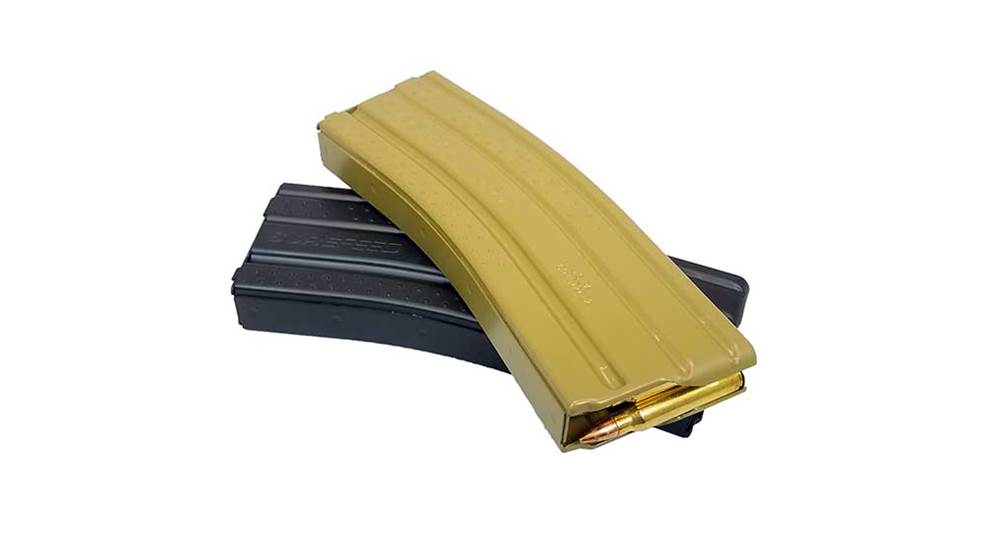 SureFeed magazines, produced by Okay Industries, are well-recognized in military circles, thanks to a longstanding contract to provide rifle magazines to the military. Though its name may not yet be as ubiquitous to civilians, SureFeed began offering its trusted contract magazines to the civilian market several years ago. The company updated its consumer offering with the launch of the new SureFeed E2 AR-15 magazine in early 2018.
SureFeed magazines are built to offer durability and reliability by following a time-tested (and literally battle-proven) formula. The exterior of the magazine is formed from mil-spec, heat-treated aluminum, spot-welded together down the front and rear, with a hard-coat anodized finish to effectively protect against any environment. Inside, a mil-spec, stainless-steel spring resists rusting and ensures enduring tensile strength, keeping rounds feeding smooth in perpetuity.
Going beyond its basic mil-spec design in the E2 magazine model, SureFeed added some extras for its users. Sixty-four small bumps adorn each side of the magazine, providing good tactile feel and a sure grip for any scenario. The feed lips are also a newly patented design and work in conjunction with an anti-tilt follower to guarantee the reliable feeding highlighted in the company's name.
While the SureFeed E2 AR-15 magazine doesn't use the quick-and-easy takedown button found on the bottom of popular polymer magazines, the spring and follower are still fully replaceable. All one needs to access the interior of the magazine is a knife or other flat object, and the end tab will pry up, allowing the baseplate to slide rearward off the magazine.
All in all, this makes for one solid mag. In field-testing, SI staff attempted to induce malfunctions by hurling the magazine against the ground, mixing different ammunition in the same mag and pouring dirt into them. No matter what, they still fed without issue.
The only potential shortfall with the SureFeed E2 magazine is that its premium features seem to have bumped the price up a bit. A 30-round SureFeed E2 magazine sells at a suggested retail price of $19.95. Comparable-size polymer magazines and even more-basic aluminum-bodied magazines retail for a bit less. However, with the company having provided battle-ready magazines for the military since the 1970s, the track record of the SureFeed design is hard to beat. If you have some extra dough to throw around, or you're only looking to buy a few, and want to ensure you have one of the best on the market, the SureFeed is for you.