I'll be the first to admit that when the fine folks at Mission First Tactical told me they were sending a Kydex and leather hybrid holster, I envisioned it would be something like a CrossBreed or other leather-backed rig with a Kydex shell. That's typically how we picture a hybrid holster, right? But that's not what Mission First Tactical has created. Not even close. I'm not aware of any other manufacturer who makes anything like this holster.
Naturally, when I pulled the holster out of the packaging, I was a bit confused. Not only was it not what I pictured, I wasn't sure what the point was. I wasn't even sure the leather on the outside was real. It looked more like faux leather imprinted directly into the Kydex. So we were off to a bad start, or so I thought.
It got better. A lot better.
I wasn't going to judge the holster based on initial impressions alone. Instead, I vowed to give it fair treatment, as I do with all the holsters I review. My past experiences with other Mission First Tactical holsters have been largely positive. The next day, I had some errands to run, so I threw my Shield 9mm into the holster, tucked it into my waistband, and went for a full day of activities.
The feature I wanted to check out the most was whether the thin layer of leather that wrapped the taco shell made a difference. Was it just for decoration (which, if it was, did make the holster look richer), or was it for comfort?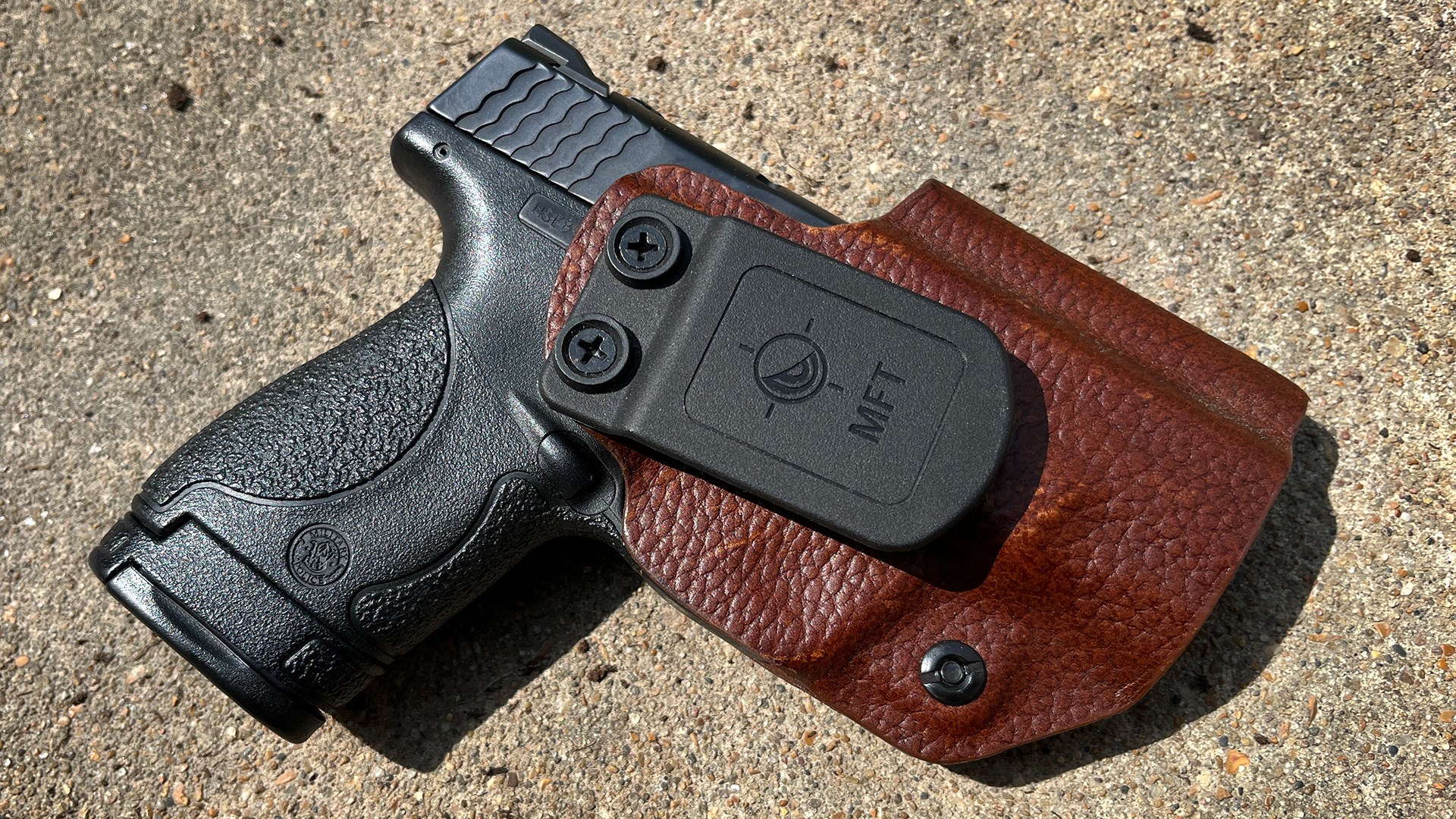 Before we get too far into that, let's look at the holster design. The Hybrid IWB starts with the same base as Mission First Tactical's existing IWB design, with its one-piece taco shell held together with a single retention screw under the trigger guard. The holster is held to the belt with a single, wide polymer grip with two screws for stability at the top. Thanks to a symmetrical design and two screw holes on each side, the holster is ambidextrous by simply moving the clip to the other side with no other needed changes.
What sets this new design apart is the addition of a thin layer of genuine American full-grain leather fused with the Kydex for a layer of padding. The leather is not very thick – less than 1/8 of an inch thick, but it did make a difference. As a result, this holster is more comfortable than a traditional Kydex-only shell that can rub against the skin and cause irritation. Frankly, I was surprised that such a thin layer could matter that much, but it did.
Leather holsters are expensive, right? Not this one. At $59.99, the Mission First Tactical Hybrid IWB is in line with other similarly priced holsters and should definitely be on your list of options, but you'll have to wait until July 2022, when it goes on sale on their website.