by
posted on October 20, 2021
Support NRA Shooting Illustrated
DONATE
In the early 1960s, the M16 rifle became the standard rifle of the U.S. military. Lightweight and easy to shoot, it was much easier to carry around on the battlefield than its larger predecessors. In the mid-80s, though, the need arose for something that was even smaller than the M16 rifle and its similar, smaller cousin, the M4 carbine. At the time, it was thought that in the war with the Soviet Union and the Warsaw Pact, enemy special forces and paratroopers might wreak havoc behind the NATO front lines. Troops in these areas would typically be armed with just a service pistol, which would leave them woefully undergunned against an enemy attack.
This led to the creation of the Personal Defense Weapon, or PDW. A PDW fills essentially the same role that the M1 Carbine filled in WWII. A PDW, like the M1 Carbine before it, is a small firearm that has more firepower and a longer effective range than what a pistol offers, but is much easier to carry around and have near you when it's needed the most.
The Soviet Union has moved on to the ash heap of history, but the idea of the PDW gained a new life in urban battlefields today. The same features that made a PDW attractive to support troops like drivers and cooks also make it attractive to people at the tip of the spear who are fighting in streets and hallways all over the world. The small size of a PDW makes it easy to maneuver in tight spaces, and a PDW has the punch needed to stop a threat when lives are on the line.
The Maxim PDX line is, in many ways, the ultimate expression of the PDW concept. It's a small, easy to handle AR-pattern firearm that uses either Maxim's superb PDW brace in the pistol model or a collapsible stock when sold as a short-barrel rifle. At just 18.5 inches in length with the stock or brace collapsed and weighing just 5.5 pounds empty, the PDX doesn't slow you down when you're moving around, yet it packs the punch of either 5.56 NATO, .300 Blackout or 7.62x39 mm, depending on which model you choose.
The small size of the PDX hides the fact that it is packed with great features like the excellent single stage ALG Combat Trigger, which broke at an average of 5 pounds in our test. Other top-notch features on the PDX include a captured buffer spring return system, fully ambidextrous magazine release and safety selector as well as an ambidextrous charging handle and a flared magazine well. Each PDX ships with one 20-round magazine, no matter which caliber option you choose.
Other upgraded features on this gun are a lightweight aluminum handguard that is chock-full of M-Lok rail slots for mounting your choice of accessories, along with a QD sling mounts on each side so your gun is always close at hand when you need it the most. The handguard and receiver are topped with the usual length of Picatinny rail so you can add the sighting system of your choice to your gun.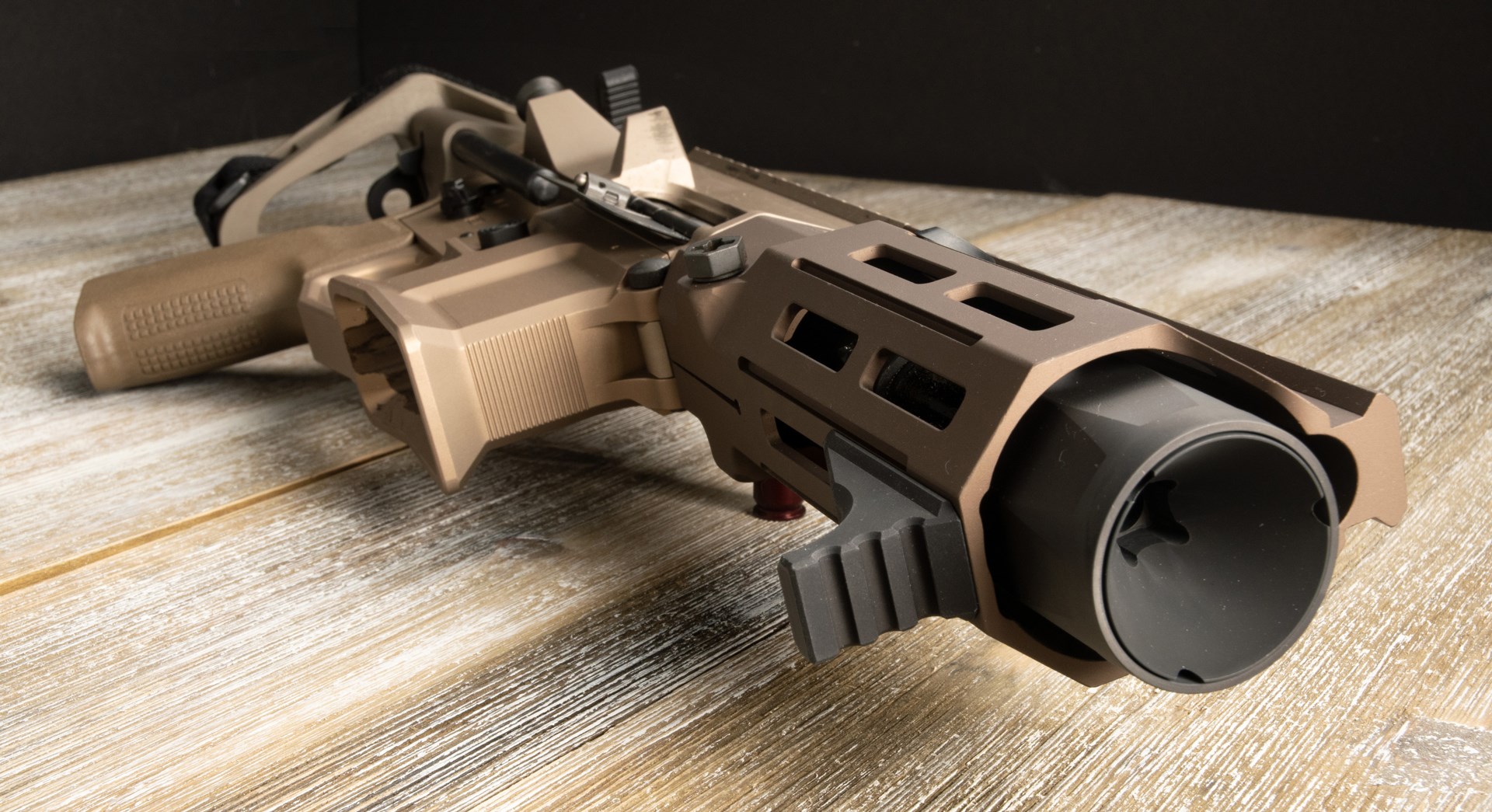 There's also a hand stop at the bottom of the handguard, a very useful feature in an AR pattern gun with just a 5.5-inch long barrel. At the end of that barrel is a Maxim Hatebrake muzzle device, which does a tremendous job of controlling recoil and channeling the muzzle blast from this short little gun away from the shooter. I was expecting the PDX to be a handful when I took it to the range, but the Hatebrake worked as advertised, and the gun was surprisingly easy (and fun) to shoot.
Speaking of range time, the PDX is not meant to be a gun that engages targets that you'd normally engage with a full-sized rifle or carbine. Rather, it's meant to be an "In case of really bad emergency, break glass" type of gun, the sort of thing you use to end a close-range encounter really fast, in your favor. With just a 5.5-inch long barrel, it's not going to produce the muzzle velocity and range you'll see from an AR with a longer barrel.
However, within 50 to 100 yards, the PDW is a truly effective firearm. It combines the familiar manual of arms of an AR platform gun with a first-class list of features that are commonly found on other top-tier ARs. It can be effectively used in tight spaces where larger ARs would be tripping over their own feet, yet is still capable of reaching out to targets further than what is found in a typical close-quarters engagement. If you're looking for something that is more than your defensive concealed carry pistol, but less than a full-size AR, you might just be looking for a Maxim PDX.