You might think lever-action carbines were originally designed for pistol calibers, but you would be wrong. It's an understandable assumption, because we know the first successful lever-action repeater was the Henry chambered in .44 Henry Rimfire, and that was a pistol caliber, right? Well, not at first, as handguns chambered for the .44 Rimfire followed the introduction of the rifle in 1860.

After that came carbines and revolvers chambered in the same calibers, as having both guns a cavalryman or cowboy would deploy with shoot the same cartridge seemed like a really good idea. Today, the most popular pistol calibers for lever actions are the mighty .357 Mag. and .44 Mag. 

Henry, followed by Winchester in 1866, got the ball rolling with lever-action repeaters and Marlin, founded in 1870, produced its first lever action in 1881. The Model 1881 was made in several calibers and was the first repeater to be made for the big .45-70 Gov't round. When the Model 1894 came out it was, and remains today, a lever-action carbine chambered in pistol calibers.

Today, all three brands are still around, the Henry brand being resurrected, while Winchester and Marlin have gone through changes in ownership. The Marlin brand now belongs to Remington, and Marlin's manufacturing was moved from North Haven, CT, to the Big Green plant in Ilion, NY. 
Lever-action rifles, and in particular, short-barreled carbines chambered in pistol calibers, are experiencing something of a revival these days. Always popular in Cowboy shooting, new generations of shooters are seeing the usefulness of these carbines for both sport and defense. As well, Gunsite is fueling demand for the lever guns with various industry and defensive-shooting classes (that just so happen to be taught by me).

While older folks may have a more traditional view of the lever action—if it ain't blued steel and wood it ain't no good—others want to see lever actions updated with features they've come to expect in modern carbines, features such as durable finishes, better sights, threaded muzzles and the ability to mount a variety of optical sights. 


Marlin's latest versions of the traditional lever action are updated and modernized ones called the Marlin Dark Series. There's a Model 336 chambered in .30-30 Win., two Model 1895s in .45-70 Gov't and .444 Marlin and, lastly, two Model 1894s in .44 Mag./.44 Spl. and, the subject of this examination, .357 Mag./.38 Spl. 
This April we were supposed to host a media event for Remington featuring the Dark Series carbines at Gunsite. Toward that end, Remington shipped us the first Dark Series .357 Mag. production gun to leave the factory so we could wring it out prior to the event. As we all know, April 2020 will forever be known as the month we were all told to stay home, so the Remington/Marlin event was postponed until later in the year. That's the bad news. The good news is I had an opportunity to shoot the new Marlin during a couple of range sessions where I practiced social distancing by having a range all to myself.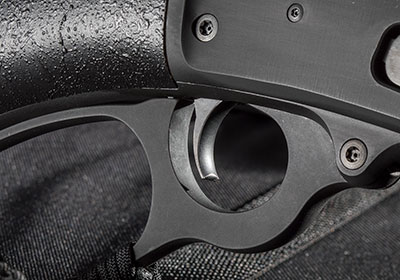 In appearance, the Dark Series carbine is striking. While bearing the familiar shape of a traditional lever action, it has a number of features that draw your attention. It's black—really black. While you might mistake the stock and fore-end for a composite material, they are actually a wood laminate painted black in a heavy, rough and grippy texture. The metal is finished in black Parkerizing, and the barrel is threaded 5/8x24 tpi. Covered by a knurled cap, the threaded portion of the barrel protrudes about an inch beyond the magazine tube.
Atop the receiver sits a 10-inch-long XS Sights Picatinny Scout Rail with a ghost-ring rear sight, while the front sight is an XS blade with a white, vertical line. The Wild West Guns-style big-loop lever is wrapped in black paracord, and a black paracord-and-nylon strap sling, with sling swivels, is provided to attach to the fore and aft studs. The length-of-pull, measured from the middle of the trigger to the middle of the cushy recoil pad, is about 13 3/8 inches. 
The trigger on our sample is worthy of separate mention. One of the best lever-action triggers I've experienced, it has no takeup, breaks crisply and consistently at an average of 4 pounds, 11 ounces and has no overtravel. It feels lighter than it measures. 
Before I start testing any gun, I go over it and check to make sure things like screws are tight and rails are secured. Especially with Marlin lever actions, it's been my experience the slotted screws tend to loosen in class and need checking from time to time.

Imagine my surprise upon discovering the Dark Series Marlin is held together by Torx-head screws, all 10 of them in three sizes. You'll need T8, T10 and T20 screwdrivers or bits to check and tighten these screws. This has got to be a first for a lever-action carbine, and it is non-traditional in the extreme. But the thing is, it works. Throughout two long range days of shooting, none of these screws backed out or needed tightening, demonstrating that even an old gun design can be improved with some modern elements.


Those XS Sights use traditional slotted screws in six different bit sizes. The rear ghost-ring sight is adjustable for both windage and elevation by means of loosening two opposing screws that allow the ring to be screwed in and out for elevation and the sight to be moved left and right for windage adjustments. There's no precision to it at all—it's a move it, tighten it back down, shoot it, loosen it, move it and try again proposition. However, for accuracy testing, I mounted a Leupold VX-R 1.5-5x33 mm FireDot Scout scope on the optics rail.
The carbine feeds reliably and smoothly from the tube magazine, but loading the tube is a real pain. The first couple of rounds load easily, then it gets progressively harder as you go. I only once managed to fully load eight rounds in the tube before giving up in frustration. Loading five for group shooting was bad enough that I ended up single-loading rounds for accuracy testing. That's easily accomplished by tossing them into the ejection port and closing the action. It's possible that things will loosen up a bit with extended use, but be aware it comes from the factory with a real tight mag-tube spring.
Shooting this carbine with heavy .357 Mag. ammunition is a piece of cake, as recoil is hardly noticeable, and shooting .38 Spl. ammo is a pure joy. The carbine feeds all of it effortlessly, but I discovered it won't feed .38 Spl. wadcutter ammunition and, while single-feeding these target rounds works, the accuracy I experienced with the wadcutters was awful—the opposite of what you might expect. Other than the wadcutters, the average group size for all the groups I fired came out to 1.08 inches.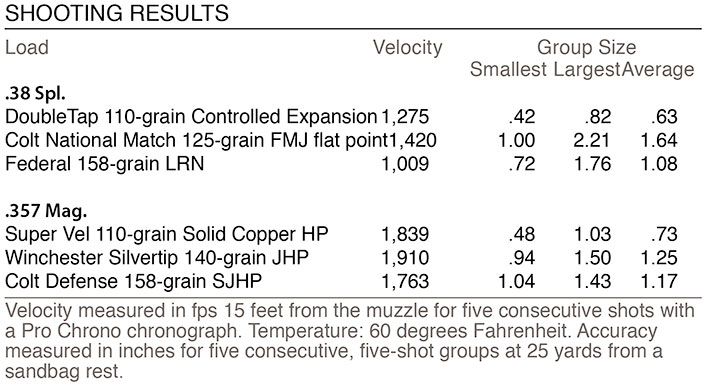 Aside from the stiff magazine-loading issue, shooting this carbine is absolute fun. For those who live in freedom-denying jurisdictions where semi-automatic rifles are frowned upon, the Dark series carbine is a tactical alternative. It's suitable for hunting up to medium-size game and there is a huge variety of .38 Spl. and .357 Mag. ammunition from which to choose, making it quite versatile. Add a suppressor and you enter into another shooting dimension, both for hunting and defense.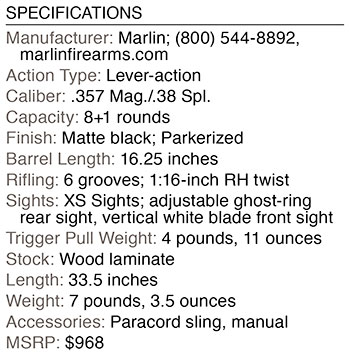 While modern alternatives in defensive carbines are preferred, folks who take the time to learn the lever action in one of our classes come away from the experience convinced the lever gun will do just fine in a defensive role. There isn't much they can't handle. Is the lever-action rifle slow to use and fire?

I've heard that criticism, but go watch a Cowboy match and you'll see some amazingly fast shooting. I've seen skilled shooters run a lever-action faster and as accurately as someone shooting a semi-automatic carbine. Reloading a lever-action is certainly more difficult than any gun with a detachable-box magazine, so that is a legitimate concern. 
In the end it comes down to what you prefer. No gun is perfect in every role, so don't limit yourself. You might find, should the spirit of John Wayne grip your soul, shooting a good lever-action carbine in a pistol caliber provides all the shooting fun you need.