by
posted on January 14, 2023
Support NRA Shooting Illustrated
DONATE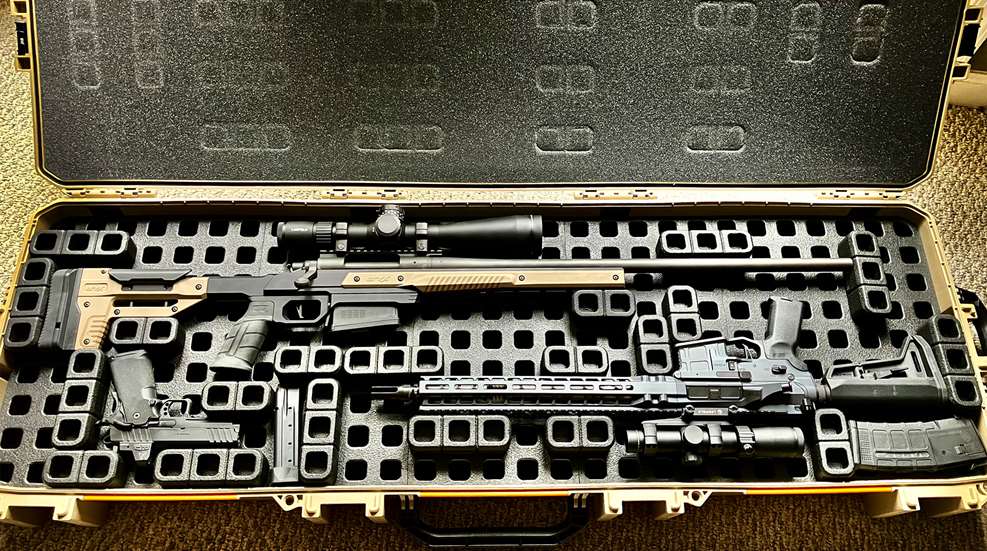 It's not often we get excited about firearm storage/transportation options. Okay, it's pretty much never. However, when Magpul launched the DAKA GRID system, we knew this was something worth checking out. It's a true "plug and play" system of interlocking foam blocks that work with a pre-cut grid. It is essentially tactical … well, those building blocks that started in Denmark that we're not sure we'll get sued if we name them. First thing I noticed when I opened the case was that it looked like Tactical BattleShip.
Basically, there's a foam (Magpul is quick to point out that it's "Expanded Polypropylene," or EPP, which is a fancy way of saying really rugged foam) backing that currently exists for Pelican Vault V730 and V800 cases (but more are coming, don't you worry). The grid is custom-fit to the case, then the individual blocks—in two- and three-section pieces—can be fit in precisely to perfectly contain your firearm.
In the Pelican Vault 800 case shown above, there's a Remington long-action 700 bolt-action rifle in a MDT Oryx stock with a Leupold Mark 5HD 5-25X scope. It's a pretty custom configuration, yet with Magpul's DAKA GRID I was able to completely immobilize the rifle with full protection for the barrel and riflescope. Oh, and in the extra space I dropped a Radian Weapons Model 1 carbine, also with a Leupold LVPO scope. And if you look closely, you'll spot a Springfield Armory Prodigy pistol with Ameriglo Haven red-dot sight. All of these fit in the case with ample space, and each firearm and optic was absolutely immobile. Nothing moved. Not at all. I dragged the case around the house, out to the car, off to the range, up and down stairs; nothing moved. Not even a little.
That's … well, a big deal. If you've ever transported multiple firearms in a case for any distance, there is a pretty significant possibility that one or more of the firearms will shift. Sometimes it's not a lot. Sometimes it is. Sometimes they bounce off one another and come out of the case with interesting new, well, character (here I mean dings that cause much blue language). Heck, I was at a training event for long-range precision rifle shooting where one of the participants had to use a loaner rifle because his scope had been damaged in transport. 
Sure, you can painstakingly cut out traditional foam for your favorite rifle, and this will give a solid fit that will hold the rifle pretty securely. However, make one change to the rifle—and that's why I chose this Remington, because it's gone through a number of changes—and you have to cut out another piece of foam. And those aren't cheap—replacement foam for a Pelican V800 case run upwards of $60 or so. Change the LVPO to a red-dot sight? Now you either have to contend with a cutout that doesn't match, or buy more foam. Cut a slot for a Glock with an RMR, and you're locked into that configuration. With Magpul's DAKA GRID system, this is no longer a concern.
Yes, it's a bit on the pricey side at $159.95 for the larger Pelican case—but, is it really? That $160 gets you the complete grid, plus 20 blocks (10 three-section, 10 two-section). That's more than enough to set up a case for a long rifle, carbine and pistol (as shown). Sure, the same standard foam insert comes with the case, but again, change it once and you're half-again into the cost of the GRID. And, it's not as secure. After three days of moving the case around, up and down stairs, etc., nothing moved. Nothing.
I don't know about anyone else, but peace of mind when I'm transporting several thousand dollars worth of firearms is invaluable. A slight upcharge at the onset means that I can reconfigure that case as many times as I want, whether for two carbines, two bolt guns, a whole mess of handguns, or any combination in between. It's Magpul, so you know it's durable as all get out and will last. What more could you want?