Imagine your company is at the leading edge of composite-materials technology. Your employees speak the language of ceramic composites with fluency so thorough you made the first commercial gas and oil armored well cover to pass the American Petrochemical Institute's 6FB certification for fire resistance. Your widely used industrial well pump bearings do not destroy pump motors like traditional bearings and last five times longer. But your product lines are not limited to Terra Firma. You have also successfully engineered an APU screen for a major military jet manufacturer that both decreases weight and extends life. So, what do you do next? Dive head first into the world of premium AR rifles and firearms components, of course. Meet
Lancer Systems
of Quakertown, PA, and the Lancer L30 Heavy Metal rifle.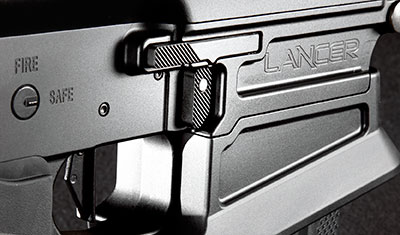 As company President Bill Meiklejohn explains, Lancer's approach to all products is guided by an engineering focus, rather than the market-driven focus so common in the arms industry. More to the point, Meiklejohn told me his mantra is: "There has to be a reason to do something." In other words, simply designing a new widget because it looks or sounds cool or may generate social media buzz is not a reason to spend time and resources on it. There must be a real-world need for a Lancer product. The fuel for this methodology is direct feedback from the field, and Lancer turns this critical input into useful products across the full spectrum of its operations, particularly in the 
Lancer L30 Heavy Metal rifle.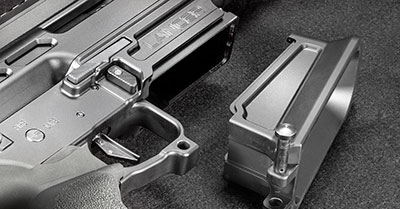 Lancer's 5.56 NATO and .308 Win. AR magazines are great examples of this theory in motion. Traditional steel and aluminum detachable magazines are rugged to a point, but susceptible to permanent damage—especially in the feed lip area—from heavy use or abuse. Newer polymer magazines are more resistant to damage caused by temporary compressive forces, but typically fail in extreme temperatures and in high-dust environments.
Lancer
used feedback from American warfighters to design and produce hybrid AR magazines that incorporate the best characteristics of both metallic and polymer designs. The company developed its magazines in accordance with the stringent International Test Operations Procedures (ITOP) for detachable magazines. The fact that approximately 15 firearms manufacturers have adopted Lancer's magazines as an OEM product is further testament to the effectiveness of its metal/composite fusion designs.
My first glimpse of Lancer's products came at the 2011
SHOT show
, where I quickly made my way to the company's booth to check out its carbon-fiber-composite freefloat handguards for AR-15s. As a lightweight-rifle fanatic, I was very interested in incorporating Lancer products into my gun-building adventures. We know carbon fiber looks good, and it certainly reduces weight when compared with more traditional component materials. It also happens to be far less sensitive to heat and cold so handguards are easier to hold both when shooting a rifle very hot or when carrying in winter. Recently, I had the opportunity to get a closer look at a conglomeration of Lancer's engineering and production efforts in the form of the
Lancer L30 Heavy Metal
.308 Win.-chambered AR rifle. Setting aside any jokes about a company that makes lightweight components choosing to build something with "Heavy" in the name, the rifle I tested turned out to be a well-executed piece of machinery.

The
Lancer L30 Heavy Metal
is one of three in Lancer's L30 family, falling between the slightly simpler Modern Battle Rifle (MBR) and precision-oriented, Long Range Tactical (LTR) models. As such, it's a bit of a hybrid between battle rifle and sniper rifle, making it well-suited for Designated Marksman or medium-range hunting and competition roles. All three models are available in .308 Win. while the LTR is also available in a 6.5 Creedmoor version. The HM is built around a bright, stainless steel, 18-inch, mid-weight contour,
White Oak Armament
match barrel.
The business end of the 
Lancer L30 Heavy Metal
wears Lancer's in-house designed and manufactured (a common theme throughout this rifle) Nitrous muzzle brake. This effective recoil check has two ports on top that can be opened or closed by removing or installing a pair of setscrews. I shot the rifle with ports closed and then open, and the resulting reduction of muzzle rise was quite noticeable. A low-profile, adjustable gas block is easy to access and adjust under the handguard. The setscrew used for modulating gas flow into the direct impingement system is under constant tension via a smartly designed—yet very simple—piece of spring steel. Only one small hex key is required to make very distinctive, click adjustments.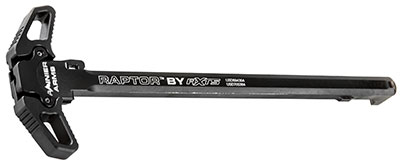 Lancer's signature gray, carbon-fiber, 15-inch freefloat fore-end surrounds the barrel, providing a front-sight rail and ample cooling vents. The fore-end attaches to a proprietary upper-receiver extension by way of six screws. Removing the tube is fast and simple and reveals the incredibly light weight— 6 ounces including screws. That is exactly half the weight of the lightest extruded aluminum 15-inch .308 freefloat fore-ends I have found to date. The trimmed-down upper is purpose-built for Lancer's handguards, so this is not a rifle for aftermarket freefloat tube aficionados. A zero slope, flattop rail (bolted to the receiver) provides 9.5 inches of scope- and rear-sight-mounting space at a height that allows the shooter to maintain a very comfortable cheek-to-stock position.
No forward assist or ejection-port cover is present on the 
Lancer L30 Heavy Metal
or any other L30 models. An AXTS Raptor ambidextrous charging handle rounds out the upper's external features. Internally, the HM makes heavy use of nitrided components for superior corrosion and wear resistance. The gas tube and the entire bolt-carrier assembly—firing pin included—all bear the distinctive, dark sheen of the Ferritic Nitrocarburizing (FNC) process that is becoming more and more familiar in the arms industry. Markings on the carrier by
H&M Metal Processing
tell me Lancer goes to the pros for this process. The bolt is specially designed to prevent primer flow back into the firing-pin hole when used with high-pressure loads. This "cratering" problem can lead to pierced primers, excess gas in the shooter's face and a firing pin jammed up by brass discs inside the firing-pin tunnel.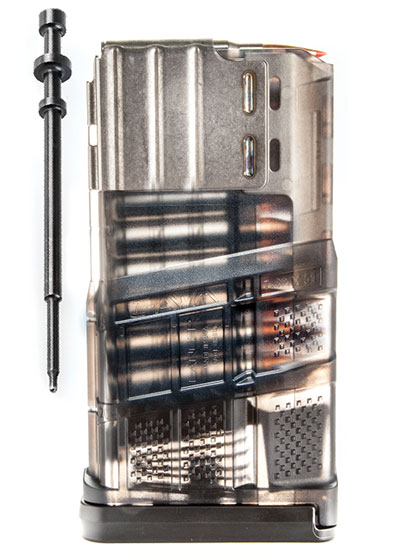 The most noticeable feature on the
Lancer L30 Heavy Metal
's equally distinctive lower is a heavily flared, detachable Tactical Magwell. While too big and heavy for my tastes, this feature definitely provides an easy chute for quick reloads. A single, captive pin can be pushed from left to right in order to separate the mag well from the rifle. This sheds a few ounces, but it also serves a very practical purpose for snipers. The human eye is attracted to movement. Snipers have to minimize all movement in order to remain undetected. The actions taken to reload a rifle—be it bolt-action or semi-automatic—are difficult to minimize while plying this trade. My technique was to do it as slowly and methodically as humanly possible—unless doing it in a hurry was going to keep me alive.
Traditional designs require shooters to either tilt their rifles approximately 45 degrees to one side or to lift slightly at the rear in order to allow detachable magazines to be inserted while prone. Lancer's lower receivers eliminate this need in much the same way as some of the newer long-range bolt-action tactical rifles by leaving what appears to be a cut-out section on each side of the mag well. I found with the Tactical Magwell removed, the movement required to feed a fresh 20-rounder while prone was significantly less than with conventional AR rifles. Score one for stealth.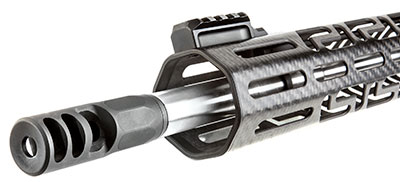 The lower receiver's well-fenced magazine release provides plenty of protection against inadvertent mag drops. An ambidextrous bolt release (locking on only on the left side) gives righties the same convenient index finger access we lefties have with normal bolt stops. The
Lancer L30 Heavy Metal
comes with a
Geissele Automatics
Super Dynamic 3-Gun single-stage trigger. I prefer Geissele's two-stage match triggers for my rifles, but I can appreciate the choice of the very clean-breaking SD3G for a multi-purpose long gun. This trigger is definitely fast during rapid strings. Based on my results, it shows even a hard-headed long-gunner like me can make a good single-stage trigger work.
Lancer's lowers accept standard AR-compatible pistol grips, but the
Ergo Grips
Deluxe Ambi grip included with the Heavy Metal fit so well, I would not feel compelled to replace it if the rifle were my own. A hidden tension screw set in the lower receiver allows any slop (there was none in my test rifle) between upper and lower to be eliminated by driving the screw in against the upper receiver's rear takedown-pin tab. The
Lancer L30 Heavy Metal
's LCS fixed buttstock rivals the fore-end for good looks, light weight and functionality. Made of the same carbon-fiber composite materials, the stock has QD sockets on each side and multiple slots for sling routing. I found the stock's footprint to ride well in my shoulder regardless of shooting position and the construction is rock solid.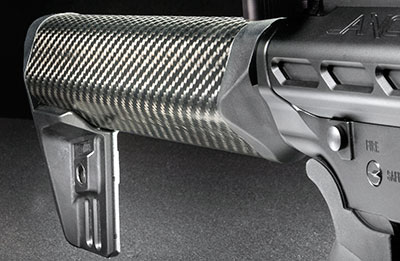 Shooting the
Lancer L30 Heavy Metal
was more fun than I expected for a weighty rifle. The 18-inch barrel balanced very well for close-range standing work and two of the ammo types I tried bested the .765-inch test group on the target shipped with the rifle. The "minute of dumpster" accuracy exhibited by the third ammo type is the same as I have seen in other rifles. The glutton for punishment in me compelled a try here just for the heck of it. I used Lancer's 20-round polymer-metal hybrid magazine for 125 rounds of shooting with no functional problems.
Recoil was managed handily by the muzzle brake, and though Lancer had also sent me its much larger Viper muzzle brake, I chose to leave the rifle in stock configuration. True to the design intent, the handguard didn't feel the least bit hot after burning through 40 rounds of .308 Win. as quickly as I could get the gun back on target and squeeze the trigger. After shooting, the nitride internal components cleaned up quickly.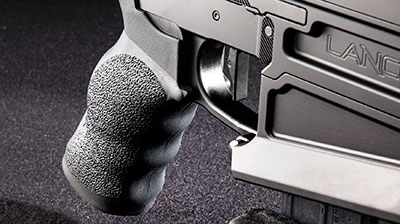 Lancer
also offers several different 5.56 NATO rifles on its L15 platform, with configurations running the gamut from patrol to competition pursuits. Thankfully, Lancer also offers raw components for gun builders and 'smiths alike. Carbon-fiber handguards are available for standard 5.56 NATO AR receivers and DPMS-type .308 Win. receivers, as well as for the
SIG Sauer
516 and 716 rifles. Backer-plate accessory rails, sling QD sockets and bipod mounts are available for all Lancer handguards.
Also offered are a bunch of magazine options, L15 lower receivers, L30 matched upper and lower receiver sets and even a few carbon-fiber shotgun magazine-extension tubes. If you like all the benefits of carbon-fiber composites and are willing to pay more to get them, Lancer has many good options for you. Last year I built a pair of rifles for a charity auction on Lancer's stripped L15 lowers, and I can attest to the company's excellent quality and well-designed features.
With industrial equipment serving multiple endeavors on land, sea and air and a growing crop of shooting products in-hand, Lancer does not appear to be slowing down. Thermal management is one area of interest—specifically working to make rifle components even more resistant to the effects of heat and cold. Lancer is also looking at ways to incorporate ceramics into many aspects of rifle manufacturing and components. I am very confident we will continue to see innovative, useful products from
Lancer Systems
 like the 
Lancer L30 Heavy Metal rifle.