The world of modern firearms has become much like that of cars or motorcycles. Folks get comfortable with a certain manufacturer and tend to stick with it. I know guys who would never consider any other shotgun than a Winchester because that's the gun grandpa used to teach them to hunt rabbits. Kahr Arms has been at a bit of a disadvantage, due to a lack of name recognition. However, those looking for a concealed-carry pistol would do well to examine the Kahr CM9.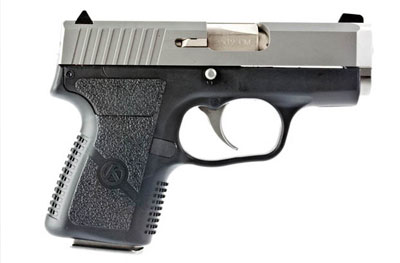 During the past few years, interest in personal protection, particularly concealed carry, has spiked tremendously. Many citizens looking to purchase a concealed-carry handgun don't have a longtime favorite; they are simply looking for the best combination of power and concealment—and, of course, value. The Kahr CM9 seems to tick all the right boxes here.
Kahr pistols have been slowly but surely making headway against the established brands made popular by law enforcement agencies and the military. They function reliably, shoot well and in the case of the CM9, outperform expectations.
Although the company has a full line of all stainless steel handguns, some of the most popular Kahr pistols are polymer-frame versions. One of the models in that line is the CM9, which is essentially Kahr's price-point-friendly pistol. Though it is similar to the Kahr PM9, the CM9 includes cost-saving features such as a pinned versus dovetailed front sight, conventional versus polygonal rifling and a more streamlined slide. Also, the Kahr CM9 ships with only one stainless-steel magazine instead of two.
By pinning the front sight instead of using a dovetail cut, Kahr reduces the machining time on the slide, thereby reducing cost. The same thought process goes into the barrel. Using conventional rifling rather than polygonal also reduces machine time. Will the shooter notice a difference? It depends on how often they visit the range. Most concealed-carry guns are carried a lot but shot very little. It's up to the consumer.
Metal injection molding (MIM) enables a manufacturer to produce parts and components from a powdered metal blended with a bonding agent. This reduces the cost of making small parts over more traditional machining or investment casting. If you desire a 100-percent machined firearm, you must be willing to pay the additional cost.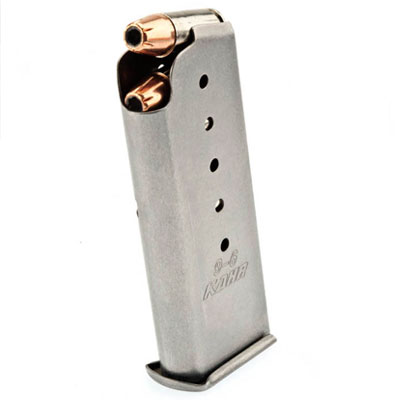 The Kahr CM9 9 mm pistol has a stainless steel slide and barrel group and was built with concealed carry in mind. Its empty weight is only 14 ounces. As a compact pistol, the CM9 is only 4 inches high and has an overall length of 5.42 inches. It is rather slim as well, at only .9 inch wide. Aside from the fixed front sight atop the slide, Kahr installed a drift-adjustable rear sight. The front sight has a white dot and the rear has a white bar at the base. A single-column magazine feeds the pistol and holds six rounds. Larger, single-column 9 mm Kahr magazines will work in the gun, but they protrude from the base of the frame.
Manual controls on the Kahr CM9 include the double-action-only trigger, the magazine-release button and the slide lock. Kahr uses what it calls a "safe-cam action," which ensures a positive, consistent trigger stroke. The trigger is a smooth/non-serrated design.
The company's safe-cam action is akin to traditional double-action triggers, but eliminates the heavy stacking at the end of the trigger stroke many older models experienced. This feature provides a much cleaner break than most double-action-only pistols. It's something you really have to feel in order to appreciate.
To give the new Kahr CM9 a thorough workout, I took along six different 9 mm loads from three manufacturers. Both controlled-expansion projectiles and full-metal-jacket bullets were represented. As some subcompact pistols tend to be finicky eaters, particularly when it comes to bullet weight, I made sure the spectrum was covered. From fast-moving 115-grain loads all the way up to the slower and heavier 147-grain offerings.
From a 3-inch barrel, I wasn't expecting earth-shattering velocities. Those posted were on par with what you might expect from a subcompact pistol. The heavier 147-grain loads were in the 800 fps range, and the lighter 115-grain rounds exceeded 1,000 fps.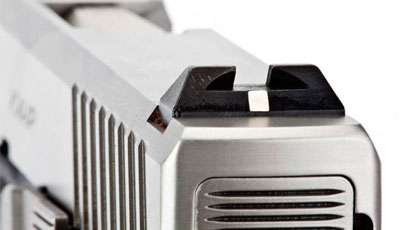 The standard 25-yard benchmark seemed a bit impractical for testing the accuracy of a subcompact pistol with fixed sights, so I tested it at 10 yards. While a double-action-only trigger might not be the first choice for competitive shooters, for a compact, personal-protection handgun it is just right. I must admit I was impressed by the smooth, deliberate stroke of the trigger. No creep or heavy stacking was noticed. Each group was fired using a fully loaded six-round magazine. As mentioned earlier, the safe-cam trigger is one that truly must be tried to be appreciated. I'm not an engineer, but I'm a shooter who can tell the engineers responsible for this gun's design got it right.
As far as the Kahr CM9's accuracy, the vast majority of rounds impacted the center of the 10 ring. A couple of the loads wanted to strike a bit high and left, but the difference was less than 2 inches. Essentially, the sights were right on from the factory.
Regardless of bullet weight or style tested, groups averaged less than 1.5 inches. Most of them bested the 1-inch mark. For a relatively small, lightweight pistol with a long double-action-only trigger stroke, those results are indeed impressive. The gun will put the rounds where they need to be, as long as the shooter does his part.
Pinpoint accuracy is worthless if your pistol won't cycle reliably. By the time I was ready to run drills, I'd already put somewhere in the neighborhood of 150 rounds through the gun. I hadn't experienced any malfunctions at that the point.

Keeping with the CM9's concealed-carry mission, I used a Crossbreed Mini-Tuck so I could run some presentation drills.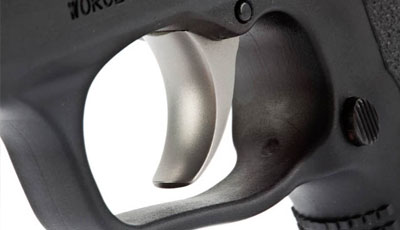 As most folks will want to carry the Kahr CM9 with a full, six-plus-one rounds of ammunition, I began every drill by loading the gun with seven. Some compact pistol's won't function reliably when topped off, so this is an important litmus test for any carry gun.
Drill number one was simply to draw and engage a silhouette from 7 yards using a two-handed hold. Moving and shooting until the gun ran dry, I found it was 100-percent reliable. Primary loads for this test were the Federal American Eagle 115-grain FMJ and Cor-Bon 147-grain FMJ Match.
Next, I ran through some strong-hand shooting drills using my right hand only before transitioning to my left hand. There is no doubt a 14-ounce 9 mm handgun is going to bounce a bit when held in only one hand. Be that as it may, the Kahr CM9 was still controllable and I was able to get back on target quickly. Most importantly, the pistol cycled reliably and I didn't experience any stoppages. The slide consistently locked back on an empty magazine.
One issue about which new or novice shooters need to be aware is the fact the CM9's recoil spring is stout—it has to be to account for the slide's short travel while absorbing the recoil impulse. New or inexperienced shooters often struggle with guns that have such short slides and strong springs.
The Kahr CM9 gets high marks for accuracy and reliability. It is lightweight and easy to conceal. Kahr's use of price-cutting features did not seem to affect the performance of the pistol. The CM9 is not a competition or race gun. It's a self-defense pistol, and for its intended purpose, the CM9 holds its own. Decide whether you want to spend the extra money for more features, or save the cash. In the end, that's another type of freedom we as gun owners celebrate.

Manufacturer: Kahr Arms; (508) 795-3919, www.kahrarms.com
Action Type: Double-action only, recoil-operated, semi-automatic
Caliber: 9 mm
Capacity: 6+1
Frame: Polymer
Barrel Length: 3 inches
Rifling: 6 grooves; 1:10-inch RH twist
Trigger Pull Weight: 6.5 pounds
Sights: Pinned front with a white dot, drift-adjustable rear with a white bar
Grips: Black polymer
Length: 5.42 inches
Width: .9 inch
Height: 4 inches
Weight: 14 ounces
Accessories: Hard case, trigger lock, owner's manual
MSRP: $460