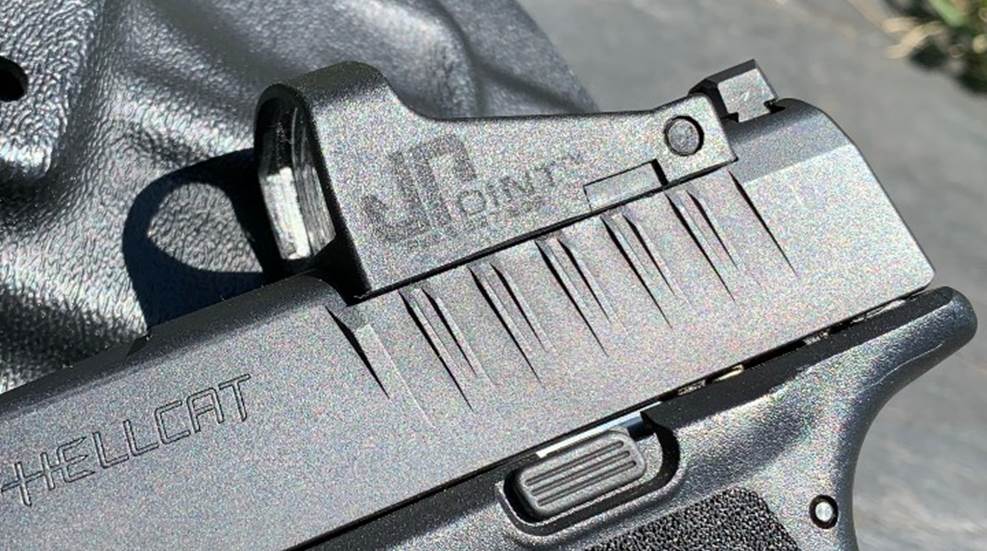 What an interesting age we live in, with regard to handguns. In a surprisingly short time frame, we've seen two completely separate phenomena emerge – and converge. While the recent round of ultra-small, quasi-double-stack pistols like the SIG Sauer P365 and the Springfield Armory Hellcat aren't the first of their kind, they certainly popularized the genre. Concurrently, red-dot sights went from carbine- and racegun only to everyday gear for concealed-carry handguns. It's only kismet that the two should meet.
One such optic is the JPoint from JP Enterprises. Weighing in at a ridiculously light .5 ounce and designed with a minuscule footprint, the lineage of this tiny red dot is simple: JP Enterprises wanted the smallest, lightest dot possible as an offset sight for its 3-gun offerings. Where every second counts and every additional ounce can slow competitors down, having the lightest gear possible is of utmost importance. Kinda, you know, what you're looking for in an optic for your micro-9 mm handguns, right?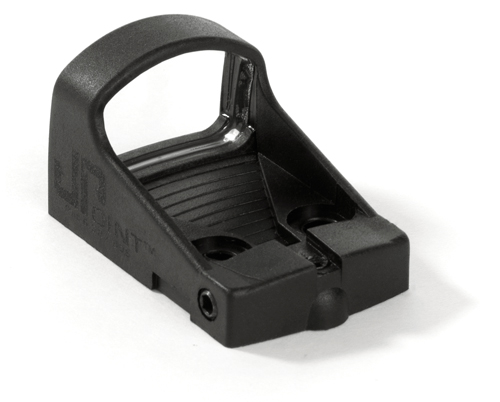 The JPoint is available in two varieties: there's a 4-MOA dot, and an 8-MOA dot. That's it. Controls are just as simple: There aren't any. The dot has a brightness adjustment sensor across a range of light conditions, and a tool for adjusting windage and elevation is included. The single CR2032 battery is accessed on the bottom of the sight, meaning it has to be taken off the handgun to change batteries. JP Enterprises estimates the battery life to be between six and 12 months, so plan accordingly.
Should you wish to use the JPoint on a different handgun, it fits Glock plate 4 on the MOS series and will fit any slide cut for the Shield RMS series. JP Enterprises offers a number of additional mounting options, from scope rings with mounts built in to offset mounts and even standard Picatinny mounts. One advantage to versatile sights like the JPoint is the ability to serve as a secondary sighting system on a rifle in addition to being mounted on a handgun.
In use, the JPoint is pretty surprising – despite the small size, it's pretty easy to pick up. Now, granted, it does involve the right training and proper repetition of a correct presentation (insert obligatory plug for Scott Jedlinski at Modern Samurai Project and other red-dot trainers), but with practice it's not hard to see the dot quickly. Drawing from concealment and getting on target is simple and does not add any significant time to the procedure over the standard iron sights, as long as it's done right. The size and light weight do not detract from the concealability of the Hellcat to which the JPoint was attached, and the Mission First Tactical holster I've been using to carry this setup is cut for an optic.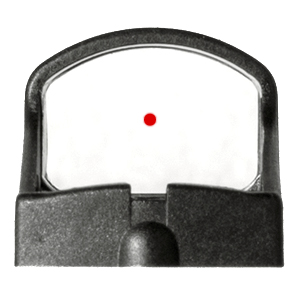 Using the JPoint both on the range and in dry-fire practice, the automatic intensity adjustment built into the sight appeared to work seamlessly. At no point is the dot too dim to view, and even outdoors in bright sunlight can be readily acquired. Obviously, on an indoor range against a target with a black background gave best results, but that's true of every powered sight I've ever tested. At no point in any testing against any background did the dot wash out or flicker.
At the end of the day, what you have with the JPoint and the Hellcat is a pretty amazing "grab and go" option. Onboard capacity is 12 rounds, with another 13 backing that up, in a package not significantly larger or heavier than a 5-round J-Frame – and with a red-dot sight. Fast presentation, small size and decent capacity are great hallmarks for a concealed carry firearm. The JPoint allows this system to enter the 21st century without adding bulk, all for an MSRP of $299.95. Visit jprifles.com for more information on the JPoint line of red-dots.