The evolution of modern firearms is a fascinating process to witness. Whether it is an updated spin on an old design or something completely different, I am a sucker for trying new models. Our Editor in Chief knows this, so he didn't have to twist my arm to test IWI's big brother to the Tavor and X95 bullpups: the Tavor 7. My experience with magazine-behind-trigger rifles is limited to a handful of 5.56 NATO bullpups, so I was anxious to see what this 7.62 NATO-chambered rifle from our good friends in Israel had to offer.
The Tavor 7's very short overall length is deceiving. It appears light, but its 9-plus pounds of steel and polymer make clear this carbine was built for hard use in harsh environments. While stout, this weight places it on par with many other out-of-the-box .308 Win./7.62 NATO battle rifles. The beauty of the Tavor 7's design—and that of any bullpup—is that its weight is contained in a package that is much shorter than conventional designs with similar barrel lengths. In this case, even with a 16.5-inch barrel, the Tavor is approximately 6 inches shorter than a 16-inch-barreled, .308 Win.-chambered AR with a fully collapsed stock. Even if that AR had a side-folding stock, the big Tavor still measures a hair shorter while being ready to shoot at all times. However, it's worth noting the Tavor 7 is a full inch-and-a-quarter taller than a flat-topped .308 Win. AR when each rifle has a 20-round, SR25-pattern magazine locked in place.
The big Tavor is available with a black-, FDE- or OD Green-colored, reinforced polymer body that incorporates M-Lok slots into the fore-end. IWI US' plant assembles the Tavor 7 with a mixture of Israeli and U.S.-made components to keep the rifle in compliance with 18 USC § 922 (r). Since the magazine included with each rifle is one of those required, U.S.-made components, owners on this side of the pond must use only U.S.-made mags to prevent violation of federal law.
My sample Tavor 7 was fronted with a multi-ported muzzle brake, but the barrel's 5/8x24 threads make it possible to retrofit a flash hider or a suppressor mount. Although IWI's manual clearly states that the rifle is intended for 7.62 NATO ammunition only, a representative of IWI US assured me that it's OK to fire .308 Win. ammunition. The short-stroke, gas-piston operating system uses a four-position, adjustable regulator to help the rifle glide through a variety of pressure changes and conditions. Adjustment is accomplished by inserting a cartridge tip in the regulator knob's transverse hole and then turning to one of the detent-secured positions. The Tavor 7's stock features multiple sling QD sockets while the receiver's top rail provides a generous 14.75 inches of mounting space.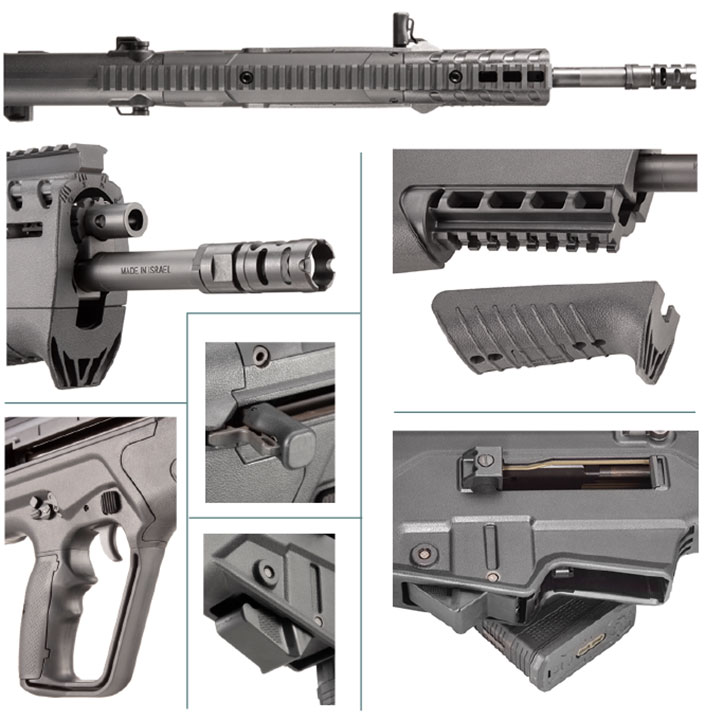 Just as with the smaller Tavors, the 7 is easy to convert for left-handed use. A large, ambidextrous magazine release is already in place and requires no modification. The 45-degree ambi selector has reversible large and small paddles, while the ejection port, brass deflector, charging handle and dustcover all swap to the opposite side. Using a bullet tip and the manual, my first conversion to full lefty was a 2-minute affair. The process is simple and yields a strong-side-friendly carbine.
The Tavor's bolt has several lock-back options. The simplest is a notch placed high in the rearmost portion of the cocking handle's track. Due to my unfamiliarity with the rifle, I had a tendency to inadvertently lock my bolt back in this notch while manually charging the rifle in a hurry. The bolt also locks back on an empty magazine. It can be released from this position by pressing the long, ambidextrous button positioned on the carbine's bottom, just aft of the magazine well. Pulling this same release downward, while fully retracting the charging handle, also locks the bolt back.
Since this stubby carbine is purpose-built for the battle-rifle role and already runs on the heavy side, I decided to use a 1-6X optic for accuracy testing. Nonetheless, it produced smaller groups than the IWI Galil ACE/15X riflescope combo we evaluated in 2017, while matching that rifle's overall accuracy average of 2.2 MOA. Once again, I had to account for IWI's choice of a 1:12-inch rifling twist when choosing test ammunition. I can't help but wonder how the Tavor 7 would fare with a 1:10-inch barrel twist and ammunition better-suited for the type of shooting at which the .308 Win. cartridge really excels. Since no further options are planned at this time, Tavor 7 owners will likely find the best results in light-for-caliber projectile weights.
I found the single-stage IWI trigger to be consistent and pleasantly smooth, with just a tiny bit of free play at the start of its travel. Firing off of a bipod, which was attached to a rail concealed under the handguard's cover, proved to be a jumpy affair. The big bullpup's heavy rear tended to rock it into a stock-down/barrel-up attitude in recoil, but this was easy enough to manage once I got used to the rifle's feel. I also found that when positioning my support hand under the rear of the stock while prone, I sometimes tripped the bolt release during recoil, preventing the bolt from locking back on an empty mag. These are all familiarity issues that simply require repetitive training to overcome. Firing off of a bag rest with my support hand under the fore-end proved to be the best position for prone work.
The Tavor 7's weight distribution also felt odd as I moved in closer to my targets with the rifle at a low ready. But, the rear-heavy design and short overall length really shined during rapid-acquisition strings from 25 to 10 yards away. Bringing the rifle up to align the optic with my targets was much smoother than with a traditional .308 Win. carbine. My only functional issues were four light-strike failures-to-fire while using steel-cased, Wolf 145-grain FMJ loads, which is fairly common with that ammunition. Otherwise, the Tavor 7 chewed through my brief, 125-round test without issue.
Post-range maintenance was very easy. The manual spells out the steps required to remove the gas piston, sear and recoil assemblies for cleaning in simple and concise terms. In spite of IWI's insistence on 1:12-inch twist, .30-caliber barrels and a limited 5-year warranty for the Tavor 7, it has solid potential as a solution for very short, heavy-hitting carbine needs.