by
posted on April 3, 2017
Support NRA Shooting Illustrated
DONATE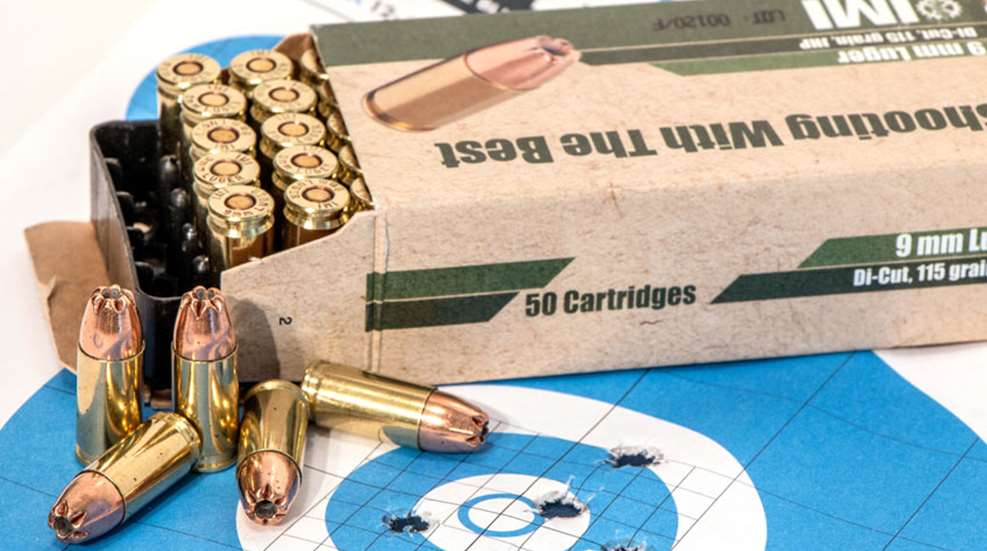 IMI's Di-Cut 9 mm JHP is used by the Israel Defense Forces and is ideal for law enforcement and personal protection.
The overwhelming demand for ammunition over the last eight years has inspired the formation of several new ammunition manufacturers. It's also boosted the import of ammunition products from overseas. Some speculate the recent political change will subdue ammunition sales. That may be true, but the Trump effect could bolster the economy—leaving folks more money to spend on ammo. After all, there've been a lot of guns purchased during the last decade. The good news is this demand for ammunition has brought the American consumer more ammunition options.
Israel Military Industries (IMI), established in 1933, is one of the companies looking to increase its presence in the American market. The company specializes in munitions for land, air and naval combat weaponry. It is currently the sole source for the ammunition used by the Israel Defense Forces (IDF), and IMI's products have been qualified with the U.S. military and various NATO nations. IMI is owned and operated by the government of Israel, and it employs nearly 3,000 people.
IMI is a serious, high-tech company. In addition to common small-arms ammunition, it offers a comprehensive selection of rockets, guided missiles, heavy aerial weapons, tank and artillery ammunition and advanced guided mortar and artillery rounds. You'll not be picking any of this stuff up at your local firearms emporium or at the gun show, but they demonstrate IMI is not an upstart, garage-based ammunition company. IMI is currently operating in many countries, leading international and local industry teams on large-scale weapons-modernization projects. The company is a cutting-edge, wide-scale, ammunition-manufacturing powerhouse.
Recently, IMI provided samples of some of the company's small-arms ammunition. When I talked with Eldad Sayada, IMI's director of Marketing and Business Development, he informed me IMI was committed to supporting the U.S. civilian market for the long haul, with an assortment of military-grade, small-arms munitions. Currently, IMI ammunition can be purchased direct from big-box distributors like Cabela's, MidwayUSA and SGAmmo.
I had three IMI loads to evaluate, one in 9 mm and two in 5.56 NATO. In total, 100 rounds of each load were fired through, respectively, a 5-inch Wilson Combat 1911 and a 16.25-inch Mossberg MMR with a Swarovski 6X Z6i riflescope. Accuracy testing was conducted at 25 yards with the handgun and at 100 yards with the carbine. Ten rounds of each load were fired over a Pact Chronograph to establish muzzle velocity, maximum-velocity deviation and standard velocity deviation.
9 mm Di-Cut 115-grain JHP
This SAAMI-compliant load was developed to meet the needs of various Israeli security forces and law enforcement agencies around the world. This new ammunition contains non-corrosive boxer primers and reloadable brass cases. It has an advertised muzzle velocity of 1,150 fps out of a 4-inch barrel. The Di-Cut JHP is a non-bonded, lead-core bullet that will expand in excess of 1.5 times its original diameter, and penetrate to an average of 12.5 inches in 10-percent ordnance gelatin. Functioning was flawless in the test pistol and the average for five, five-shot groups at 25 yards was 1.51 inches. From the 1911's 5-inch barrel, muzzle velocity averaged 1,212 fps with a maximum velocity deviation of 27 fps and a standard muzzle velocity deviation of 8.4 fps.
5.56 NATO M193 55-grain FMJ
This is the standard ball M193 NATO military load that uses a non-expanding, 55-grain, full-metal-jacket bullet. It is optimized for use in the M16A1 and requires a minimum twist rate of 1:12 inches for stabilization. It has an advertised muzzle velocity of 3,166 fps from a 20-inch barrel and accuracy of less-than-1-inch groups at 100 meters. Out of the 16.25-inch-barreled Mossberg MMR, five, five-shot groups averaged 1.46 inches. Muzzle velocity was 3,080 fps at a test temperature of 21 degrees Fahrenheit, with a standard deviation of 27 fps. Further testing, from a 16-inch-barreled Smith & Wesson M&P15, produced better accuracy with an average of 1.26 inches for five, five-shot groups. Velocities from the M&P15 were nearly identical to those recorded from the Mossberg.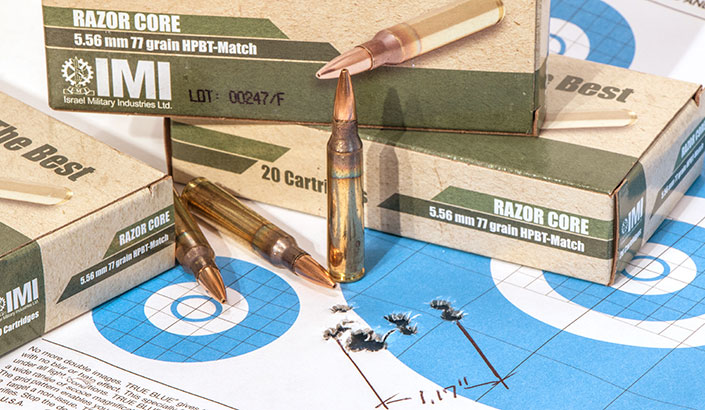 5.56 Razor Core 77-grain HPBT Match
This heavyweight, hollow-point, boattail, match-grade load is intended for carbine and rifle-length, semi- and full-automatic rifles. It has also been optimized for use with suppressors to limit the accumulation of gunpowder residue. This load is intended for barrels with a 1:7 twist rate. The Razor Core helps with long-range precision and delivers enhanced stopping power at distance when compared to the standard 55-grain FMJ load. It has an advertised muzzle velocity of 2,740 fps and the average velocity in the frigid test temperature from the 16.25-inch-barreled Mossberg was 2,617 fps with a standard deviation of 29 fps. Accuracy was quite good, averaging 1.21 inches for five, five-shot groups. A single 10-shot group was fired from a very warm rifle in less than 30 seconds and it outstandingly measured 1.17 inches.
Based on the evaluation of the loads provided, there's no question IMI is manufacturing high-quality ammunition. Considering it is the choice of the IDF, I would not have expected any less. Those folks are serious when it comes to fighting and shooting.