Shown above: The Hi-Point 1095TS Edge 10mm carbine can be had in either a plain-black finish or the hydro-dipped Realtree-camouflage finish shown here.
---
The development of the 10mm Auto cartridge was a significant step forward for handgun enthusiasts. This powerful round has been used by shooters of every type, including law enforcement officers and agents, hunters and target shooters. The idea of a cartridge that pushed a 180- to 200-grain bullet at approximately 1,200 fps was appealing on many levels.

After a tragic shootout between criminals and FBI agents in South Florida in 1986, during which two agents were killed, the Bureau determined its issued 9mm handguns lacked stopping power. This incident was a driving force in the further development of the 10mm Auto cartridge, which was later adopted—at least for a while—by the FBI. Since then, the 10mm Auto has seen success in other realms and has enjoyed popularity with a variety of handgunners. Many manufacturers offer their products chambered for the cartridge.
Hi-Point Firearms has been manufacturing guns for more than 25 years. The company has been known for producing entry-level handguns, which have proven to be quite popular. Along with handguns, Hi-Point has offered a line of carbines in several chamberings, recently adding a 10mm carbine. This new offering is dubbed the Hi-Point 1095TS Edge, and is available in two variations: plain black or hydro-dipped Realtree camouflage. Much like the manufacturer's semi-automatic pistol line, the Edge carbine is a blowback-operated, striker-fired mechanism with a single-action trigger. Though the Edge's firing mechanism is relatively simple, the carbine is loaded with special features.


The Hi-Point 1095TS Edge 10mm carbine features a 17.5-inch barrel, which is threaded at the end to accept a suppressor or flash hider. A thread protector is also provided with each firearm. The carbine is fitted with a set of open iron sights consisting of an adjustable rear-peep sight and a hooded-front post. The rear assembly is fitted on an accessory rail and can be easily removed if the shooter wishes to install an alternative sight such as a red-dot or variable-power optic. The carbine's trigger system is a standard single-action system common among striker-fired firearms.

Familiarity aside, however, the trigger pull on the test carbine isn't particularly crisp, and not necessarily heavy, breaking at just over 5 pounds on an RCBS trigger-pull scale. Located on the left side of the 1095TS Edge's pistol grip is a two-position safety lever that, despite being easily accessible, I found it necessary to re-adjust my grip on in order to operate. Also found on left side of the pistol grip, the magazine-release button is easily operated without any changes in hand placement. 
Closer inspection of the 1095TS Edge revealed this latest addition to High Point's carbine line places emphasis on comfort and versatility, as seen by the presence of its skeletonized buttstock and the addition of a soft-rubber cheek rest. The plastic buttstock is fully adjustable and compliments an internal recoil buffer. There are three accessory rails fitted to the carbine: the top rail, which accommodates the rear sight, and a forward rail fitted to the bottom of the fore-end for a flashlight or other accessory. The rail that completes the trio is fitted under the barrel forward of the fore-end. Two sling swivel fittings are set in the left side of the stock. Best of all, sling swivels and a nylon sling are provided with the carbine.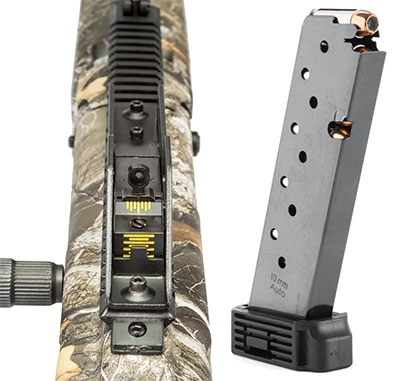 According to the folks at Hi-Point, the carbine's cast receiver is Zamak 3, which is a base of zinc, magnesium, aluminum and copper. While the 10 mm Auto produces considerably more pressure and velocity than other pistol calibers, in testing the 1095 TS Edge proved more than capable of being up to handling the super-charged cartridge.

Several factory 10 mm Auto loads from various manufacturers were fired through the sample I received. I started with Hornady 180-grain XTP, plinking with the Hi-Point 1095TS Edge 10mm carbine at various targets and at distances between 25 and 50 yards.  Right away I noticed that the carbine was pretty accurate offhand at 50 yards, shooting at a softball-size rock. I placed a steel practice plate at 35 yards and shot rapid-fire, without a miss. The carbine proved to be easy to handle with minimal recoil. 
I then set up a sand bag rest with the target placed at 25 yards and started the accuracy-testing phase with SIG Sauer's 180-grain FMJ. The Hi-Point 1095TS Edge 10mm carbine took a liking to this particular cartridge, printing a clean 1.5-inch group, with two of the shots virtually in the same hole. Afterward, I fired several five-round strings with Cor-Bon's 135-grain JHP, which proved quite accurate as well, averaging a 2.25-inch group.  Finally, came the Hornady 180-grain XTP, which printed a decent 2.75-inch group. 
The Edge was quite comfortable to fire from the benchrest, though I don't believe that was the intended purpose of this gun. Its trigger pull, which I found to break at slightly more than 5 pounds, is a little strong for bench shooting, though the groups were quite satisfactory.  I also found the carbine's front-sight post a little difficult to see against the black target, though this is likely just a result of aging eyes. 
Overall, the Hi-Point 1095TS Edge 10mm carbine proved to be an interesting little gun. I initially had a problem with a magazine and a firing-pin issue, but finally wound up with a perfectly functioning carbine. I experienced no malfunctions at all while shooting the Edge.

Though not exactly visually satisfying, it proved to be accurate and fun to shoot. Considering the gun's very reasonable price tag, I'd say the Edge is a good value for anyone looking for a defense carbine or a plinker.