Support NRA Shooting Illustrated
DONATE
Self- and home defense is serious business; there's no arguing that. Practicing and training to improve your skillset so you can protect yourself in a worst-case scenario is laudable and something we stress heavily, devoting time and ink with tips, hardware and drills. Sometimes, though, I think we often lose sight of another aspect of shooting: fun. Having a fun .22 LR revolver to bring with you, like the Heritage Rough Rider Tactical Cowboy, just adds to the enjoyment.
Right off the bat, you'll notice the threaded barrel. Insert "record scratch" noise here. Wait, you say, you can't suppress a revolver; the gap between the forcing cone and the cylinder will obviate a lot of the sound reduction. Ah, one might counter, who says a suppressor is the only item one might wish to add to the barrel of a revolver? Perhaps a muzzle brake might be desired to tame the recoil of the ... .22 LR? OK, I can't even type that with a straight face. No, it's not going to work terribly well to suppress the Heritage, nor is a muzzle brake needed.
But, it sure can be fun. Ditto the length of Picatinny rail that doubles as the rear sight (there's a small notch in the base of the rail into which the fiber-optic front sight can be bracketed for aiming). But, isn't it more fun to toss a red-dot sight up top? It's odd enough to see a Trijicon RMR atop a Smith & Wesson fighting revolver; why not an Aimpoint Acro on a single-action cowboy gun? Have fun with it. Life is short.
OK, though, but even at the quite reasonable MSRP of $212.88, having a gun that serves little purpose other than as a conversation piece is a little, well, frivolous, right? Yes and no—there's another niche the Tactical Cowboy can fulfill: it's a great "first gun" with which to train new shooters. The single-action operating system is slow and deliberate. One must load six rounds, one at a time, into the cylinder through the loading gate, then close the loading gate. Now, the hammer has to be cocked, and before the novice can fire, the safety must be disengaged.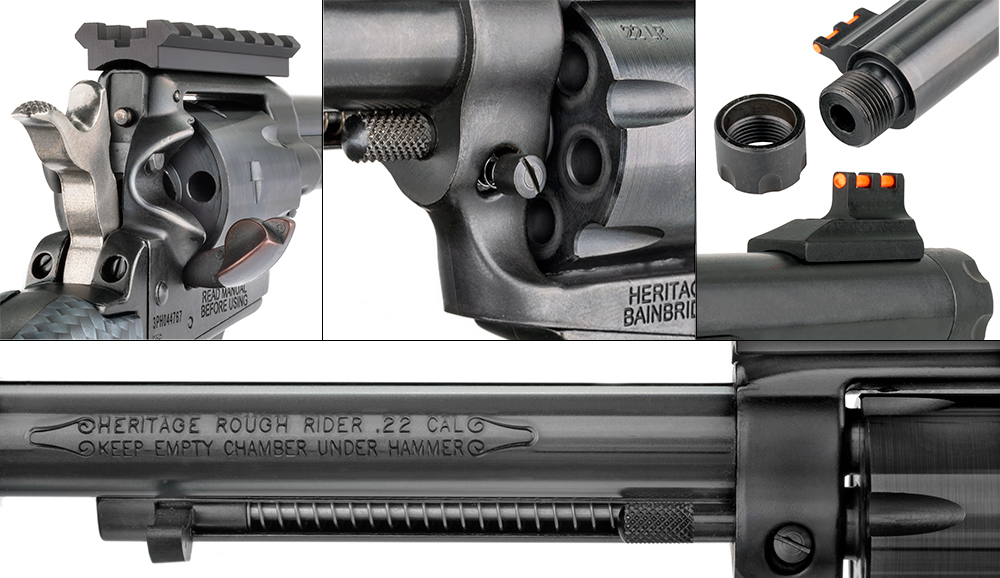 Wait. Did you just say "safety?" On a single-action revolver? You're telling me the Heritage Manufacturing Rough Rider Tactical Cowboy is a single-action-only revolver with a threaded barrel, Picatinny rail for optics and a manual safety? Yes. 
Once one has painstakingly loaded the revolver—one round at a time—got it on target, cocked the hammer and then released the safety, then the revolver can be fired. Once. Again, think of this as something for a new shooter—after that first shot touches off, they have to make the very deliberate action of cocking the hammer before it can be fired again. 
Of course, here's the part where we do the serious gun stuff and tell you how it shot. Well, it's a single-action revolver. It's slow. While Cowboy Action shooters can shoot single-action guns crazy-fast, it's not something I'd recommend with the Tactical Cowboy, given the Zamak 5 frame. After about 200 rounds, the cylinder starts getting a bit dirty and needs a quick scrubbing. This is something I've noticed with just about every .22 LR revolver I own (and I have a few). I don't count it as a knock on the Tactical Cowboy. Believe me, you'll know when it's time for a quick scrub—it'll be hard to get the empties out, first; then the cylinder will require more force to rotate.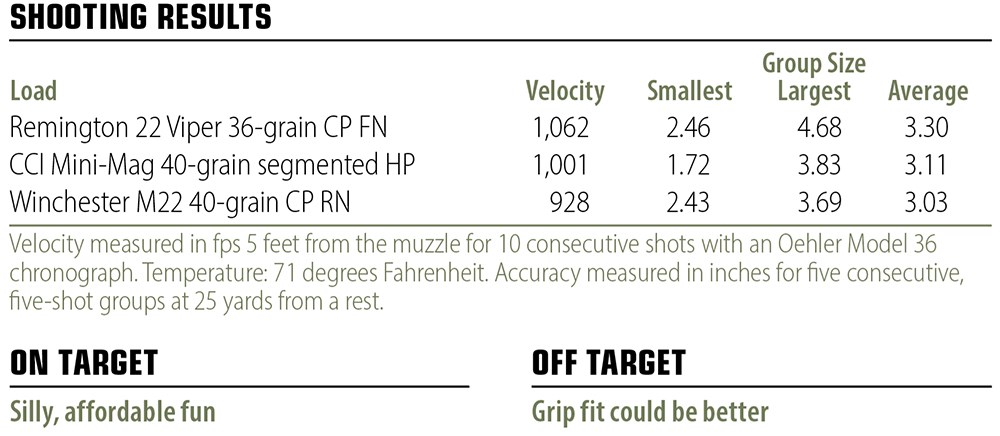 Trigger pull is decent; it's nothing to write home about, but it's not terrible, either. Accuracy is pretty much the same; with a Bushnell RXS-250 red-dot sight on the Picatinny rail, I ran targets out to 25 yards and was pleasantly surprised by groups close to 3 inches. The Tactical Cowboy is a perfectly adequate rimfire revolver that just happens to be a stupidly fun range gun. About the only complaint I had was with the fit of the "carbon fiber" grips (although the manufacturer lists the grips as carbon fiber, I'm pretty sure they're just regular plastic with a carbon-fiber pattern)—there's a not-insignificant amount of overlap between grip and frame. If it were a centerfire pistol, it'd hurt. Since it's a .22 LR, it's not a big deal.
It's important to remember that, too. Heritage's Rough Rider Tactical Cowboy isn't a family heirloom. It's not a tack-driver destined to win rimfire steel challenges. Rather than focus on what it's not; let's focus on what it is: Silly, affordable fun. I think we could all use a little more of that in our lives.