Heckler & Koch (H&K) is well-known for making high-quality pistols, including the P30. Introduced in 2011, it was a well-received, polymer duty handgun that was also appropriate for civilian needs. Many of the H&K faithful, however, clamored for a subcompact model better-suited for concealed carry. The response was the introduction of the Heckler & Koch P30SK in 2015.
The H&K P30SK is a polymer-frame, double-action/single-action (DA/SA) pistol with a typical subcompact capacity of 10+1 rounds of 9 mm. The H&K P30SK currently has the title of H&K's smallest pistol, being just slightly smaller than the very similar P2000SK. This model, however, reflects H&K's newest design direction, mirroring the features of the P30 in a smaller package.  
Perhaps in part because of the company's strong military/law enforcement market focus, H&K pistols are designed to fit as many shooters as possible. All of the controls are essentially ambidextrous, including the slide release, magazine release and decocker (though the decocker is not duplicated on both sides of the gun like the other controls, the button is easily accessed by a left-handed shooter).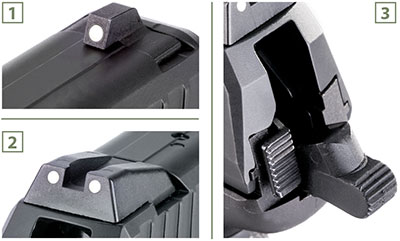 The grip of the H&K P30SK is modular and easily adjusted to fit a wide variety of shooters. The pistol features interchangeable backstraps and lateral grip panels, making the majority of grip surface customizable. Each gun ships with three different sizes of backstrap and left and right panels. Adjusting the grip is as easy as drifting out a single pin and picking your preferred sizes. This process is easy to do with a proper-sized punch, but it's definitely not an operation you are likely to undertake in the field.
Subcompact pistols, with their small grip length, are never going to be ideal for everyone. With my large hands, I can just barely get two fingers on the grip and curl my pinky underneath the base of the magazine. Nevertheless, the grip feels great despite its size, and H&K has done an admirable job making it able to fit almost any hand shape and size.
H&K offers a variety of trigger mechanisms in most of its pistols. The Heckler & Koch P30SK I tested is a DA/SA with a decocker, which H&K dubs the V3. This model is available with or without an ambidextrous manual thumb safety—although I can't imagine why you would want a manual safety on a double-action pistol. Trigger-system preferences are personal, but I have always liked the safety and versatility of a DA/SA system with a long double-action first pull, followed by a light single-action pull for subsequent shots. The H&K P30SK's double-action pull is heavy, but doesn't exhibit noticeable stacking. The single-action has very light take-up, followed by a nice, crisp break.
All P30SK models include the typical drift-adjustable three-dot fixed sights. I am not sure why nearly every manufacturer feels the need to follow this trend, but these sights have become the de facto standard. The front-sight post is narrow enough to see some daylight on either side, which can help with precision shooting. Self-illuminated night sights are available as a factory option.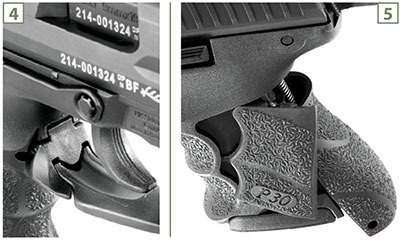 The H&K P30SK shoots well for a gun of its size. The ergonomics of the grip, along with a good trigger and decent sights, are a recipe for success. I found the gun exhibited mild recoil characteristics and pleasing accuracy. At 15 yards, putting quick shots on a full rack of steel plates is easy work. It is the type of pistol that makes you feel like a better shooter—which is always a good thing.
My only real complaint with the H&K P30SK is the placement of the controls, which are somewhat foreign to me. The magazine-release lever under the trigger guard, while gaining in popularity, seems slightly less natural than a frame-mounted button in the more traditional location, but I imagine a lifetime of training with the latter explains my discomfort with the former. The decocker button mounted on the rear of the slide near the external hammer is a bit more unusual. I don't find anything wrong with the placement of either control ergonomically, but it will take some time to get accustomed to their locations. Obviously, such training is more important with a magazine release, which you may need to activate in a hurry. Ultimately, these gripes are just a matter of training and committing to the platform, but something to consider if you like or are compelled to switch between pistols equipped with different types of controls.
The P30SK is made in Germany and comes with a lifetime warranty to the original owner. There are a number of variants, including H&K's proprietary LEM double-action-only model. All models retail for $719 with standard sights, or $819 with night sights.  The P30SK is currently offered only in 9 mm.
H&K has managed to stuff the most-appealing aspects of the P30 into a subcompact size. While perhaps not the smallest or lightest subcompact on the market, the  Heckler & Koch P30SK is a high-quality pistol in a size that lends itself to concealed carry. It is a solid handgun, and a worthy addition to the company line.