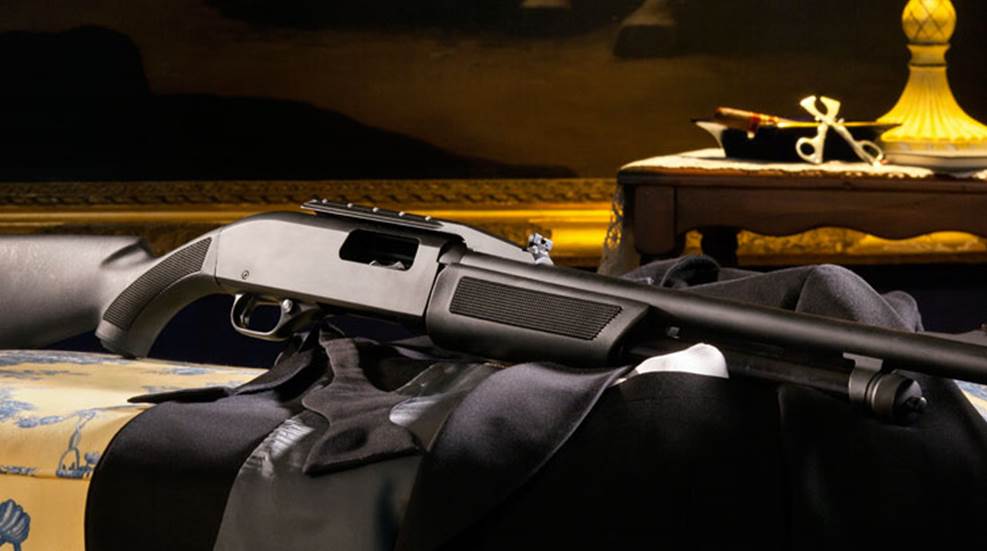 Across the breadth of the home-defense shotgun market, there are few real "prestige" offerings. Most major brands conjure images of the utilitarian variety—their home-defense shotguns are designed to work, not to turn heads. However, when the name
FN America
 appears on the side of a firearm, it does carry a certain panache. FN's line of law enforcement and civilian tactical arms is certainly not the least expensive on the market, but they've earned a reputation as being among those of the highest quality. In terms of the company's shotgun offerings, the FN P-12 shotgun is a well-built, sensibly priced and nicely equipped home-defense shotgun out of the box.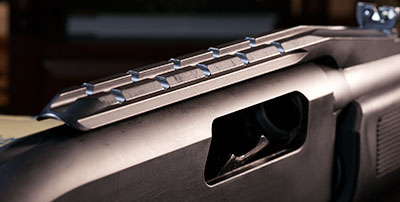 The
FN
 P-12 shotgun
is FN's first tactical shotgun since the TPS (Tactical Police Shotgun), which proved popular with law enforcement and civilians alike. It was essentially a dressed-up Winchester 1300 (FN owns
Winchester Repeating Arms
), but 2006 found the company in a state of transition. The 1300 and later the TPS were discontinued, despite being built around one of the most underrated pump-actions of that period.
Several years ago,
Winchester
revived its pump shotgun line with the Super X Pump, paving the way for the P-12's subsequent release during the summer of 2012. It is assembled at FN's manufacturing facility in Viana, Portugal, the same factory that produces FN's SLP semi-automatic shotgun line.

"The
FN
 P-12
 is an improved development of the earlier TPS shotgun for law enforcement," said Ken Pfau, FNH USA's senior vice president of commercial and law enforcement sales. "We wanted something that not only had law enforcement appeal, but would fit into personal use for homeowners and competitive shooters. An affordable, quality pump shotgun will always see strong demand in the civilian market."
Like its predecessors, the
FN
 P-12 shotgun'
s fore-end is guided by dual action bars, and sturdy lockup is achieved via a four-lug, rotary bolt head. Increasing interest in home-defense shotguns have led to a host of accessories and other innovations during the last decade, and the P-12's design is indicative. An integral, Weaver-compatible, cantilevered rail comes standard for quick attachment of the many sights available—a nice touch on a gun in this price category. I'd like to see a rail on the fore-end for mounting a laser or weaponlight system, but the P-12 can no longer be imported in this fashion, lest the government deem it "nonsporting."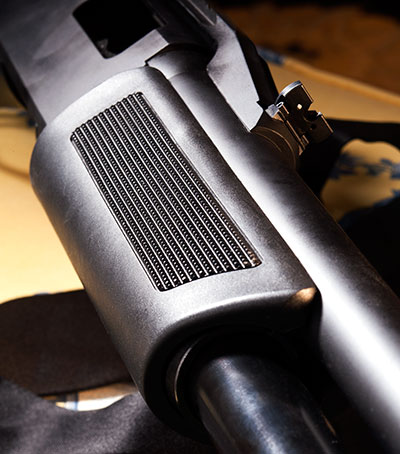 The
FN
 P-12 shotgun's
factory, rifle-style sights are also well executed. The setup does take a short time to get used to: An integrated channel in the center of the rail allows the eye to align with the rear blade. At first I felt like I was peering down a small canyon, but my vision soon adjusted, and it was as if the cantilever wasn't even there. A red fiber-optic front sight aids target acquisition, and the fully adjustable, folding rear blade can be tucked conveniently out of the way of an attached optic. Traditional front/rear sights have fallen somewhat out of fashion, but they remain a fine choice in terms of speedy acquisition and precision—even with slugs.
Unlike the TPS, which featured a fixed cylinder barrel, the
FN
 P-12 shotgun
is threaded for Invector- or Win-Choke-compatible choke tubes. An improved-cylinder tube arrives in the box. Though some consider cylinder to be the default home-defense choke, I've often found birdshot and even some buckshot loads do well with a little added constriction. Regardless, a choke-tube system allows you to tweak patterns to your needs—whether for personal defense, competition or even turkey hunting—and the dimensions of your home. It's significantly more versatile than the many lower-priced, fixed-choke guns on the market.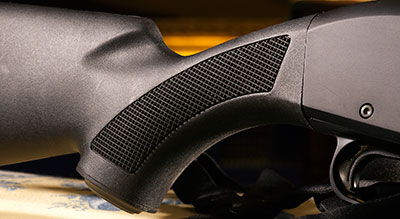 Looking over the rest of the 18-inch, Belgian-made barrel, we find the steel is nicely finished in matte black. The interior of the barrel as well as the chamber are chrome-lined, an added touch not seen on many pump shotguns. Theoretically, the chrome lining should better facilitate bolt lockup and reliable shell extraction. More importantly, chrome is practically immune to rust and cleans up a whole lot more easily than bare steel. There's no gun that doesn't require cleaning, but a chrome-lined pump shotgun comes awfully close.
"[The 
FN
 P-12 shotgun
] is a firearm that will last not only for the buyer's use, but for the next generation as well," said Pfau. "Based on user feedback during its development phase, we adjusted the manufacturing process and focused on items that were prone to wear and breakage. In making a product that is targeted to the law enforcement and competitive- shooting markets, it was important to get a long service life as well as top performance."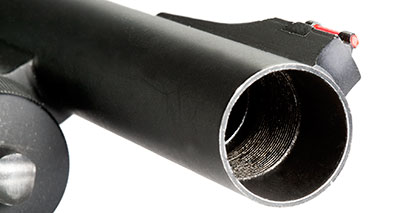 Corrosion-resistance is further enhanced by the P-12's 7075 T6 anodized-aluminum receiver. Unlike steel, aluminum contains no iron—its surface layer can oxidize, but it cannot rust. Additionally it's lighter than steel, easier to machine and less expensive. Steel is, of course, stronger, but anodized aluminum is plenty adequate to withstand 12-gauge chamber pressures. On a tactical pump, it seems a logical choice.
The heart of the
FN
 P-12 shotgun
is
FN
's venerable "Speed Pump," built on dual action bars for strength and fluid operation. It's a solid setup that allows little extra movement. If you short-stroke it, you only have yourself to blame. Most intriguingly, recoil initiates rearward cycling of the action—Winchester markets this as an "inertia-assisted action"—and you simply must shoot the gun to appreciate it. The heavier the shell, the more noticeable the inertia-assist.
"We feel it's one of the fastest- cycling pump shotguns on the market," said Pfau. "It's the reason why members of Team
FNH USA
, such as Joe Satterfield, have been able to have top finishes in several national 3-gun matches."
With several high-brass loads, the
FN
 P-12 shotgun
nearly cycled rearward under its own volition. At times, it seemed all I had to do was pull the trigger and return the fore-end to the forward position. Aggressive stippling along the sides of the fore-end assisted in doing so, affording solid purchase, despite my gloved hands. However, the gun's off-the-rack feel is a bit misleading—upon removing the P-12 from the box and cycling it without shells, the action felt a tad stiff. Don't be fooled: The action is fast and smooth under recoil.
Ease of cycling the fore-end is further enhanced by application of a slick, friction-reducing material called "Super Harp C" to the magazine tube. It's also a darker and more reflective coating than the matte black found on all other metal surfaces, which creates an interesting aesthetic. To my subjective eye, the P-12 is an attractive firearm as far as tactical shotguns are concerned. Magazine capacity is five rounds with 2 3/4-inch shells, or four when using 3-inch shells. The magazine cap and stock are equipped with sling studs, a nice accoutrement to any home-defense shotgun should the need for hands-free carry arise.

At the range, I found the FN P-12 shotgun's .742-inch back-bored barrel and improved-cylinder choke to be well paired. The rifled sights proved a lively, refreshingly simple choice, and the gun hit at point-of-aim with most loads out of the box. Patterns were even and consistent across a variety of birdshot loads—average diameter was 5 to 7 inches at 15 yards. Buckshot loads, particularly
Federal Premium
Personal Defense and
Hornady
Critical Defense, made essentially a single hole on paper. All loads cycled without hiccup, a notable feat given the 20-degree weather at the outdoor range.
The P-12's recoil impulse was linear and manageable, despite the gun's rather light heft of 7 pounds, 7 ounces. Unlike its TPS predecessor, the FN P-12 shotgun is not ported to bleed off kick. The back-bored barrel likely helps soften the blow, but perhaps the gun's good-old-fashioned recoil pad is more responsible. FNH USA and its sister companies offer one of the thickest, most effective recoil pads on the market, and it's certainly one of the best at the P-12's price.
In a carry-over from the TPS, the FN P-12 shotgun's crossbolt safety is positioned just forward of the trigger guard. Safety position is a matter of personal preference, but this is my favored location for a tactical shotgun because it allows the index finger to slide naturally from safety to trigger. It requires few fine motor skills—always a good thing in an emergency—especially compared with depressing a crossbolt behind the trigger guard.
FNH USA should be given credit for pursuing a tactical pump shotgun at a competitive price point. Many foreign manufacturers haven't entered this area of the market altogether, given the difficulty of competing with domestic companies unburdened by the ATF's importation rulings regarding sporting arms. Yet, I believe FNH USA has a real winner on its hands: A slick, reliable pump-action that's fully accessorized at a good price. The FN P-12 shotgun should function well as a home-defense firearm.